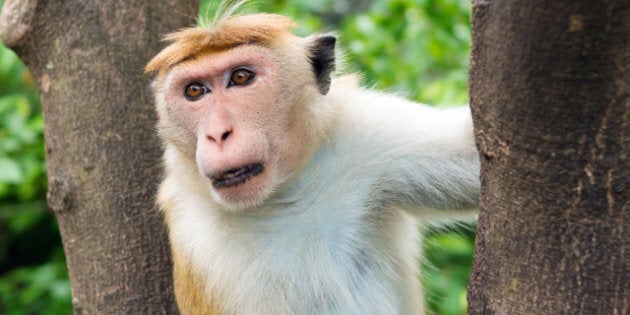 Police are puzzled by reports of a 'vicious' monkey running loose on Vancouver Island.
The Parksville Qualicum Beach News reports that Meadowood residents and a conservation officer are trying to track down a grey, three-foot-high monkey running wild in the small community about 170 kilometres north of Victoria.
"Yes folks you have heard right. There is a monkey running around Meadowood," it says.
One resident told the Parksville Qualicum Beach News he was approached by a conservation officer and asked if he owned a monkey. But the area fire chief didn't know anything about it, telling the newspaper that their call was the first he'd heard of it.
Cpl. Jesse Foreman with the Oceanside RCMP confirmed that police received a call about a monkey but found nothing.
"We called (the Conservation Officer Service), they said no one has a licence to own a monkey, and we don't have any more involvement," he told The Huffington Post B.C.
"We don't know if it's true, where it is, where it's from, nothing."
Calls to the Conservation Officer Service have not been returned.
This wouldn't be the first time that a monkey has gotten loose in public. A Rhesus macaque wearing a winter coat got loose at a Toronto IKEA in December, prompting animal services to seize the primate.