Are monsters keeping your children up at night? There's a spray for that. And you can find it at a Shoppers Drug Mart in Sooke, B.C.
A father walked in to the store on Vancouver Island Thursday and brought a picture of "monster spray," a pretend product to help children fend off any creatures that go bump in the night.
He asked whether the pharmacy could do the same thing for his daughter. And Dee Vivian, a regulated pharmacy tech, was only too happy to oblige him.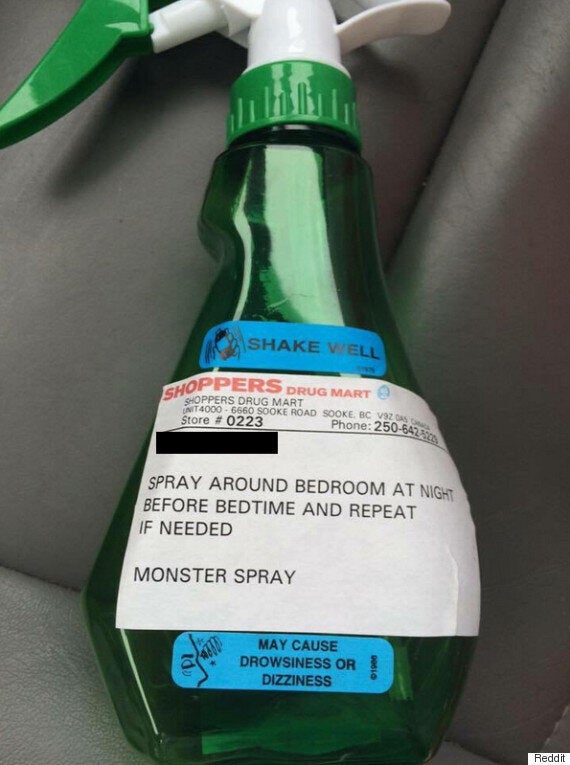 The father brought the spray bottle in himself, so the pharmacy gave him some stickers and a label reading, "Spray around bedroom at night before bedtime and repeat if needed," Vivian told The Huffington Post Canada.
A picture of the spray was posted to Reddit Thursday, where it was upvoted almost 5,000 times as of Friday afternoon.
Vivian said the spray only works on the monsters that "come out at bedtime and hide in your closet and under your bed."
So she recommended spraying there, as well as at their doors and bedroom windows.
Vivian touted the spray's "100 per cent" effectiveness. In fact, it works so well that she's going to have a colleague make a "bird spray" to help protect her against flying creatures that scare her so much.
This isn't the first time that a "monster spray" has helped kids sleep at night.
Here are a few other sprays that have helped keep the scary ones at a distance: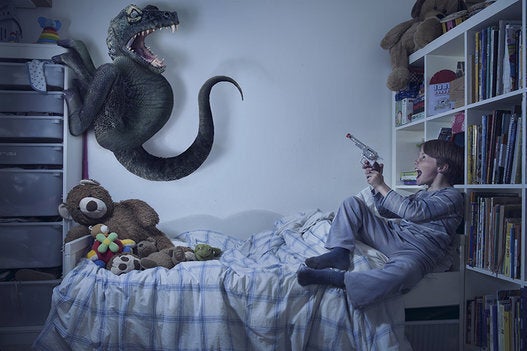 Bedroom Monsters