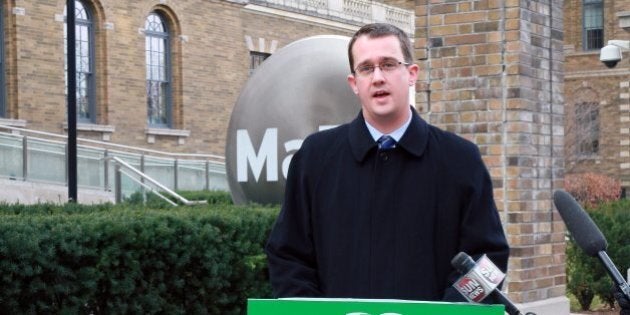 This is wonderful, even more so because Premier Kathleen Wynne and Premier Wade MacLauchlan's sexuality was hardly an issue at all during their respective campaigns.
But we have a long way to go, and it requires forceful condemnation of those in positions of power who use their political office to spread homophobia.
(Just so everyone is clear: rewriting this curriculum -- the first update since the turn of the millennium, before cyberbullying, sexting, social media and equal marriage -- has been going on since 2008, with thousands of parents, teachers, students and other experts consulted.)
The worst offender in opposing this curriculum is a Conservative MPP from southwestern Ontario, Monte McNaughton (although leadership frontrunner Patrick Brown has been public in his opposition to the curriculum, too, and even the so-called progressive candidate, current Deputy Leader Christine Elliott, says she "stands with" Monte in opposing the curriculum and heralds the endorsement of the infamous Ford brothers, who are notorious for, among other things, their homophobia).
It is important to note that McNaughton is no backbencher; he has the critic portfolio of international trade.
As a leadership candidate, he shamelessly pandered to social conservatives, before dropping out to throw his support behind backbench federal MP Brown, who himself has voted against same-sex marriage and holds the highest rating from the radical, social conservative Lifesite "News."
Twice now McNaughton has gained national attention for his homophobic comments. When he repeatedly argued Premier Wynne was "especially disqualified" from implementing a modern sex-ed curriculum, the Premier's withering retort brought cheers from fair-minded Canadians nationwide.
McNaughton claimed he wasn't being homophobic for singling out the Commonwealth's first lesbian head of government as "especially disqualified" from implementing a new sex-ed curriculum, but could offer no compelling reason for why he actually thought she was unsuitable.
Over the weekend, McNaughton upped the homophobic ante, attacking Christine Elliott for wanting to build "a little pink tent." Globe and Mail reporter Adrian Morrow tweeted that it was "One final, full-pitch blast on the dog-whistle from" McNaughton.
Once again, McNaughton denied his comment was homophobic. Lisa MacLeod, a front-bench MPP from Ottawa, disagreed:
"I've spent a great deal of time in my career talking about pink-shirt day, talking about anti-bullying, talking about acceptance. [The pink tent comment] has a negative connotation, the way it was put out there," said MacLeod, adding, "We're wearing pink today because we don't want to send a message to any children out there who may believe in fiscal conservative values but at the same time think that our party is intolerant, which we are not."
I appreciate her comments, and that many of her colleagues wore pink to protest McNaughton's bigotry.
A cabinet minister who said something racist or homophobic would almost certainly be fired. The same should hold true for a shadow cabinet member.
If the Conservatives at Queen's Park are serious about being a queer-friendly party, symbolism and slacktivism will not cut it.
They should discipline McNaughton for his repeated homophobia, and for breaking caucus policy, which is ostensibly in favour of the new sex-ed curriculum.
McNaughton should be stripped of his critic portfolio.
With any luck, the voters will do the rest in 2018.