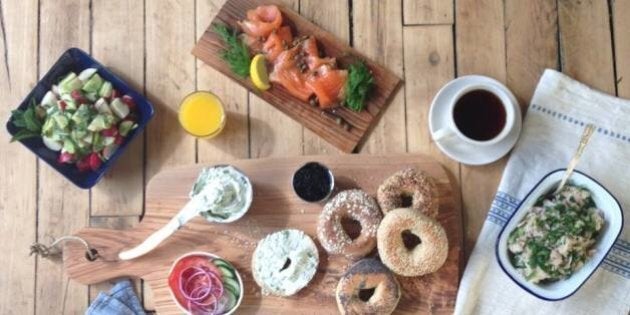 It's the breaded rivalry that's lasted for half a century, and now it's come down to this — Montreal bagels are being sold in New York, and Manhattanites can't get enough.
Montreal-style bagels are known for their smaller size (read: larger hole) and sweeter taste, thanks to the honey-water in which they are boiled and the wood-fired ovens in which they're baked. They've long been going head-to-head with New York bagels which are, in contrast, made with salt and malt and made in standard ovens. Both come primarily in poppy seed (known as black seed in Montreal) and sesame seed varieties, and each type has its opponents and detractors.
Earlier this week, Noah Bernamoff, a native Montrealer and Matt Kliegman, a native Manhattanite, have opened Black Seed Bakery, New York City's first hybrid Montreal-New York bagel shop. And though they may have expected opposition to their alternative style, the store found itself completely sold out of stock by 2:30 p.m.
Of course, as they told GrubStreet in February, "We think there are benefits to each city's bagel-making process and are trying to capture that." Black Seed's bagels are not, they claim, made with honey, but instead hand-rolled, poached using alkalized water, and then baked in a wood-burning oven.
The opening of the shop even prompted the creation of a Great Bagel Treaty, published by the Jewish Forward, which includes such provisions as "We vow to schlep bagels with us on trips to visit our friends who live outside of these bagel capitals [of New York and Montreal]" and "we agree to acknowledge that the bagel of our sister capital is a respectable (but still, inferior) alternative to our own."
Popular in the Community