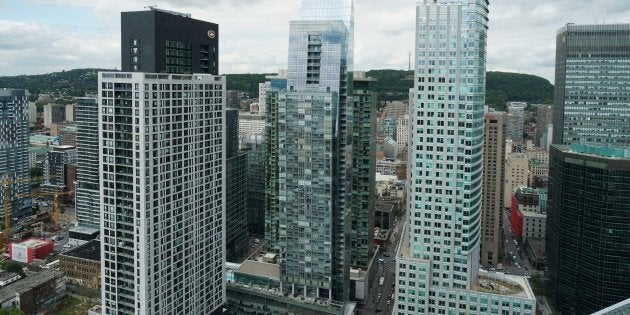 Do we really want to be like Toronto?
That's the question on the minds of many Montrealers these days when they take a look at what's going in their city's housing market, one that Canada Mortgage and Housing Corp. (CMHC) said this summer is close to "overheating."
With Toronto slowly emerging from a real estate slump that has bitten into prices and sales over the past year-and-a-half, and Vancouver's housing market "in the dumps," Montreal is emerging as the country's hottest major city housing market.
Watch: The extreme measures Canadians go through to buy a home (story continues below)
Home sales in the city jumped 11 per cent in October from the same month a year earlier, the city's real estate board reported on Wednesday. The condo segment was particularly strong, with sales up 22 per cent in a year.
Compare that to Toronto, where October sales were up a modest 6 per cent, after the city saw a slump in the first half of the year. In Vancouver, October sales were down 34.9 per cent from a year earlier.
Montreal's condo market "has moved from a buyer's market to a seller's market in just one year," Nathalie Bégin, president of the board of directors of the Greater Montreal Real Estate Board, said in a statement.
And while some homeowners may enjoy the boost to their wealth, the prospect of Montreal following in Toronto and Vancouver's footsteps to million-dollar bungalows and half-million-dollar condos is alarming to many in a city that has long focused on home affordability as a priority.
Economists cite a number of reasons for the city's housing boom, particularly Quebec's strong economy over the past few years, which has seen the province's unemployment rate hit record lows this year and last, while wage growth accelerated.
But the political narrative forming around the phenomenon is focusing on one thing: Foreign buyers.
Much had been said in Montreal about the influx of Parisians into the city's trendy (and increasingly pricey) Plateau Mont-Royal neighbourhood, but the focus has shifted to Chinese buyers.
By comparison, homes sold to French and U.S. nationals declined by 17 and 14 per cent in the same period, respectively.
"Montrealers must be able to own their own city."Laurence Vincent, co-president, Prevel
"Since the beginning of the year, growth has come almost exclusively from non-resident buyers from China," Mayor Valerie Plante's press secretary noted late last month.
While the overall share of homes sold to foreign buyers in Greater Montreal remains low (below 2 per cent, according to CMHC, and on a similar scale to Toronto and Vancouver today), in downtown Montreal, one in eight condos are now sold to foreigners, according to recent CMHC numbers.
Mayor Valerie Plante doesn't want to wait to see if the city is headed for a Toronto-style affordability crisis. She has reiterated her call for a foreign buyers tax to be implemented, along the lines of the ones in the Toronto and Vancouver regions. Her party, Projet Montreal, first proposed such a tax in the spring of 2017.
Like in B.C. and Ontario, the city doesn't have the power to implement such a tax, so policymakers will have to convince the province to make the tax a reality.
City officials will soon be meeting with Quebec's finance ministry to discuss the issue, Radio-Canada reported. The ministry says it is preparing an assessment to determine whether action is needed.
Even some local real estate developers are calling for restrictions on foreign buyers.
"We must avoid at all costs what is happening in Vancouver and Toronto, where 90 per cent of projects are sold to investors," Radio-Canada quoted Laurence Vincent, co-president of real estate developer Prevel, as saying.
"Montrealers must be able to own their own city."
Montreal still affordable
But not everyone agrees that there is a problem here that needs solving. Some industry insiders point out that housing in Montreal is still much more affordable than in Toronto or Vancouver. The median price of a detached home sold in Greater Montreal in October was $329,250, compared to an average price of $1.019 million in Greater Toronto and a benchmark price of $1.524 million in Greater Vancouver.
Simon Leger, head of Montreal's Badargi real estate team, says the city hasn't reach the point where it needs a foreign buyers tax.
"Price growth is not enough, but if the pace is maintained, if it doubles year after year, then for sure we may need some measures," Radio-Canada quoted him as saying.