On December 6 every year, Canadians remember the 14 women killed for being women at the Ecole Polytechnique in Montreal on that day in 1989.
Nearly 30 years later, not much has changed. In 2017, 84 per cent of homicide victims in Canada killed by a current or former intimate partner were women. In the first eight months of 2018 alone, 106 women and girls were killed in Canada, primarily by men. Indigenous women and girls continue to be killed at a rate six times higher than others.
There are more than 550 women's shelters and transition houses across the country for women and children fleeing violence, according to the Women's Shelters Canada's internal database. That may sound like a lot, but much more are needed. In Women's Shelters Canada's yearly reports, the turn away-rate for shelters has consistently remained at 70 to 75 per cent from 2014 to 2018 due to lack of capacity and resources.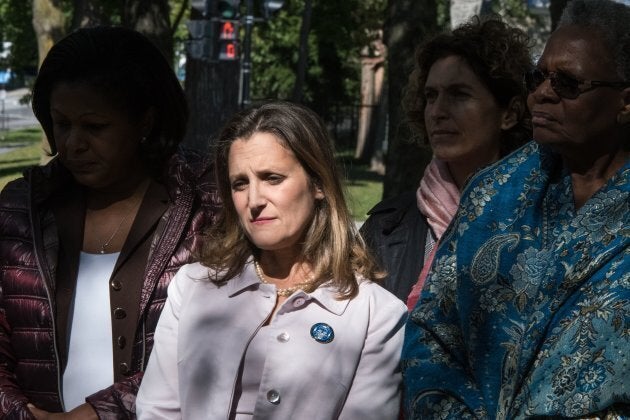 On April 23, 10 people were killed in the Toronto van attack by a perpetrator who was allegedly motivated by misogyny. It was the deadliest terror attack on Canadian soil since the Ecole Polytechnique massacre, but nothing new has been done to end violence against women in Canada.
Something very simple could have been done: Canada could have committed to developing a National Action Plan (NAP) on Violence Against Women (VAW), which, in 2008, the United Nations called for every country to implement by 2015.
In fact, on the same day as the Toronto van attack, Dubravka Šimonović, the United Nations Special Rapporteur on VAW, issued her end of mission statement on her visit to Canada, calling on the Federal Government to adopt an NAP on VAW.
Half of this country are women and girls directly affected by these issues.
In June 2017, the Government of Canada announced its Strategy to Address and Prevent Gender Based Violence. While this is a step toward an NAP, it differs in that it only deals with federal institutions. Canada needs an NAP to ensure that women in all areas of the country have access to comparable levels of services and protection. An NAP would ensure a shared understanding of the root causes of VAW as well as coordinated and effective efforts across the federal, provincial, territorial and municipal levels.
As we head into an election year, now is the time for political parties to include a commitment to an NAP on VAW in their electoral platforms.
Half of this country are women and girls directly affected by these issues; the others have mothers, wives, daughters or sisters. But it's not just about being personally affected by these issues, or knowing someone personally affected. Violence against women is a societal issue that needs to be addressed by everyone. Because women's rights are human rights.
This post was written by Kaitlin Bardswich, the Communications and Development Coordinator at Women's Shelters Canada.
Have you been affected personally by this or another issue? Share your story on HuffPost Canada blogs. We feature the best of Canadian opinion and perspectives. Find out how to contribute here.