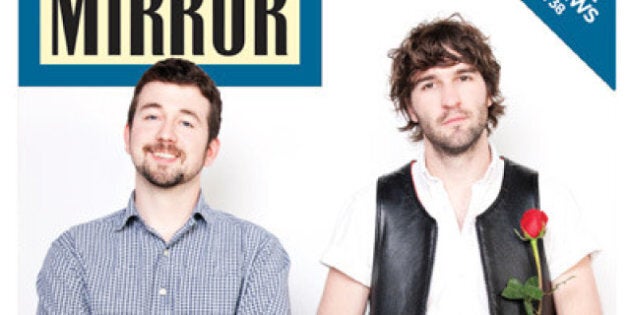 The folding of Montreal's anglophone weekly newspaper the Mirror last week seemed to shock even those I rank amongst the city's media insiders. Hour, its younger competitor, had been closed down earlier this year, but that was hardly a surprise. It was easy to think that, with its main competition gone, the Mirror might have a better chance for survival.
When the Mirror was launched in the mid-1980s, it touted its independence and social purpose. I remember going to benefit concerts and parties organized to help it get off the ground and survive. If it wasn't an "underground" newspaper, like its predecessors of the 1960s (Vancouver's Georgia Strait, for example), the Mirror nevertheless promised to give a voice to anglo-Montrealers who no longer saw themselves represented in the Gazette, the city's only surviving English-language daily. Later, as it became more successful, the Mirror was the focus of a lawsuit among different factions of those who had been involved in its launch. (That suit, which dragged on for years, was the focus of unending gossip and suspense within Montreal's English-speaking media world.)
Like most of the so-called "alternative weeklies," the Mirror presumed that young people were connected to urban life more through its culture than its politics or business sectors. One of the great contributions of alternative weeklies was the way they covered the nightlife of their cities, leaving the daytime worlds of business and municipal government to other media. Most alternative weeklies, like Toronto's Now, have sharp, committed columnists covering city hall, but few of them have the resources for full-time reporting on municipal government or the criminal courts.
Fewer still devote much attention to sports.
The alternative weekly boom of the 1980s was the result of many factors. The most important of these, I would argue, was music. By the mid 1980s, busy alternative music scenes were part of any large size city, and hundreds of bands toured across the Western world under the radar of mainstream daily newspapers. Clubs bought ads in weekly papers to list their upcoming shows, and local critics filtered all this activity in concert reviews or album guides (modeled, for the most part, on those of the once-influential New York weekly the Village Voice.) By 1990, it was astounding how much alternative weeklies in almost any city resembled each other in size, look and organization. They were all locked into similar circuits of touring bands and and marginal film openings. Most of them carried the same syndicated sex advice columns or innovative comic strips. Before major dailies copied the practice, most of them ran yearly polls asking readers to name the best restaurants or most pretentious local personalities.
If ads for music clubs and repertory cinemas were one financial anchor for the alternative weeklies, the sex ads which filled their back pages were another. In retrospect, the golden age of the alternative weekly can be set between two milestones in the history of technology. One of these milestones was the emergence of sex chat-lines and telephone-based escort services, whose back-section advertisements helped to subsidize so much of these papers' cultural content. The other was the rise of the Internet, which would challenge the business model of alternative weeklies even more than it has eroded that of daily newspapers.
When the Mirror's closing was announced, social media users were full of complaints that its parent company Quebecor had done little to build its web presence. Facebook these days is full of calls for the paper to be relaunched online. The Mirror may well live on in electronic form, but I see no condition under which it could continue to pay even the most abysmal of salaries or reassert itself as the go-to source for young Montreal anglos.
The kinds of information over which alternative weeklies once enjoyed a monopoly -- entertainment listings and reviews -- are now scattered across other sites which can be reached just as quickly (and cheaply) as an online version of the Montreal Mirror. The Mirror's editorial content and cultural criticism was often lively and useful, and it was fun to read columns and then bump into who wrote them at local cafés. But we picked up the paper (and hung on to it all week) for information we now get more easily from other sources.