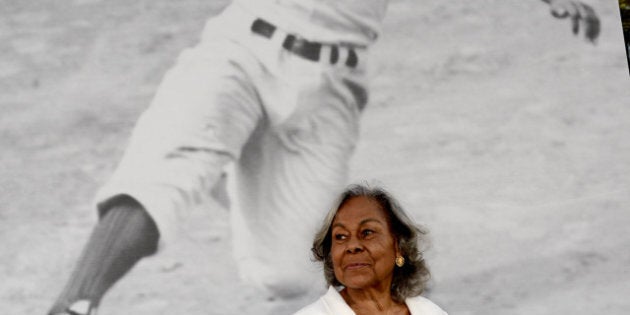 I'm pretty sure I did the final interview with Jackie Robinson. I'm glad I grabbed the chance to approach Robinson, already a legendary figure, when I did. He was gone shortly after.
It took place in Montreal, where Robinson loved living and playing baseball. The city was his refuge from racism. That's why he told this young sportswriter he came back to the city. He spent what turned out to be his last summer in that French-speaking metropolis.
The new film about Robinson,42, virtually overlooks Montreal, just as Argo marginalized Canada. A shame, but totally predictable.
It had taken the whole season to summon up the courage to ask Robinson, a private man, for an interview. I finally did shortly before he died in October, 1972.
Robinson loved the French-speaking city, where he'd made his professional baseball debut in 1946 with the Brooklyn Dodgers' Triple-A farm team, the Montreal Royals of the International League. Dodger exec Branch Rickey was wise to send Robinson north, where he would get some respite from bigotry and be able to focus on improving his baseball skills.
The next year, he was making history by playing in the big leagues in Brooklyn, where he was subjected to constant racial abuse. He endured plenty of abuse, too, when the Montreal Royals played on the road in U.S. cities.
But there was none of that in Montreal, which adored Robinson and mobbed him like a Hollywood star when he left the city, headed for Brooklyn. In Quebec, the cultural divide has always been between French and English, not black and white. African-American musicians loved to play in Montreal clubs.
Robinson flourished as a baseball star in his season playing there, leading the Royals to the International League title. His Royals teammates hoisted him on their shoulders and Montreal sports fans lionized him, even in a city where hockey has always reigned supreme.
I was a young sportswriter for the Montreal Gazette, newly arrived in that city in 1972. I had been wanting to interview Robinson, who, I knew, didn't do many interviews. He'd just returned to his beloved Montreal to work as a commentator for the Canadian Broadcasting Corporation (CBC) alongside his old Dodger teammate, Expo play-by-play man Duke Snider. I saw him in the press box often, but never approached him, figuring he valued his privacy.
One day in late summer, near the end of another woeful Expos' season ('70-'86), I looked down from the Expos' press box at Jarry Park and saw Robinson, greying and stooped, moving laboriously across the infield with a cane, one eye watering copiously from the effects of diabetes.
I knew nothing about diabetes then. (Hey, I was young.) I just knew I'd better ask the frail-looking baseball and civil-rights legend for that interview.
When I did, up in the press box, Robinson said calmly, "Aren't you that American kid?" I said I was, and he graciously allowed me to chat with him before the game.
Robinson looked much older than his 53 years. It soon became obvious that he didn't want to talk about baseball to a fellow Yank. He wanted to talk about his pleasant year in Montreal as a young man. The year before the storm of hatred he knew he would face in the U.S.
"I experienced no racism here. That was a huge relief for my wife and I. The French-Canadian people welcomed us with open arms," he said warmly, recalling the racial taunting he'd experienced at the Royals' Florida training camp earlier in 1946.
"Our French-Canadian landlady greeted us with a smile and a cup of tea. We were pleasantly surprised."
Robinson's widow, Rachel, has repeatedly praised the non-racist, accepting attitude the newlyweds found in Montreal. In 2011, a plaque was placed by the U.S. ambassador to Canada at the apartment near the Expos' old home, Jarry Park, the home where the young couple had spent the summer of '46.
Maybe a movie will be made of that pleasant time some day, something Rachel Robinson would probably welcome. It will almost have to be a Canadian-made movie. Rachel Robinson wanted to see more mention of the Robinsons' time in Montreal in this week's new movie.
"I've always had warm feelings for this city," Jackie Robinson said. "I knew I'd come back some day if the opportunity arose."
He then got up and slowly struggled up to the press box. A few weeks later, Jackie Robinson was gone. And the city of Montreal grieved for its beloved adopted son.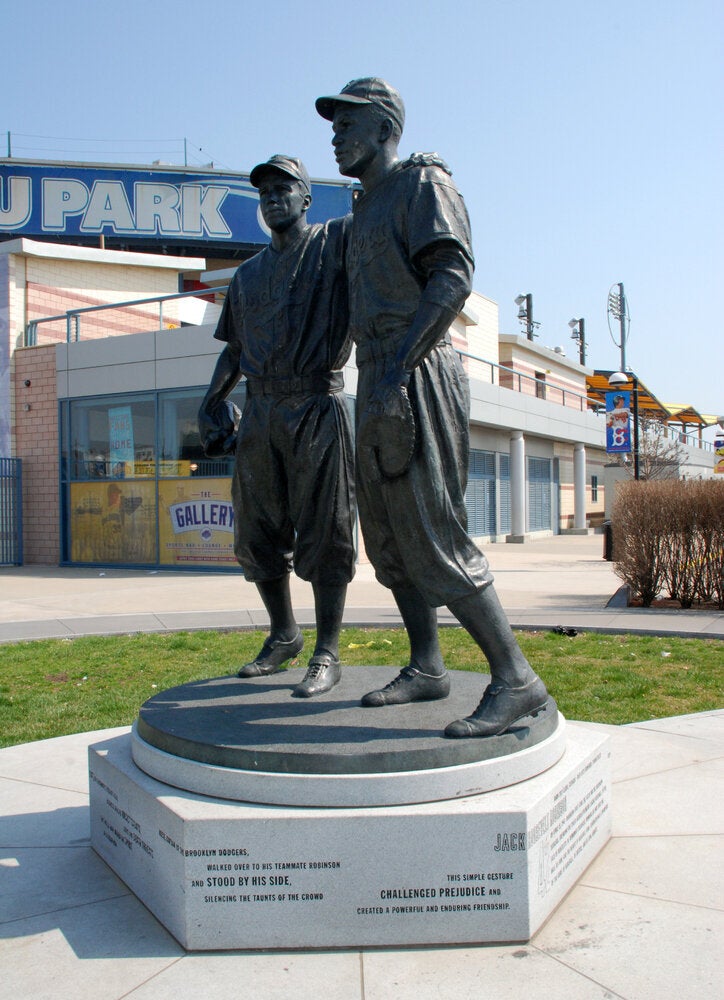 Jackie Robinson's Brooklyn