We couldn't have predicted a bigger twist than the one that happened at this year's Oscars.
At the end of the night, when the award for Best Picture was announced, many thought "La La Land" would take it home. And presenters Faye Dunaway and Warren Beatty did announce that the musical film had won the night's biggest award.
But then things took quite the turn.
"There's a mistake," "La La Land" producer Jordan Horowitz said after the team had given their acceptance speeches. "Moonlight — you guys won best picture. This is not a joke. This is not a joke — Moonlight has won Best Picture."
"Very clearly, even in my dreams this could not be true," director Barry Jenkins declared. "But to hell with dreams, I'm done with it, because this is true. Oh my goodness."
And of course, the internet went nuts.
But what the heck happened on stage?
Presenter Warren Beatty says he paused so long before the name was read because the envelope read Emma Stone, "La La Land.'' Actress Faye Dunaway read the name "La La Land'' after chiding Beatty for taking so long to read the winner.
Beatty returned to the mic and amid silence, explained that he had opened the envelope and he was confused when it read "Emma Stone, La La Land." He had shown it to co-presenter Faye Dunaway briefly, as though he wanted her to read it, which she did, apparently assuming the Emma Stone part was off but the "La La" part correct.
"It's one of the strangest things that's ever happened to me," Beatty said backstage. "Thank God there were two of us up there," Dunaway responded.
The actress then asked Beatty, "Who else should I tell?"
At that point, a security guard tried to take the real envelope and Beatty said, "Security is not getting this. I'm giving it to (Moonlight director) Barry Jenkins at a later time." Beatty also refused to show it to anyone else.
Some rumours began to circulate around the end of the night that Leonardo DiCaprio may have accidentally handed Beatty the wrong card. However Stone says that wasn't the case.
"I fucking love Moonlight," the actress exclaimed. "I'm so excited for Moonlight. It was an amazing thing to hear La La Land. We all would have loved to won Best Picture."
"I also was holding my Best Actress in a Leading Role card the whole time. I'm not sure what happened, but I really wanted to talk to you guys first," the 28-year-old added, "I think everyone's in a state of confusion still. Excitement but confusion. I think everyone is just so excited for Moonlight. It's such an incredible film."
"It made a very special feeling even more special, but not in the way I expected," a bemused Jenkins, co-writer and director of "Moonlight," said backstage.
"The folks at 'La La Land' were so gracious," he added. "I can't imagine being in their position and having to do that."
Watch the full fiasco below.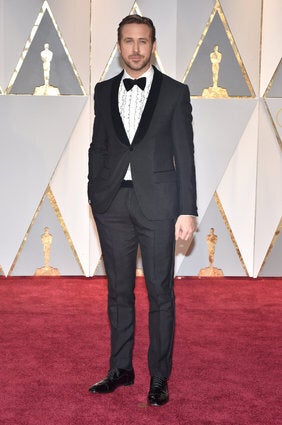 Oscars 2017 Red Carpet Photos