Conservation officers are looking into yet another video that appears to show a moose in B.C. being harassed. This time, it involves an ATV speeding behind the galloping animal.
The footage was posted to YouTube by a concerned hunter this week, but the video itself looks like it was taken in October 2014 in Greenwood B.C.
It shows someone in a speeding ATV chasing a moose ahead of it on a service road. Near the end of the two-minute segment, the vehicle passes the animal.
The YouTube caption that came with the original video says the ATV reached a speed of 57 km/h.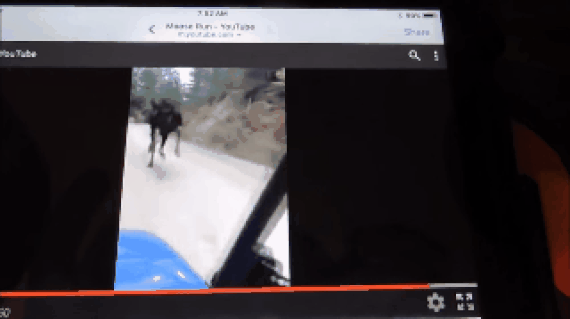 "As far as I'm concerned, it is clear-cut, 100-per-cent harassment of wildlife," conservation officer Dave Webster told The Province. He called it a "classic example" of using a vehicle to harass an animal.
Most "rational" people would simply pull over and wait until the animal had left, Webster added. His agency is investigating the incident.
The man behind the Wolftracker TV YouTube channel, which supports responsible hunting, also brought attention this summer to a different video. In that footage, a group on a boat chased a moose in a lake. One man then jumped on the animal's back to ride it.
B.C.'s Wildlife Act states that anyone who harasses wildlife with a boat, motor vehicle, aircraft or "other mechanical device" could be subject to a fine of up to $100,000 if convicted.
In 2013, two men were fined $2,500 after one of them jumped out of a boat and onto the back of a cow moose in Eagle Lake in Dryden, Ont.