This is it. Mission accomplished. Break out the champagne.
We've reached the apex of Canadian content.
An Alberta man filmed a moose outside his house as he watched a news broadcast on the CBC. He insists the moose appears to like watching the news with him. You can watch the video below, via CBC Calgary.
"It was fantastic to observe the moose as the news reported the water safety concern in the U.S.A. with the lead poisoning," Pierre Bolduc of Bragg Creek, Alta. jokingly told the broadcaster.
He said the female moose, which he refers to as Peter Moosebridge, has stopped by his residence many times. But the moose is no news junkie, more taken with the bale of hay Bolduc left out for her.
He has hours of the peculiar encounters, according to CTV News. He told the network a moose got so used to being there that one of them acted like a "guard dog," preventing a visitor from reaching the house.
Another video shows a moose (unclear if it's the same one) standing outside Bolduc's home, eating hay and watching as a weatherman reads his report on TV.
Incredible. Next time anyone asks you for some proof CanCon rules work, just point them to this story.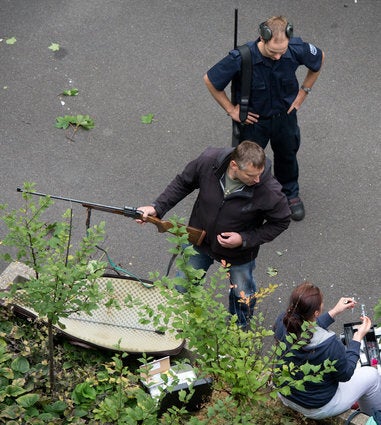 Office Moose