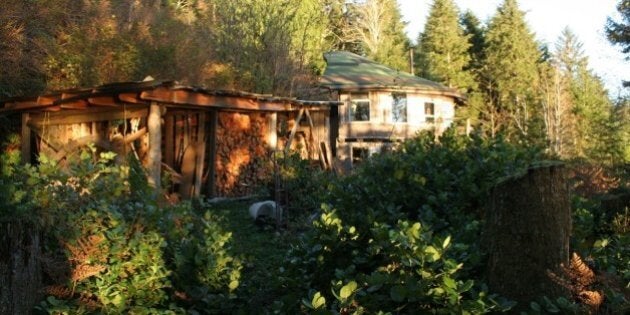 Kurt Cehak is one of four people who live in Port Neville, B.C. He's spent the past four years making his own electricity and living "off the grid" alone in his wood cabin. But he wants to point out he's not a "hermit who hates people."
Instead, he uses his lifestyle as an example: "I think more people could benefit from the idea of making do with what you need, rather than what you want."
Cehak, 64, lives off the Johnstone Strait, nearly 22 kilometres from the nearest town (and 200 kilometres from the bright lights of Vancouver).
Using recycled materials, he built his cabin himself on 10 acres of land, about a kilometre away from his nearest neighbour. He relies on a collection of solar panels for energy.
With about eight hours of sunlight, the panels will fully charge the battery Cehak uses to power his home. A full battery could keep his lights on for about a week or two. But other devices, like his laptop and fridge, could drain it in just a few hours.
To keep things running smoothly — especially during the darker winter months — Cehak has learned to budget his light between things he needs and things he wants.
"To me, solar power isn't a moral issue — it's a creative issue," he told The Huffington Post B.C. in a phone interview. "It's living within your light means. What would you do with the sunlight you've got?
"I have to make those decisions all the time."
Story continues below slideshow: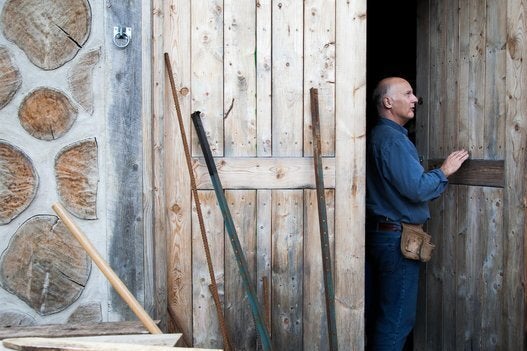 Canadians Live Off The Grid
All across the country, Canadians like Cehak are voluntarily disconnecting from their local power grids, and happily making their own electricity by harnessing natural resources instead.
Ethnographer Phillip Vannini says learning how to live within our natural-energy means is an idea we should all get comfortable with.
Vannini, a professor at Royal Roads University in Victoria, B.C., partnered with award-winning photojournalist Jonathan Taggart to create the "Life Off Grid" documentary, which profiles Canadians living "off the grid."
"I was wondering what it's like today to live in the way that we may all need to live tomorrow, relying on renewables," Vannini said. "I wanted to see if it was actually that scary."
The pair met 200 people who adapted to life off the grid in their own distinctive ways.
"If you have a lot of money, I could walk into your house and not know you were off the grid. There were people who live very, very comfortably," Vannini said. "On the other end of the spectrum, there was the inventiveness of the people who didn't have that cash."
"Off-grid isn't a state of mind. It isn't about someone being out of touch, about a place that is hard to get to, or about a weekend spent offline. Officially, 'off grid' refers to a home or town that is disconnected from the electricity and natural gas networks that serve a region. Living off-grid, therefore, means having to radically re-invent life as we know it."
"It's not that I'm a hermit who hates people," said Cehak. "I just ended up living here almost at a fault. When I do go to town, I do enjoy it because I have friends there."
Cehak, who has lived in several spots along the B.C. coast including Comox, moved permanently to Port Neville after a divorce left him with only the woodland property to his name. He quickly fell in love with the lifestyle and made the cabin his permanent home.
The reasons for why some Canadians are jumping off the grid are varied, but Vannini says the rewards are similar.
"These people were not hermits or hippies or nutbars," the professor said. "They were just very educated individuals who had found a better way of living."
"So often what people get lost in — what I used to get lost in — is mistaking the things I used to touch or pick up or drive or use in a physical way for the things that I now realize are the important things.

My creativity, writing — those things that I do in my mind or my soul; those are the important things and they don't actually cost any power."
He doesn't plan on moving anytime soon, but said he'd bring some old habits with him.
"Even if I did have to move back into town, I'd pack up my solar panels and live within my solar means," Cehak said. "I'd be the weird old man down the street living with no power in his house."


Popular in the Community