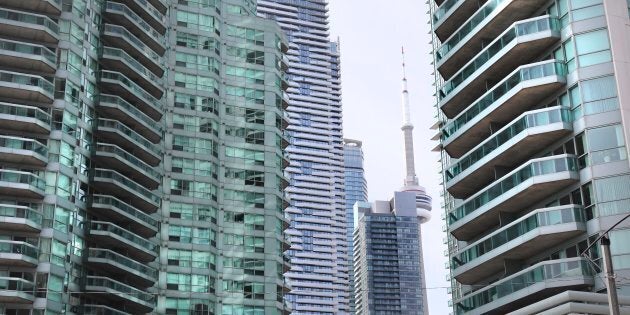 Better Dwelling: Toronto real estate inventory has been increasing over the past few months, and we wanted to see what kind of sellers we're looking at. An analysis of properties listed for sale in the City of Toronto show that over 6 per cent were bought less than 18 months ago. While some have ask prices that might prove profitable, we estimate one in three of these listings are currently looking at a loss.
Composite flippers bought an average of 209 days ago
Let's start with some composite numbers, which is the aggregate of all home types. Just over 6.2 per cent of homes listed for sale in the City of Toronto have land registry records showing they were bought less than 18 months ago. On average, it took 209 days to relist — just a touch over 6 months. An analysis of ask prices show the seller is hoping to make an average of $159,477. Totally legitimate if the properties were renovated to flip, right?
Turns out the vast majority had no improvements. Only 2.3 per cent of listings we could find had any language indicating there was some sort of meaningful improvement. The average renovated property was asking $286,360 more than property records indicate the seller paid. The average unrenovated property was seeking an ask price of $157,215 above the purchase price. Let's break these numbers down a little.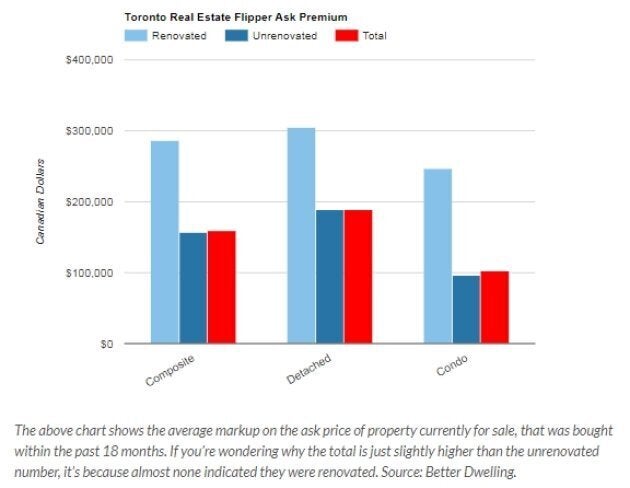 1 in 3 might be unprofitable, or a loss
Yes, some are being listed for prices that would imply a loss. Just over 29 per cent of these flips are listed below the price it was bought at. If you subtract the standard 5 per cent realtor commission on top of that, that potential loss jumps to a whopping 35 per cent.
Detached flippers bought an average of 220 days ago
The most popular short-term flip in Toronto right now is detached homes. Sellers took an average of 220 days before relisting. The short-term sellers are asking for an average of $189,284 more than property records indicate they paid. There's a lot you can do with a detached unit, so it's no surprise that flippers are asking a premium.
Watch: The problematic mentality behind Toronto's booming house prices
Although almost none of these flippers did anything with them. Only 0.15 per cent of these detached homes being flipped in this time period indicated any meaningful improvement. The renovated flips are asking an average of $304,450 dollars more than was paid. Meanwhile, the unrenovated properties were asking $188,980 more than paid. If the unrenovated units sell for anywhere near ask, there's very little incentive to have renovated.
Condo flippers bought an average of 187 days ago
The second most popular short-term flip was condos. The average flipper here took 187 days before listing after purchase. Flippers are asking for an average of $102,735 more than records indicate they were acquired.
What's Going On In Housing?

Our weekly newsletter delivers the news and analysis you need on Canada's housing market. Sign up below and don't miss an issue.
If you're wondering how many flippers renovate condos, the answer is not a lot. Only 4.6 per cent of the condos being flipped were renovated. Sellers of the renovated units were asking an average of $247,300. Sellers of unrenovated units were asking an average of $96,398 more than they acquired the units for.
A new paper from the National Bureau of Economic Research (NBER) makes the case that home flippers were the primary driver of the US housing crash. Yes, even more so than subprime borrowers. Now, it's unclear if these Toronto sellers bought too much house and need to liquidate, or if they bought their homes with the intention of flipping. Either case isn't great, however, and the number of people flipping now exceeds the ratio of foreign buyers in the city (3.2 per cent, at last count).
Popular in the Community