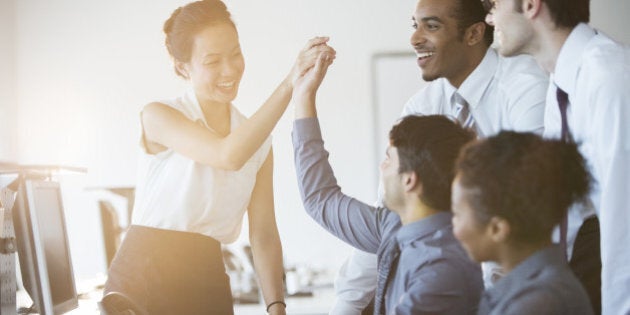 In today's fast moving world with its ever-increasing uncertainty and complexity, both organizations and individuals are facing big challenges. In this environment, we need to strengthen the individual -- from the inside out.
Many products and services become more and more comparable and interchangeable. Customers have a choice, expect quality, are well informed and are not necessarily loyal to brands or companies anymore, even though they may be satisfied with a product or service. This means that customer retention requires more than just satisfaction -- it requires engagement and emotional bonding.
The same can be said for the workplace. In times of skilled workers shortage and employer branding, finding and retaining the right people has become a main challenge for many organizations.
In this challenging environment, there is one element that becomes crucial to competitive advantage and lasting success: it is the ability of each individual in your organization to build genuine relationships and truly connect with others. In a nutshell: it is all about authentic and true human-to-human connection (H2H).
This ability to connect has a direct impact on the quality of leadership and collaboration, as a consequence thereof on employee and customer engagement and loyalty -- and as an end result on profitability and the lasting success of your organization.
The underlying principle is the Harvard Service Profit Chain. See this HBR article about putting the HSPC to work.
So, how can this ability be developed? If we really want to make a difference, we need more than just another leadership, communication or sales training that just scratches the surface. We need a different approach that creates a solid foundation first.
For how can you be a great leader who inspires others, listens to them, knows when to hold back his or her own ideas and who creates ideal conditions for each individual in the team to thrive and perform - if you are not in touch and in balance with yourself? If you don't know reliably what your personal strengths and limitations are, or if you are not composed and sovereign and therefore a role model for others in your leadership behavior?
How can you effectively and smoothly collaborate with your peers or colleagues on the board or in project teams, if you are not in touch with yourself?
How can you shape your customer interactions in such a way that customers want to engage with you and that an emotional bond with your organization and your brand is created - if you are not in an appreciative and respectful relationship with yourself?
If we really want to make a difference, we need to start by looking at ourselves, at each individual, first. We need to first go authentically inwards, before we can go authentically outwards to truly connect with others and not just stay on the surface. Just like in nature, where there is nothing that doesn't grow from the inside out. Otherwise, all techniques and methods that are taught in training events and seminars remain without effect because the foundation for sustained and lasting practical application is not given.
Unfortunately, still too many organizations do not invest enough in developing this personal and interpersonal competence. Maybe a communication training takes place every now and then "... but one day should be enough."
In consequence, many employees in leading roles and other functions feel misunderstood, not recognized and appreciated and simply overwhelmed with their role. This leads to massive friction, frustration and unnecessary conflicts in organizations. The worst case is inner resignation, active disengagement and ... finally, leaving the company. Another area that entails increased challenges and difficulties in self-competence and relationship competence is the move up through the levels of hierarchy.
Bottom line, a well-developed interpersonal competence, which is crucial to lasting success in leadership, teamwork and customer interaction, needs a strongly developed self-competence first.
Of course, some self-reflection is helpful for this process. In order to go beyond our own blind spots and limitations though, we need a coach and sparring partner who is at our side as a trusted companion on the journey of self-discovery.