UPDATE 2016/11/09 11:45 am ET: The 2016 U.S. election is one for the history books, not just because of president-elect Donald Trump's upset win, but also because it gave the marijuana legalization movement its biggest day ever.
More than a fifth of all Americans will soon have access to legal marijuana for recreational purposes, after ballot initiatives passed in California, Massachusetts and Nevada on Tuesday night. (Yes, weed will be legal in Las Vegas.)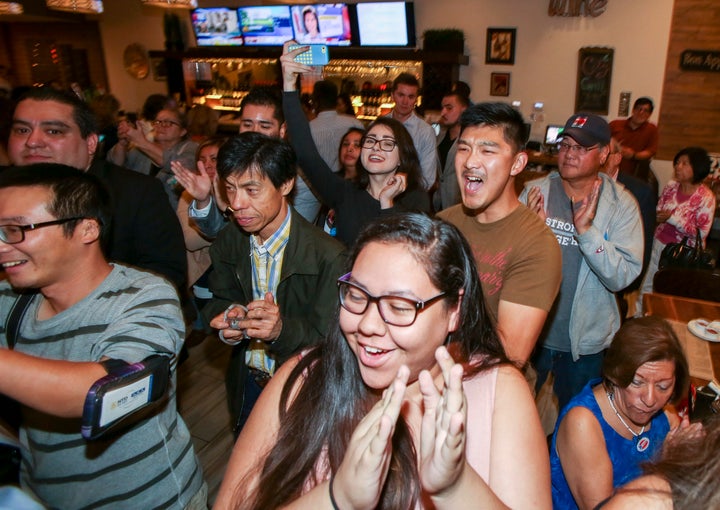 A legalization proposition failed in Arizona, with 52 per cent voting against the measure.
As of 11:45 am ET Wednesday, Maine's measure to legalize weed was still too close to call.
Even without Maine, 66.9 million Americans living in seven states and the District of Columbia — or 21.4 per cent of the U.S. population — will soon have access to legal marijuana.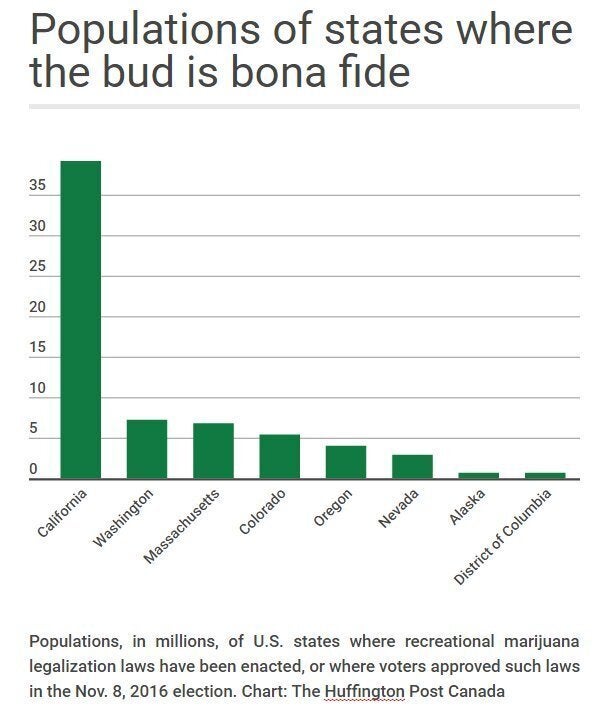 "Election Day dealt another body blow to our nation's costly, failed, and discriminatory policy of marijuana prohibition," wrote Erik Altieri, executive director of the National Organization for Reform of Marijuana Laws (NORML).
"If anyone thought our victories in 2012 and 2014 were a passing fad, it is now clear that they were mistaken."
Shares of Pineapple Express Inc. rose 28.5 per cent Wednesday morning, while United Cannabis Corp. and American Cannabis Co. were both up about 8 per cent.
UPDATE 2016/11/09 12:52 am ET: The ballot initiatives to to legalize marijuana for recreational purposes have passed in California and Massachusetts, and looked set to pass in Maine and Nevada overnight Tuesday night.
Californians passed Prop 64 by a margin of 56 per cent to 44 per cent. In Massachusetts, voters approved Question 4 by the same percentages.
Maine looked set to legalize marijuana, with the yes vote narrowly leading 51 per cent to 49 per cent, with three-quarters of precincts reporting. In Nevada, legalization was ahead 54 per cent to 46 per cent with nearly half of precincts reporting.
However, legal pot appeared to be headed for defeat in Arizona, where the no side was leading 52 per cent to 48 per cent.
Four states also voted on medical marijuana initiatives in this election. Arkansas, North Dakota and Montana all looked set to allow medical marijuana by wide margins. Floridians voted 71 per cent to 29 per cent to expand medical pot.
UPDATE 2016/11/08 10:37 pm ET: The results of the U.S. presidential race are up in the air at the moment, but marijuana legalization ballots are doing well across the board.
Maine and Massachusetts look likely to legalize weed for recreational use. The "yes" side was leading in Massachusetts 53 per cent to 47 per cent with nearly half of precincts reporting. The vote in Maine is closer, with 51 per cent yes to 49 per cent no and a third of precincts reporting.
Florida voters overwhelmingly approved a medical marijuana initiative, making it the first southern U.S. state to legalize cannabis for medical purposes.
Medical marijuana initiatives also look set to pass in Arkansas and North Dakota.
Still to report are Nevada, where the vote is likely to be close, and California, where the legalize movement is expected to win.
UPDATE 2016/11/08 7:52 pm ET: It looks like a landslide for medical marijuana in Florida.
With 6 per cent of precincts reporting, the "yes" vote was leading with 69 per cent of the vote. Florida's ballot initiative to allow full-strength marijuana would make it the first state in the U.S. south to legalize medical marijuana. That could be quickly followed by Arkansas, where polls close at 8:30 pm ET, half an hour after Florida.
UPDATE 2016/11/08 6:47 pm ET: Shares of marijuana-related stocks jumped on Tuesday, CNBC reports.
Investors were feeling optimistic about the likelihood of legal recreational marijuana being approved in five states, and medical marijuana potentially coming to four others (see below).
Those who want to make money off legal weed have reason to be excited: A study issued in September found the legal cannabis market in the U.S. could be worth as much as $50 billion by 2026, up from $6 billion this year.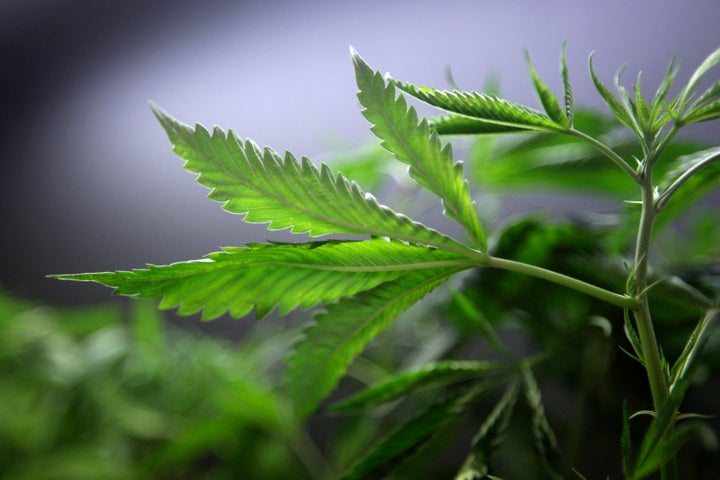 (Photo: Reuters/David McNew)
Original story follows below.
Voters in nine U.S. states decided Tuesday on ballot initiatives that would legalize marijuana to some extent.
Four states — Arkansas, Florida, Montana and North Dakota — voted on legalizing medical marijuana.
But five states are on the verge of legalizing weed for recreational use. Check this page throughout the night for updates. Here are the five states where recreational marijuana could soon be legal:
California: The Golden State will be voting on Prop 64, which would legalize recreational marijuana for people aged 21 and over, though smoking in public will net you a $250 fine. Weed would be subject to a 15-per-cent sales tax, with the possibility of additional excise taxes and municipal taxes on top of that. It would be regulated by a Bureau of Marijuana Control. The most recent poll shows Prop 64 passing easily, with 58 per cent in favour and 37 per cent opposed.
Massachusetts: Voters will be deciding on Question 4, which would make marijuana legal for those aged 21 and over. It would create a Cannabis Control Commission to regulate the industry. The state would charge an additional 3.75-per-cent excise tax on weed, on top of the regular sales tax. The state is very likely to pass the measure, with 61 per cent of likely voters supporting it in the latest poll.
Nevada: Will Las Vegas become a mecca of legal weed? Nevada has Question 2 on its ballot, which would legalize weed for people aged 21 and up and place a 15-per-cent sales tax on it. This may be the closest race on the ballot: Nevadans leaned slightly towards legalization in a recent poll, with 47 per cent in favour and 43 per cent opposed.
Arizona: Voters will be deciding on Proposition 205, which would allow people aged 21 and over to own up to an ounce of marijiuana and grow up to six marijuana plants. Licensed stores would be able to sell it, and sales would be taxed at 15 per cent. Fifty per cent of Arizona voters supported the measure in a recent poll, with 42 per cent opposed.
Maine: The state has Question 1 on its ballot Tuesday, which if approved would legalize recreational marijuana for people aged 21 and over. The state would issue a limited number of retail licenses, and charge a 10-per-cent sales tax on weed. Voters appear likely to approve, with 53 per cent approving and 38 per cent opposed in the most recent poll.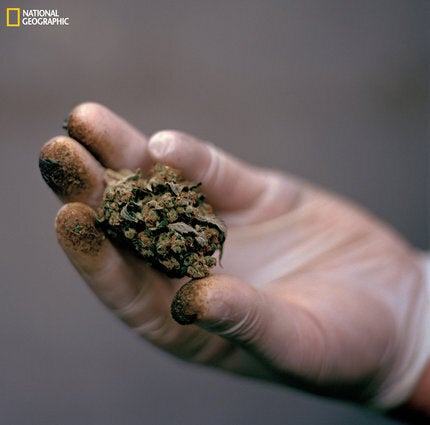 WEED: The New Science of Marijuana