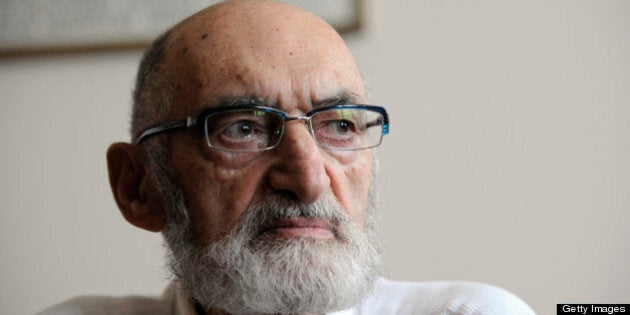 A few months ago, Dr. Henry Morgentaler celebrated the 25th anniversary of the Supreme Court decision that struck down Canada's abortion laws as unconstitutional. On Wednesday he died of a heart attack at the age of 90. His death, and the quickness with which anti-choice activists kicked into action, ought to serve as a wake-up call that access to reproductive choice still remains unequal in this country--and should never be taken for granted.
Young Canadians might be surprised to learn that it was just a quarter of a century ago that abortion was fully legalized in this country, thanks in significant part to the efforts of Dr. Morgentaler. And so a history lesson is in order, in order for us to appreciate just how recently the rights we assume as irreversible were granted.
Contraception was decriminalized in Canada in 1969, under Prime Minister Pierre Trudeau; at the same time, abortion was legalized if performed in a hospital under specific circumstances where a mother's life or health was in danger. That same year, Dr. Morgentaler began his public fight for abortion rights by opening his clinic in Montreal, in defiance of Canadian law.
A Holocaust survivor, Dr. Morgentaler was unwavering in his commitment to provide his patients with agency over their own bodies, enduring clinic raids, several court cases, and 10 months in jail. By 1983 a Gallup poll showed that nearly two thirds of Canadians believed a decision to end a pregnancy should lie with a woman and her doctor, and the 1988 Supreme Court decision made that the case across the country: Canada has no federal abortion laws on the books, and the procedure is treated like any other medical procedure.
But the story does not end there. In 1989, Nova Scotia banned abortions in clinics outside of hospitals, though a later court decision would force the province and British Columbia to allow private clinics. In the 1990s, three Canadian doctors are shot for performing abortions. Some provinces cover the cost of abortions performed in clinics outside of hospitals, but despite the 1988 Supreme Court ruling, New Brunswick does not; that province's last in-hospital clinic providing publicly funded abortions closed in 2006.
New Brunswick is not the only province where access to abortion -- a legal medical procedure in this country -- is limited despite the fact that abortion is considered a medically necessary procedure under the Canada Health Act.
There are no abortion clinics in Prince Edward Island, Nova Scotia, Yukon, Nunavut, Northwest Territories, or Saskatchewan. Worse, there are no providers at all in PEI and Labrador. Access is limited in the Territories and in northern Canada, though the territorial government will pay for travel to receive an abortion if necessary.
Only some provinces have protection zones enacted around abortion clinics. Not all provinces cover the cost of the medications used in a medical abortion, restricting access for those of limited financial means. The law is on our side in this country, bu the reality is that many Canadian women who need to terminate a pregnancy face financial and geographical barriers that could be insurmountable.
I sometimes feel that women in my generation are too quick to assume that the rights that have been earned thus far are set in stone. Just south of us, we've watched reproductive rights in several American states be eroded to the point where women in some states effectively lack access to abortion services. Even contraceptive rights cannot always be assumed there, as shown by the recent debate over Plan B.
It is encouraging that Canadian women feel so certain of their reproductive freedom that they are comfortable, but we can't allow comfort to become complacency. Dr. Morgentaler fought to help women obtain the rights over their own bodies that they deserved. Let's honour his memory by keeping his activism moving and working to ensure that this country has real universality in its access to health care, including abortion.