If you've ever flown in economy class before, you're probably aware that there's one word to best describe the experience: "limited."
There's limited selection in seating, limited flexibility, a limited comfort level, and a limit before you, the passenger, start wondering why you didn't bite the bullet and upgrade to business class when you had the chance.
Sure, the one-seat-fits-all approach has worked for airlines so far, but it hasn't exactly won the hearts and minds of passengers. So what if instead of paying for a seat, you paid for space?
That's the premise of Seymourpowell's "Morph," a flexible airline seating concept where one seat really does fit all.
Like the name suggests, the seats can change and transform to your whim. The concept begins with tossing out the individual foam padding in economy class seats. In its place, two sheets of fabric are stretched across a row of three chairs -- one for the back and one for the seat. Behind them is a solid bar separated by movable dividers. The dividers, which make up the arm and seat rests, hold the fabric in place to create what Seymourpowell calls "hammock seats."
Of course, that's if you're willing to pay for it. The second part of the concept gives passengers the ability to pay for more space without a pricey bump to another class, according to Jeremy White, Seymourpowell 's head of transport.
"Passengers who can afford premium, business, or first class have a choice, and hence some control over their own experience," said White on the company's blog. "For those who travel economy, there is a very limited choice of alternatives. Morph is a solution -- a standard product that meets the needs of lots of different kinds of people."
The British company highlights a couple of scenarios where "Morph" could come into play. Take, for example: a family of three. Maybe one parent could use a little extra room and cut down the seat space of his or her small child (who, let's face it, probably won't need the full 18 inches).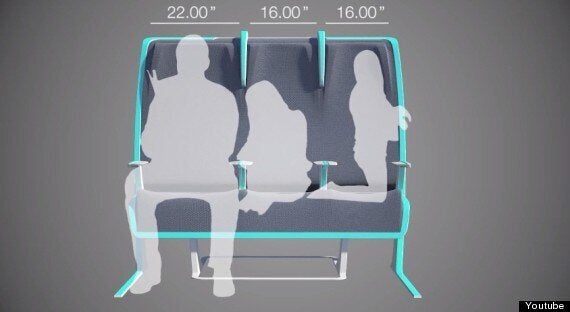 Then there are the travellers who have a bit of money to spare, but not enough to upgrade to the next seating class. Here, the couple could shrink down the third seat to add an extra four inches to each of theirs.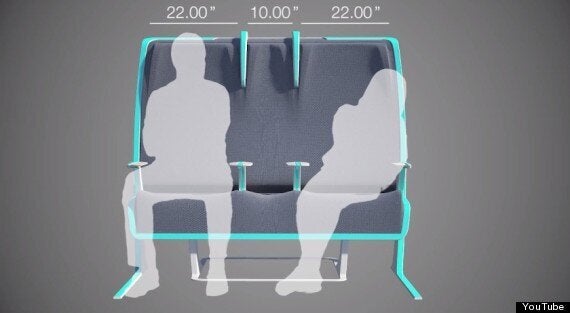 While the idea of 22-inch seats sounds heavenly, as the Verge explains, passengers will have to keep their expectations grounded -- at least for now -- because "Morph" is still in the concept stage. There are countless safety concerns (notice no seatbelts in the mock-ups?), as well as tests that Morph would have to go through before getting government approval. Then it's a question of whether airlines and aircraft makers would even adopt the idea.
But if the emergence of alternative airfare policies like Samoa Airline's weigh-before-you-pay system suggest anything, it's that airlines and passengers could both use a little flexibility in an era where limits are the status quo.
What do you think of Morph? Would you try it? Let us know in the comment selection below or on Twitter @HPCaTravel.
Like this article? Follow us on Twitter