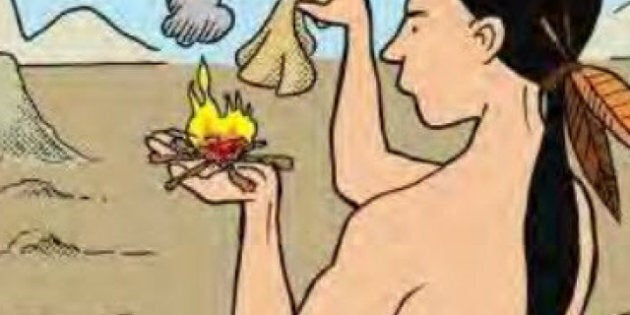 A racist cartoon and editorial published in Manitoba's Morris Mirror have prompted a stunning non-apology from the paper's editor.
The cartoon depicts an aboriginal man fanning a smoke signal and is captioned "Before they were partially wiped out by white men's diseases, the Canadian Indian had a highly evolved society built around the world's first cell phone."
The cartoon is accompanied by a "thumbs down" editorial, in which editor-in-chief Reed Turcotte denounces First Nations people protesting the government as part of the Idle No More movement for behaving like "terrorists." Turcotte goes on to state that "Indians/Natives want it all, but corruption and laziness prevent some of them from working for it."
SEE THE CARTOON AND EDITORIAL
National headlines, public outrage and criticism from the town's mayor and federal MPs such as the NDP's Niki Ashton prompted Turcotte to give a decidedly unapologetic apology on Thursday.
In an update to the online issue of the paper, Turcotte writes that "We apologize to those we offended in that regards [sic] however we stand by the fact that the Natives must work to get out of their situation rather than sit 'Idle No More.'"
STORY CONTINUES BELOW SLIDESHOW
In a new editorial, Turcotte acknowledges First Nations' peoples right to protest and free speech, but references a recent Ipsos Reid poll that found a majority of Canadians think aboriginal people get too much support from taxpayers and that most of their problems are brought on by themselves.
The special edition also features a number of letters from readers, both in favour and against the editorial and cartoon (though more than half are in favour).
"I heard on the news this morning about your article regarding aboriginals being lazy.. [sic] I would just like to say congratulations for having the guts to say what everyone else is thinking," one of the letters reads.
In a letter of his own, the town's Mayor Gavin van der Linde, who has loudly denounced Turcotte's work, calls the cartoon and editorial " inappropriate and racist" and characterizes the editor's apology as "weak and meaningless."
On CBC's "Power And Politics" earlier this week, van der Linde said the print edition of the Mirror actually featured a more offensive version of the editorial. Turcotte told CTV News that the phrase "a type of paganism" was removed from the cartoon for the online version, according to The Canadian Press.
At the same time, Grand Chief Derek Nepinak of the Assembly of Manitoba Chiefs announced that the Assembly of First Nations has approved a resolution renewing calls for a meeting with Harper and Governor General David Johnston on Jan. 24.
With files from The Canadian Press
THE CARTOON AND EDITORIAL