 Noted monarchy hater Morrissey wasted no time to place blame for the death of Jacintha Saldanha -- the British nurse who killed herself after being tricked by a crank call from two Australian DJs last week in connection with Kate Middleton being in the hospital.
"Even with the recent story about the nurse killing herself in King Edward Hospital, there's no blame placed on Kate Middleton who was in the hospital as far as I could see for absolutely no reason," Morrissey said in a wide-ranging interview with New Zealand television outlet 3News released today. "She feels no shame about the death of this woman, she's saying nothing about the death of this poor woman. The arrogance of the British royals is staggering, absolutely staggering. And why it's allowed to be I really don't know."
When pushed on the issue by the reporter who said Middleton was in the hospital regarding her pregnancy, Morrissey was quick to question if the hospital visit was even necessary.
"Does she have a health condition?" he asked. "Is it anorexia or is it pregnancy? We don't know. But what is the health condition? I mean morning sickness already? So much hoo haw and then suddenly as bright as a button as soon as this poor woman dies she's out of hospital? It doesn't ring true. It doesn't ring true.
"And I'm sure the Palace and Clarence House (Princess of Wales residence) put maximum pressure on this poor receptionist and nurse, and of course that's kept away from the press. I'm sure the British press hounded this poor woman to her death, that's kept away. And by this time next week she'll be forgotten. And that's how the British royals work.
When the reporter said it most people are reasonably laying the blame on the two Australian DJs -- Mel Grieg and Michael Christian, the pair who made the call -- Morrissey redirected the finger again towards the Royal family.
"But that's just a way of distracting people really isn't it," he said. "It was a prank call and they probably didn't ever think they'd get as far as they did. And I'm sure thousands of prank calls are made to Buckingham Palace every day. People probably do it all the time. The fact they got so far probably astonished them beyond belief. But the pressure put on the woman who connected the callers was probably so enormous that she took her own life.
"It wasn't because of two DJs in Australia that this woman took her own life, it was the pressure around her. And we forget about that and of course the Royals are exonerated as always, they're just so wonderful and we focus on something else -- two DJs in Australia -- which is not how it should be."
The reporter than referred to how the Royals revitalized themselves in recent years with the late Princess Diana's sons Harry and William and the recent marriage of Kate and William, even referring to them as a "constitutionally significant" version of the America's Kardashians.
"They (Royal Family) had to do that because they were losing their grip, so they had to try to reinvent themselves and put themselves forward as the top shop Royals for now and drag in Kate Middleton and so forth as the voice of youth," said Morrissey, who would also compare the Royal Family to current dictatorships in the Middle East and Syria.
"And therefore with the Olympics, with anything else that has happened in recent years, they hijack every event to make sure that any celebration of England is really a celebration of the Royal Family, which of course it isn't. But the Royal Family believe they are England and nothing else is England. And if you live outside London, it's not England anyway. But the way they hijack everything and shove their face in is extraordinary. Because what do they say? Please tell me one thing the Queen has ever said or William or Kate? I mean they are zombies but they are a business and it works."
Morrissey is slated to perform in New Zealand for two shows before a handful of Australian dates. The singer will then mount a U.S. tour in early 2013 that will conclude with a show in Mexico on March 14.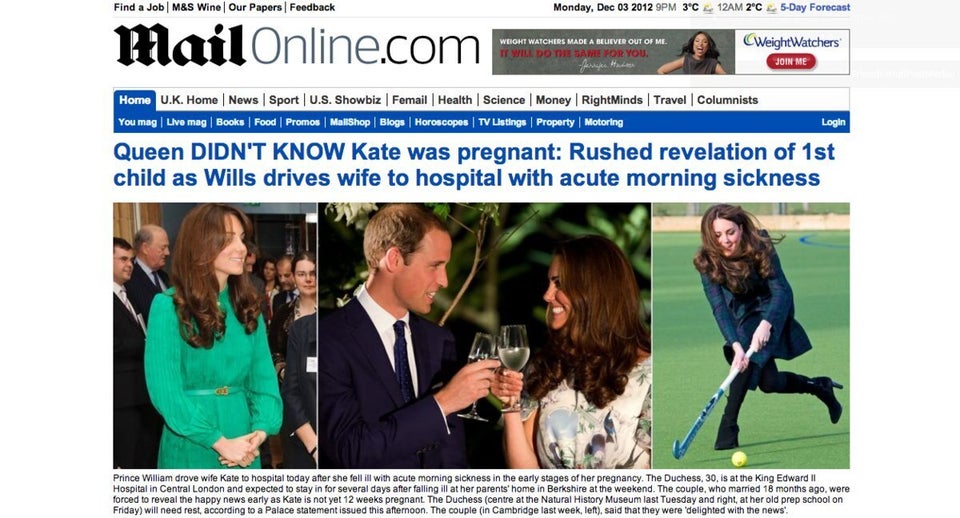 Media Covers Kate Middleton's Pregnancy