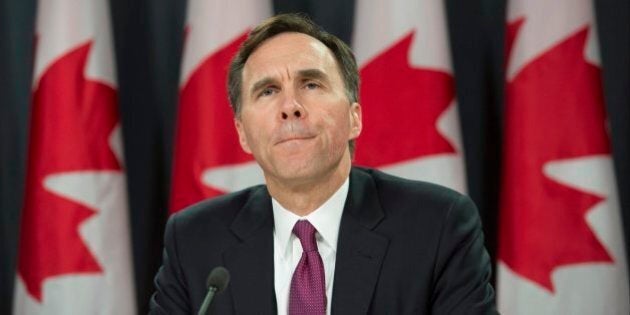 A prominent mortgage expert says the federal Liberal government is considering raising the minimum down payment needed to get a government-insured mortgage.
McLister said the feds are considering replacing the current 5-per-cent minimum down payment with a "graduated" system of minimum payments, with larger down payments required for more expensive houses:
$0 to $500,000 requires at least 5% down
$501,000 to $700,000 requires at least 7% down
Over $700,000 requires 10% down
The Department of Finance told HuffPost Canada it does not comment on "possible policy actions," but noted it "regularly reviews the merit of actions to support the long-term stability of Canada's housing market and financial system."
If confirmed, the government's move would be welcome news to many finance experts who argue Canadian homeowners have taken on too much debt in this era of low interest rates.
Many say former Finance Minister Jim Flaherty's moves to tighten the mortgage market did not go far enough. They point to the fact that house prices in Canada have continued to outstrip income growth, and Canadians have continued to take on more debt.
Others have argued that tightening lending standards further will only make it harder for would-be homeowners to break into the market.
But McLister notes on his blog that buyers of homes under $500,000 would still enjoy a 5-per-cent minimum down payment. That "insulate[s] first-time buyers who typically have mortgages in the $200,000 or low $300,000 range," he wrote.
Secondly, the move "shield[s] smaller markets that haven't seen the stratospheric home prices of Toronto and Vancouver" from tighter lending standards, McLister wrote.
McLister added he believes new Finance Minister Bill Morneau will side with those who are concerned about an overheated housing market, and will "put this into regulation sometime next year."
Canada went through a period of mortgage rule loosening in the years prior to the financial crisis of 2008, with minimum down payments reduced to 5 per cent and motrgage amortization periods extended to 40 years.
In the wake of the financial crisis, with concerns on the rise about excessive borrowing by consumers, Finance Minister Jim Flaherty instituted several rounds of rule tightening that saw insured mortgage reduced to 25 years, among other things.