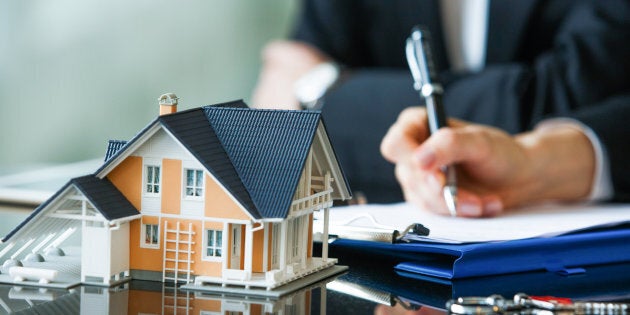 "Last year marked the beginning of a new era for Canadian households," economists at CIBC declared in a report issued in September.
For the first time since the early 1990s, they wrote, the interest rates that banks base their fixed-rate mortgages on are higher than they were five years earlier. In Canada — where four out of five mortgages are the five-year fixed-rate variety — most borrowers will now be facing higher mortgage rates at renewal time than they originally got.
Unless you're at the tail end of a 25-year mortgage, you likely will not remember a time when your mortgage became more expensive as time went on. This could take some getting used to.
Watch: Why strong economies spell bad news for mortgage holders (story continues below)
And for some, it could mean serious financial pressure. In a new survey carried out for mortgage comparison site Ratehub, 31 per cent of mortgage holders said they could afford no more than a $100 increase to their monthly payments. On a mortgage initially worth $400,000, it would take only a 0.6-percentage-point increase in rates to make that happen.
But the chances are good your own lender will make things even worse at renewal time. That's because mortgage lenders tend to give higher rates to borrowers who are renewing than to new customers, says Rob McLister, founder of RateSpy.com.
"A great number of people don't do any comparison shopping whatsoever and the banks take advantage of those people by offering higher rates at renewal," McLister told HuffPost Canada.
"That's one of the ways lenders maximize profit. There's not the reward for loyalty that you would expect."
But the new federally mandated mortgage "stress test" complicates things. You'll have to pass the test at renewal time if changing lenders, but if you stick with your current lender, you don't have to pass the test.
The stress test requires you to qualify at a rate that is two percentage points higher than the one you're being offered, or the Bank of Canada's posted rate (currently 5.34 per cent) — whichever is higher.
It applies to any federally regulated lender, like banks and mortgage loan companies. Credit unions are mostly provincially regulated, but provinces often look to federal standards to set their own policies.
Many borrowers "may be compelled to renew their mortgage with their current lender out of fear of having to requalify," Ratehub said in a recent report.
As many as one in 10 renewals could be rejected because of the stress test, McLister estimates. If that happens, your odds of getting a good mortgage rate are practically nil, as no federally regulated bank or credit union can give you a mortgage. You will have to move to alternative lenders that will almost certainly charge higher mortgage rates than banks.
A great number of people don't do any comparison shopping whatsoever and the banks take advantage of those people by offering higher rates at renewal.Rob McLister, RateSpy.com
But "most homeowners will likely pass the stress test as their income may have increased since they first got the mortgage, and they might not have originally purchased right at their limit," said James Laird, co-founder of Ratehub, in a statement.
So what do you do if you can't afford a much larger mortgage payment? Start by shopping around for better rates. Laird suggests starting your shopping 120 days before renewal. Consider hiring a mortgage broker to help you find better rates in the marketplace.
Here are some strategies to help you cope in a world of rising mortgage rates.
Switching lenders could help
Just crossing the street to a different bank than the one you're currently with could save you money, because the major lenders typically offer a discount of up to a quarter percentage point off their advertised rates for well-qualified new customers, McLister said.
"First time customers will often get a better rate than someone coming up for renewal," he said.
Switch from a fixed rate to a variable rate
If you have a fixed-rate mortgage, you can switch to a variable rate and save about a percentage point on interest. While the discount lenders today are offering rates at 3.39 per cent or higher for fixed-rate mortgages, variable rate mortgages are available for as little as 2.59 per cent, according to Ratehub data.
But there is risk involved because your mortgage rate will move in tandem with overall interest rates. And as we are now in a rising interest rate environment, there's a good chance that will happen.
Depending on how your mortgage is structured, rising rates will mean either a higher monthly payment, or the same payment but with a larger share going to paying interest — meaning it will take longer to pay off the mortgage.
Find a co-signer for your mortgage
If you're in dire financial straits and don't think you can pass the stress test, you can try to find someone to co-sign, usually someone in your family.
But that makes those co-signers liable for your mortgage, so make sure you have an agreement as to who pays what, and what happens when the person responsible can't make a payment.
Also, getting a co-signer means it will be a "refinance" and not a renewal, meaning it will be an uninsured mortgage. You'll need to have at least 20 per cent equity in the property to get an uninsured refinance.
Clarification:An earlier version of this story indicated credit unions are federally regulated. While some are, most credit unions are provincially regulated.
Popular in the Community