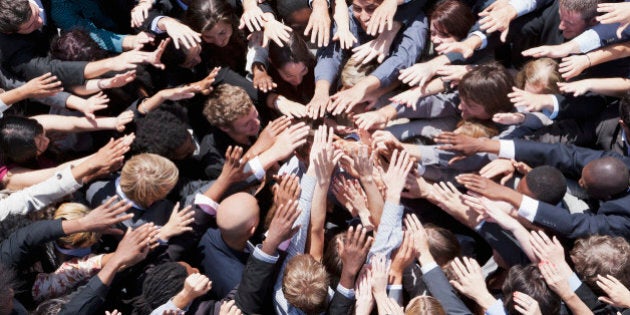 If Canada isn't generally thought of as a "creative" country, it might have something to do with our long-standing identity as commodity economy, or "hewers of wood and drawers of water," as we have sometimes been called.
Not to mention, we keep losing many of our most creative people to a certain neighbour to the south, to jobs in Silicon Valley or Hollywood.
But a new study looking at the world's most creative countries ranks Canada in fourth place, up three spots from seventh the last time the survey was taken in 2011. That's good enough to call ourselves a world leader in creativity.
What's unusual is why Canada ranks so highly. It's not due to technological prowess or particularly talented workers — in fact, on those metrics, we're not even in the top 10. Rather, it's due to Canada's tolerant attitude towards minority groups.
The study's authors argue a diverse population is a crucial ingredient to building a "creative economy."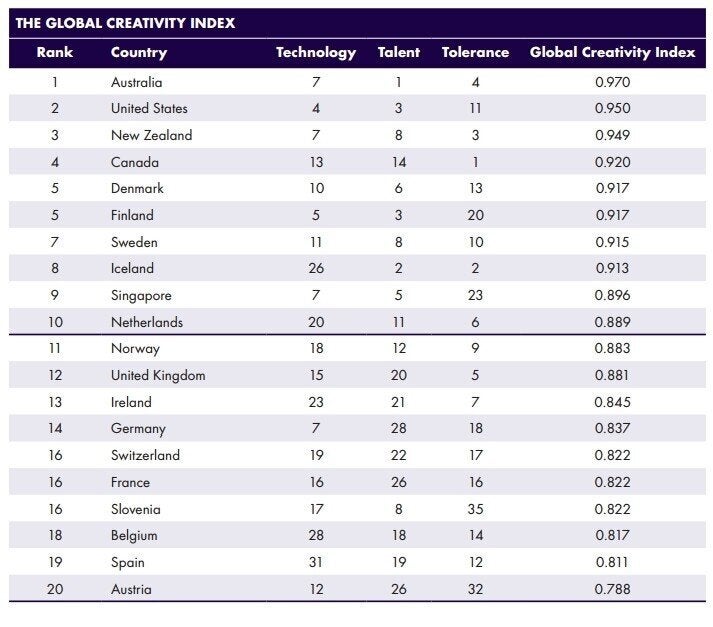 "Global creativity … is closely connected to the economic development, competitiveness, and prosperity of nations," says the study from the Martin Prosperity Institute at the University of Toronto.
The institute is run by Richard Florida, a U.S. academic who has made a career out of arguing, among other things, that socially inclusive and tolerant societies have an economic advantage. By attracting the largest possible pool of talent, the argument goes, these places become incubators of ideas.
"Countries that score highly on [creativity] have higher levels of productivity (measured as economic output per person), competitiveness, entrepreneurship, and overall human development," Florida, along with co-authors Charlotta Melander and Karen King, argues in the study.
"Creativity is also closely connected to urbanization, with more urbanized nations scoring higher on [creativity rankings]."
The study broke down creativity into three categories, which it calls "the 3Ts of economic development" — talent, technology and tolerance.
Canada's strength is in the tolerance category — it ranks relatively poorly otherwise, coming in only in 13th place on technology, and 14th on talent.
Notably, the U.S. ranked higher on the index than Canada, coming in second and ranking fourth on technology and third on talent. It ranked well below Canada — 11th — on tolerance.
The study also argues that more creative countries are also more equal countries. But if that's so, then how come the much more unequal U.S. outranks Canada?
It's because, the study argues, there is a "high road" and a "low road" to economic success, and guess which one the U.S. is on.
"A high road path, associated with the Scandinavian nations, combines high levels of creative competitiveness with relatively low levels of inequality," the study says.
"The low road path, associated with the United States and the United Kingdom, combines high levels of creative competitiveness with much higher levels of inequality."