Canada is the fifth-most expensive country in which to live, according to Deutsche Bank's latest survey of global prices, but there is good news for Canadian consumers: Thanks to a soaring U.S. dollar, the Canada-U.S. price gap has been eliminated and Canada is now slightly cheaper than the U.S.
Overall, Canada is a less expensive place to live than Australia, New Zealand, Britain and the U.S., but more expensive than all the other countries in the survey of 19 major economies, including France, Germany and Japan.
India, overall, was the least expensive place to live. Adjusted for purchasing power, life in India costs 22.8 per cent what it costs in the U.S.
Australia remains the most expensive place on the survey, a position it has held for all four years the survey has been carried out. Prices are about 14 per cent higher there than in Canada.
The Canadian dollar's decline in the last few years has made Canada cheaper relative to the U.S. In the 2012 survey, Canadian prices were 25.4 per cent higher than U.S. prices. In the 2015 survey, they were 1.7 per cent lower.
Here is Deutsche Bank's list of countries by price levels. This is not a ranking; countries are listed alphabetically.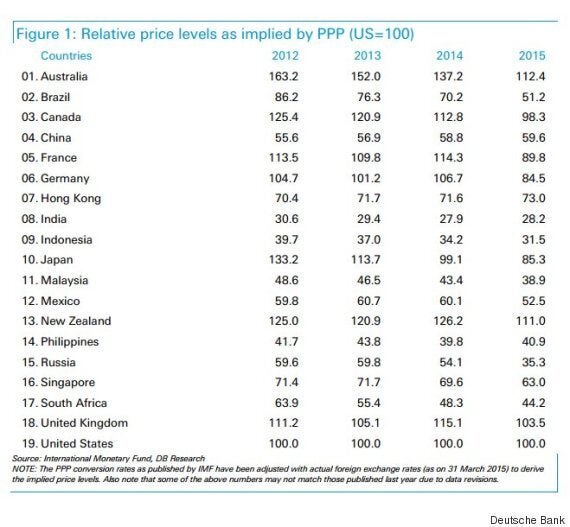 Some other highlights from the Deutsche Bank report (all figures in U.S. dollars):
Canada is an average place for a cheap date. Deutsche Bank defines "cheap date" as "cab rides, McDonald's burgers, soft drink, two movie tickets, and a couple of beers." That will run you $76 in Toronto, compared to $85 in Berlin, $55 in Shanghai, and $104.60 in San Francisco. But we're more curious as to who at Deutsche Bank thinks McDonald's is an appropriate place for any kind of date.
One night in a five-star hotel room in Sydney costs a shocking $880, three-and-a-half times what it costs in New York City and more than four times as much as the $205 average price in Toronto.
It costs $19.70 for a movie ticket in Zurich. Switzerland's largest city tops the list of most expensive cinemas, with Jakarta, Indonesia the cheapest place, at $3.87.
Canada's a super-cheap place to buy jeans and rent office space. A pair of Levi's 501s will run you $42.70 in Toronto, comparable to prices in India ($43.10 in Bangalore). They go for $54 in NYC.
Meanwhile, a square foot of office space will run you $27.86 a month in Toronto, or about one-fifth what it would cost in New York ($128.85). That compares to $108.05 in Sydney, Australia; $56.84 in Frankfurt, Germany; and $49.08 in Chicago. Canadian cities ranked among the cheapest along with Indian and Mexican ones. Which begs an interesting question: If there's so much demand for places to live in Toronto, why is there so little demand for places to work?
Here are the most and least expensive countries in which to live, according to Deutsche Bank.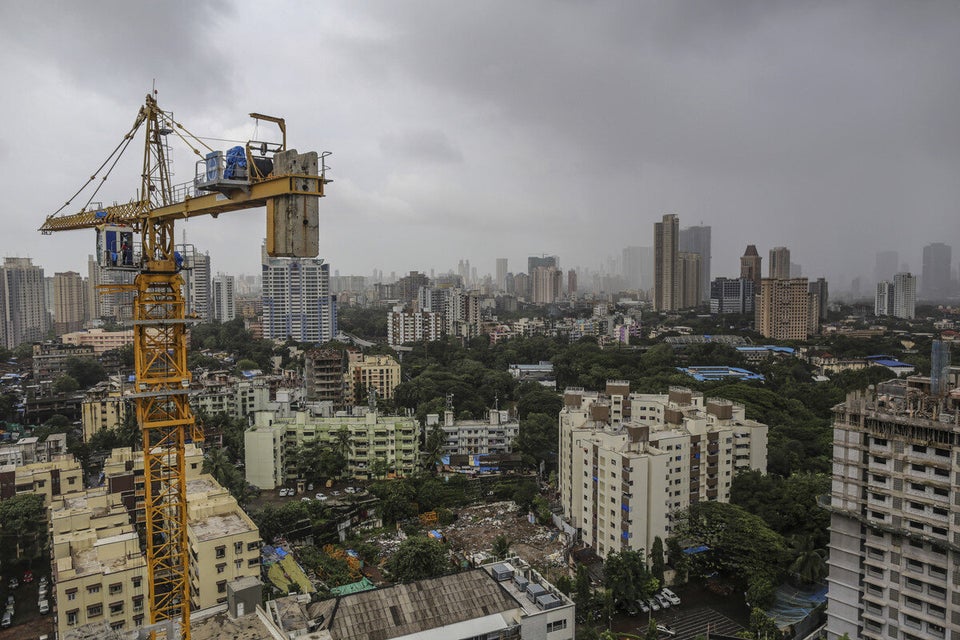 Most, Least Expensive Countries