Nine of British Columbia's top 10 priciest properties are in Vancouver, but two northwestern communities saw the biggest jump in property values, according to the annual valuations from BC Assessment released on Friday.
Lululemon founder Chip Wilson owns the province's most expensive property in Vancouver's Kitsilano neighbourhood. The 30,600 sq.-ft. home, which took five years to build on three waterfront lots, is assessed at $57.6 million, up from $54.2 million in 2014.
James Island, a 780-acre property off the coast of Vancouver Island owned by a telecommunications billionaire, was assessed in second spot at $51.6 million.
Five of the remaining top 10 homes are on the same Vancouver street of Belmont Avenue.
The Vancouver Sea-to-Sky region saw a zero to 15 per cent increase in property values, compared to a relatively flat report last year, said Lyle Dunn of BC Assessment.
He pointed out that a typical 50-foot building lot in Vancouver's West Side that was assessed at $1.6 million is now worth $1.8 million this year (as of the July 1, 2014 valuation date), while a standard home in North Vancouver's Lynn Valley has gone from $900,000 to $1 million in value. Comparatively, an average home in Squamish's Garibaldi Highlands has increased from $500,000 to $543,000, Dunn said.
"These are just a few examples showing that he market is generally stronger for most residential properties in the region," he said in a YouTube statement.
An average single-family home in Kitimat rose from $227,000 the previous year to $316,000, and in Terrace the value jumped from $244,000 to $317,000.
Cameron Muir of the British Columbia Real Estate Association says port activity in the region as well as speculation over the proposed LNG industry has "bid up prices."
Check out the top 10 priciest properties in the province according to BC Assessment: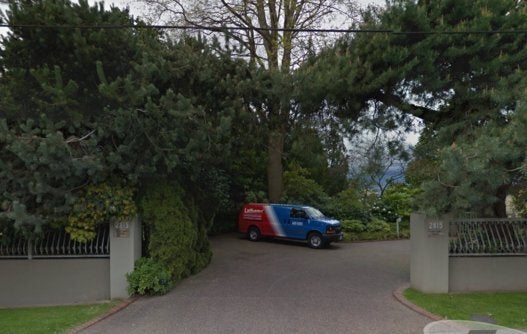 Most Expensive Homes In B.C. 2015