I view it as the houseguest that often overstays its welcome. I'm happy to see it when it first gets here, begin to weary after a few weeks of the work it leaves behind for me to do and then wonder if it will ever get the hint and go away.
This winter has been no different, except that my tolerance level has dropped somewhat, thanks to the seemingly endless round of winter storms and the relentless, double-digit cold.
It has raised some interesting discussions around the Internet. Like whether or not Niagara Falls froze solid in January (it didn't).
It also created a pretty cool phenomenon in our area that gave me a new-found appreciation for what those wicked winds and stinging cold can do.
I live near Lake Erie. Being waterfront-adjacent (not exactly on the water, you understand, but near it), we know snow. Most days, we can look across the river to see Buffalo. Lots of days, the snow falling on the lake makes it impossible to even know where the lake stops and the city begins.
About 15 minutes down the road is a place called Crystal Beach. It was once quite the bustling little beehive of activity, especially in the summer. Back in the '30s, '40s and '50s, the amusement park and dance hall packed in guests from all over, including thousands who travelled across Lake Erie from Buffalo on The Canadiana to enjoy the amenities of the beach in what was often known as "Buffalo's Playground."
It's famous for Loganberry juice, sugar waffles, cinnamon suckers and The Comet.
Today, it's an area in need of gentrification. The beach is still a fantastic hotspot in the summer, emphasis on the hot. But you'd almost never venture out to Crystal Beach in the winter. The restaurants and shops tend to be either closed for the season or on limited winter hours, and if you can't be at the beach, there's really no reason to go there.
That's when the ice caves - massive piles of hollowed-out ice formed over the winter due to high winds and bitter cold - first came to the attention of folks in town. My Facebook feed offered a few sporadic photos of the phenomenon, peppered with a couple of stories from the TV news, which travelled down to Niagara for something other than to cover a business closing or a by-election promise.
This weekend, interest in the ice caves has exploded, and Crystal Beach has been as busy as any sweltering Saturday in July as curiosity-seekers from Western New York and Southern Ontario have travelled to the beach to check out Mother Nature's incredible artwork.
The ice caves began to take shape early in the winter, when the shoreline along the beachfront began to freeze and the ice was moved on shore by the open water further off-shore. As the temperature dropped and the winds picked up, more ice formed and was pushed ashore, giving it the term "shove ice." There's usually shove ice along the shoreline, but nothing like what's there today; a massive, natural system of icy catacombs - some caves tall enough for a six-foot man to stand up in - creating a fantastic natural playground for winter-weary folks to enjoy.
No-one I've talked to here in Fort Erie, including people who have lived here their entire lives and whose parents grew up here, can ever remember seeing something like this happen before. And because it takes a confluence of perfect weather conditions to create these massive snow-castles, it may never happen again in our lifetime.
I'm still more of a summer girl than a winter one. But it's nice to get such a spectacular gift - albeit, a temporary one - in the midst of a long, cold winter.
This is what the shoreline of Lake Erie at Crystal Beach looked like on January 4, 2014. There's ice there, but it's certainly not strong enough for crowds of people to walk on safely.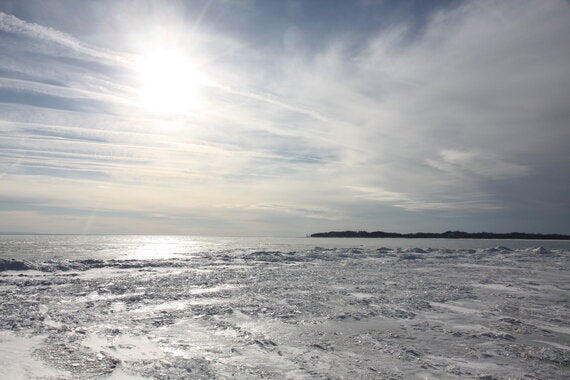 This is how the shoreline looked on February 18, 2014. Yes, those are people walking what would likely be more than a kilometre off shore.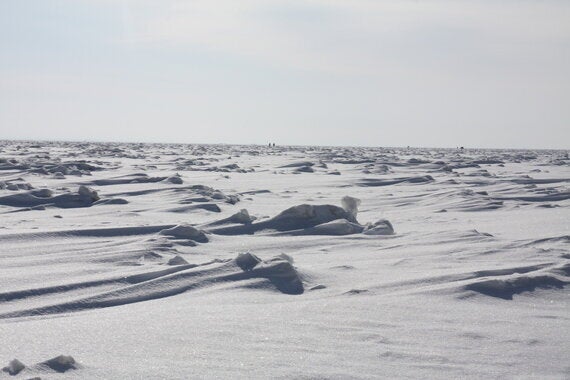 The view of the ice cave - and the crowds - from approximately 500 feet onto Lake Erie.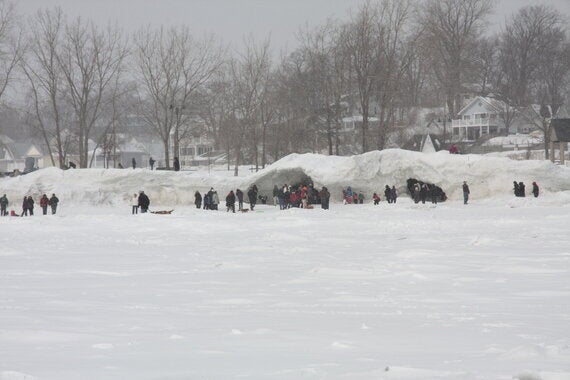 Some perspective on the layers and layers of ice that came together to form one of the Crystal Beach Ice Caves.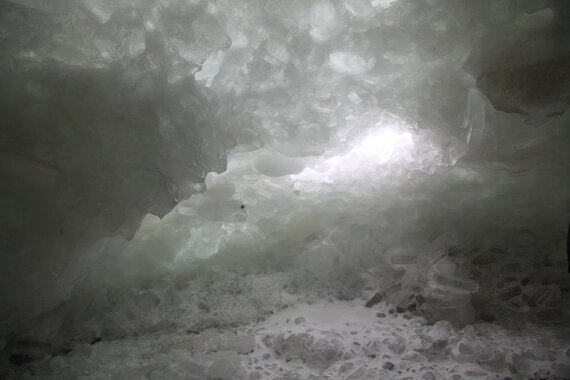 A massive piece of ice inside one of the Crystal Beach Ice Caves, taken February 16, 2014.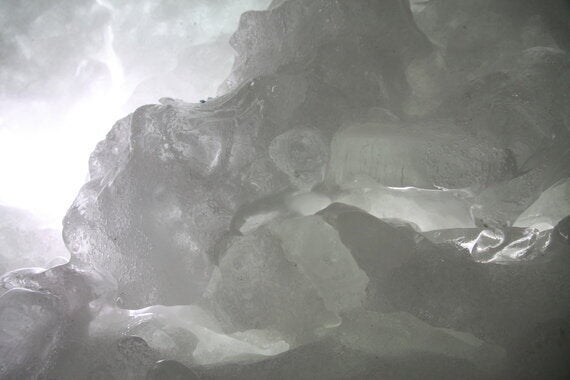 A little girl holds her mother's hand as she walks through the Crystal Beach Ice Caves on February 15, 2014.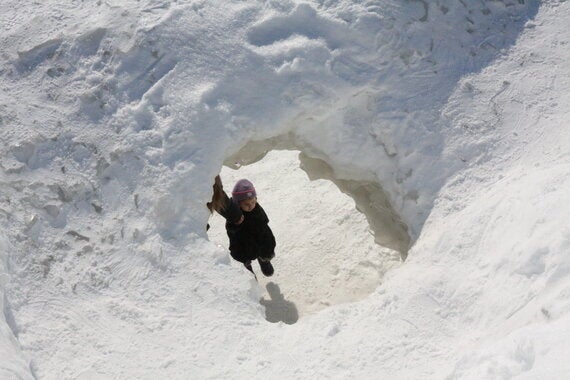 A bright blue sky seen through the ice in Crystal Beach, Ontario, on February 15, 2014.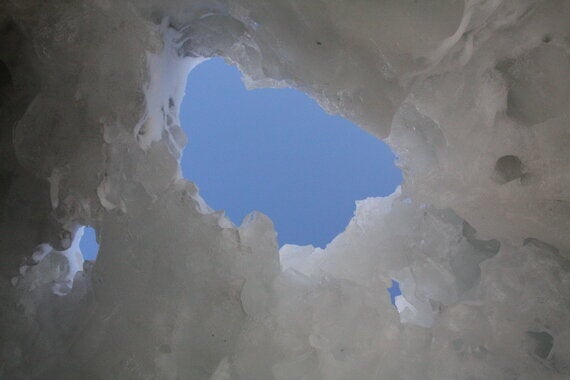 A visitor records this natural phenomenon with his phone on February 16, 2014. Thousands of visitors have travelled to Crystal Beach throughout the Family Day weekend to check out the extremely rare ice caves that formed after weeks of high winds, snow and bitter cold in Southern Ontario.