As a co-owner and dress consultant at T. Carolyn Fashions, I navigate the front lines of family conflict -- helping moms look great and satisfying the bride's often strident opinions. Even with 21 years in the business and 100,000 dresses sold, dressing a mother of the bride can be more challenging than dressing the actual bride!
Mothers often panic when faced with having to search for a dress for their child's wedding. To begin with, they don't shop for formal or semi-formal attire every day. In addition, most mothers don't have the same figure they had when they were brides. Last, but certainly not least, everyone they know and love will be sitting in one room watching them walk down the aisle too. The pressure is enormous!
Obviously every mother wants to look her best for her child's wedding, but where to begin? The good news is that if you know which styles best suit your figure, you are more than halfway there!
To make the process easier, I have listed specific figure issues or body types. I have included style suggestions and pictures (from several different designers) to help further illustrate my points; as they say, "a picture is worth a thousand words"!
Finding the Best Style for Your Figure
BLOG CONTINUES AFTER SLIDESHOW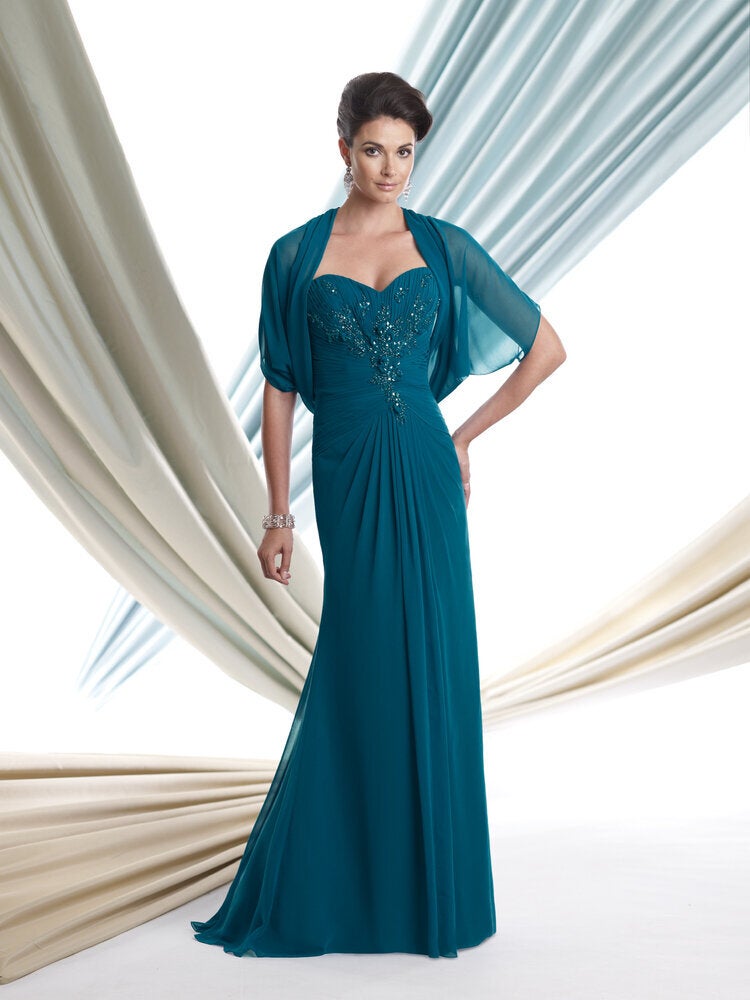 Mother of the Bride Body Types
•For women who are thick-waisted, soft diagonal ruching or pleating at the waist will create the illusion of curves.
•For the full busted woman who wants to wear a strapless gown, consider a one-shoulder gown instead. The diagonal cut provides a bit more coverage, and is extremely flattering as well as being quite fashionable. In addition, the one-shoulder design will provide the support of a strap which will prevent the wearer from tugging on her dress all night, trying to keep it up. Another excellent option would be an asymmetrical neckline, which is flattering to all body types.
•For women who want to cover their arms but aren't willing to look matronly, stoles can be used creatively in many different ways. They can be draped around the shoulders (if wearing a sleeveless dress) in differing degrees and attached to the shoulder to provide coverage without the hassle of having to hold on to it all night -- as you would with a regular stole. It can also be gathered and tacked under the arms to create a shrug-like effect. Be creative, and experiment! You'll be surprised with what you come up with.
Tall gals can really use their height to their advantage. They can wear big, full skirts, make the most of mermaid skirts, and wear beautiful bold accent pieces such as large structured bows with beading on one-shoulder gowns and wear patterns that the average woman can't pull off. A number of special occasion designers create their gowns with the tall gal in mind, so length isn't an issue. Instead of being insecure about their height (which happens occasionally), they should really celebrate it.
Petite women should avoid full skirts, ultra stiff fabrics, large prints, portrait collars, and in general anything that isn't scaled to their proportions -- i.e., large ruffled collars or bows. Petite women do well in soft fabrics such as chiffon, stretch net and jersey. Taffeta will work as long as it's not to stiff and bulky. V-necklines and asymmetrical necklines should be considered as well, and ruched bodices are ideal on petites
Plus-size women have so many beautiful choices! Plus-size women less than 5'4" are considered Women's Petites. They will dress differently than their taller counterparts. Women's Petites do better in softer less structured styles. Layers and diagonal cuts are important for them and will give the illusion of height. Women's sizes are for plus-size gals who are taller. These women will be able to wear the stiffer fabrics and fuller skirts -- depending on their height. V-necklines and ruching are both extremely flattering and should be considered. As with the Women's Petites, soft fabrics with layers and diagonal cuts are always a good option.
Hopefully, this tutorial has provided insight, alleviated some of the stress and given you a good starting point. Remember, the goal should always be to spend less time shopping and more time making memories!
If you want to delve further into the exciting world of weddings, tune into Mother of The Bride airing back-to-back episodes every Friday at 9 and 9:30 p.m. on SliceTM.