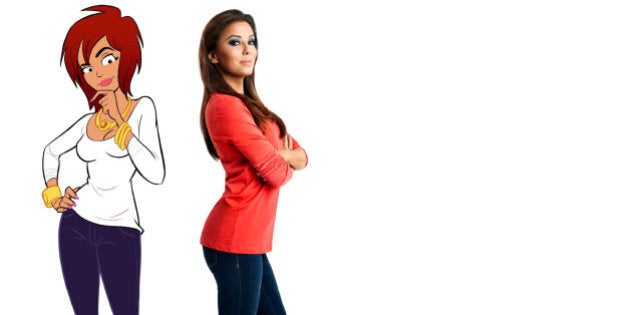 You know how Betty Draper of "Mad Men" is arguably one of the chilliest moms on television? Well, she has just been dethroned. Meet Rudi Wilson, perhaps the worst mom to hit the small screen -- ever -- on City's newest show, "Mother Up!"
The animated series centres on Rudi (Eva Longoria, who also executive-produces), a former music industry executive who leaves her job after a work scandal.
"She's a high-powered music exec that has quit her job and moved to the suburbs to become the mom she thinks she can be, and thinks her business skills will transfer over to parenting skills. She doesn't understand why it doesn't transfer," Longoria told me during last year's Rogers TV up-fronts. "The show is about that journey and the stumbling blocks she has to overcome to be a good parent."
Those stumbling blocks are more like mountains, because Rudi is as cold as they come. She thinks motherhood comes easy and she'll conquer it like she did the music industry. Too bad it's like apples and anchovies.
Enough of the mother talk; what about the funny? Longoria hopes that "Mother Up!" fills a void that's missing in today's animated series.
"That's how the show was pitched to me, that there's no female presence in animation," said the actress-executive producer. "I'm a huge fan of 'Family Guy,' 'American Dad!' and 'The Simpsons,' and for me, I was like, 'You're right, there is no female lead.' They're the mom or the wife. Rudi Wilson has a very male energy -- we like to call her the female Peter Griffin because she's inappropriate and misguided and awkward and selfish -- so for me to even play that in animated form, was awesome."
The problem is, "Mother Up!" isn't awesome -- or funny. While Rudi and Peter Griffin are the opposite of model parents, Peter at least has an excuse: he's a simpleton. Rudi is smart as a whip and can handle a Kanye-like rapper named Two Bit (Clé Bennett) but can't handle a couple of sweet, normal (how, I have no idea) kids like Dick (Jesse Camacho) and Apple (Rebecca Husain). Rudi is just an awful person, be it a mom, a wife, a boss, or a friend, and watching her try to navigate her way through motherhood in her half-ass, lazy way is painful. It's sad that she doesn't understand how to show affection or provide a meal or have a conversation with them -- and not in that sad-funny, ha-ha-dysfunction way. Nothing I saw in the first two episodes warranted any laughs. Not even a smirk. It even would have been better if it pushed the envelope and was offensive but funny. It's not, though. Basically, my mouth was set in a grim line the entire 44 minutes.
It's hard to watch, and that sucks because I agree with Longoria that there isn't a female-led animated series, but perhaps there isn't an audience for it. "Mother Up!"'s only redeeming quality is Longoria herself, who has a voice tailor-made for animation. She deserves better than the oh-so-flawed Rudi, who is short on charm, while Longoria oozes it.
Longoria admitted that she and Rudi are nothing alike. "There's nothing I derive from to play her. She's a mom, she was in corporate America. It's nice to play somebody that's totally different than me. She's narcissistic, she's selfish, everything roots from 'How does it best serve me?', which is fun to play." But it would be nice if some of Eva was in Rudi. That might make "Mother Up!" more likable.
Perhaps if Rudi wasn't Dick and Apple's mom and, rather, an aunt or family friend who gets the kids after Mom and Dad die in some freak accident, the premise would make more sense. But unless Rudi transforms from a selfish, despicable woman to a less selfish, less-despicable mom, there's nothing to root for here. It has so much potential (annoyed and annoying overworked suburban moms, the opportunities are endless) but why should we care when Rudi doesn't?
"Mother Up!" premieres Thursday, Jan. 23 at 9:30 p.m. ET/PT on City.