Imagine a life where a saucepan is your most treasured resource.
Where having access to a single a garden hoe can make a world of difference to your family's livelihood.
Where that family consists of several orphaned grandchildren, many of whom are HIV positive. And you, an elderly grandmother, are their only hope for survival.
These are the women I meet in rural Uganda, where I am volunteering with the Nyaka AIDS Oprhans project. Three staff members in charge of distributing microloans to these grandmothers, and of following up on their progress. I join them one day when they visit the grandmothers by motorbike, zigzagging through Kanungu district across bumpy, dusty, rocky roads, then hiking through banana and coffee plantations and across muddy streams, all in overpowering heat. As the sweat pours off my face, I catch myself grumbling... before I remember that the elderly women I'm about to meet travel these same paths daily, often barefoot.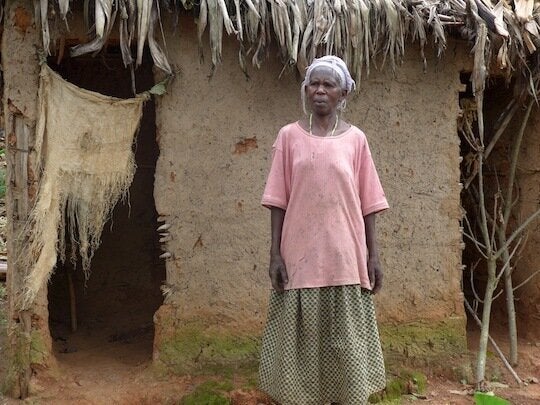 Grandmother Tibandebu, in front of her pit latrine
Fifty-three-year-old Jetu is one of these women. Jetu lives with two orphaned grandchildren, and cooks in a kitchen that's so close to collapsing, she's afraid to prepare food in it. Nyaka is in the process of building her a new kitchen, and is supplying hoes for farming to Jetu and her local group of grandmothers. They also give her support and education on how to look after her grandchildren.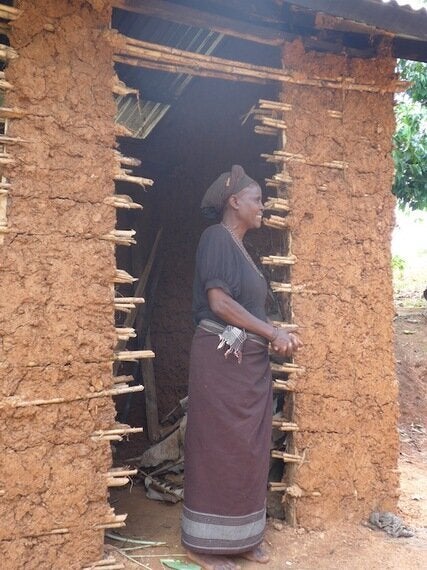 Volnic is 66 years old, and has four grandchildren, ranging in age from 3 to 18 years old. All the children but one are orphaned, are all are HIV positive.
"Nyaka tested the children for HIV," Volnic explains, as she gestures gratefully to the Nyaka staff member translating her words. "I have now attended two training sessions on how to emotionally support them." Volnic has also received support through a Nyaka microloan, which she's used to improve her food production, and to buy pigs, which she hopes will produce piglets.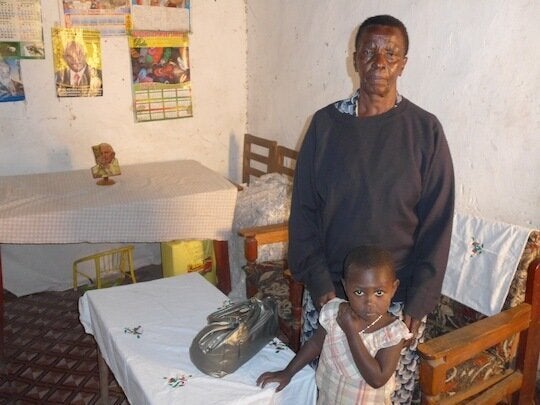 Volnic with granddaughter Hanani
Eighty-five-year-old Christina has suffered life of unimaginable difficulty: 15 of her 16 children have died. She now lives alone, and suffers from psychological issues. However, Christina is still bright and strong. "Being part of the Nyaka granny group has given me a sense of belonging," she says. "My mental health has greatly improved."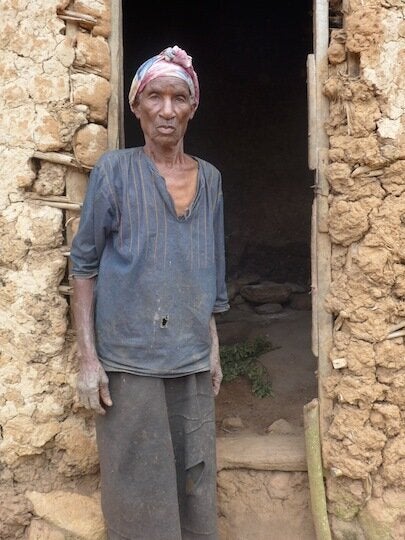 Turyamureba cares for three grandchildren -- two whose parents are still around, and one, 12-year-old Ambrose, who is an orphan. Turyamureba used Nyaka funding to buy agricultural hoes, and saucepans. Saucepans were often a rare resource to these grannies before Nyaka: they would use broken or leaky ones, or have to share between them. You can find Turyamureba's beautiful handicrafts for sale through Nyaka.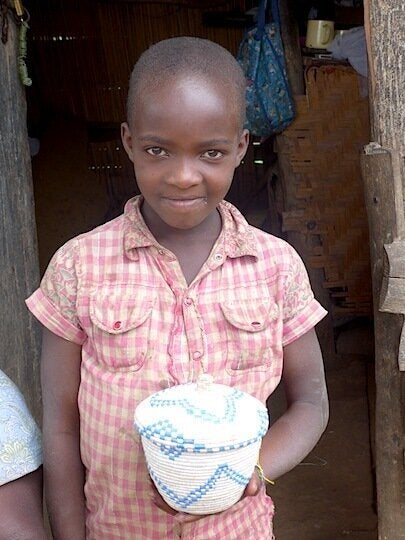 Turyamureba's granddaughter with one of her grandmother's baskets
As we drive home that evening, another Nyaka grandmother hails us from the side of the road. We pull over, and she greets us warmly, and sends us on our way with sugarcane grown in her garden. I notice how many local residents recognize the granny monitors on the motorbikes, and see how they link their presence with good things for the community. Supporting these grandmothers means supporting their grandchildren, the local economy, and that community's future. With 7000 grandmothers under the Nyaka umbrella, that's a lot of lives changed, and a lot of futures looking far brighter.
The Nyaka AIDS Orphans Project partners with Beautiful World Canada, an organization that funds, supports and encourages higher education for children in Rwanda, Uganda and Sierra Leone. To learn more about Beautiful World, or about sponsoring a student raised by one of these grandmothers, please visit www.beautifulworldcanada.org.
Follow HuffPost Canada Blogs on Facebook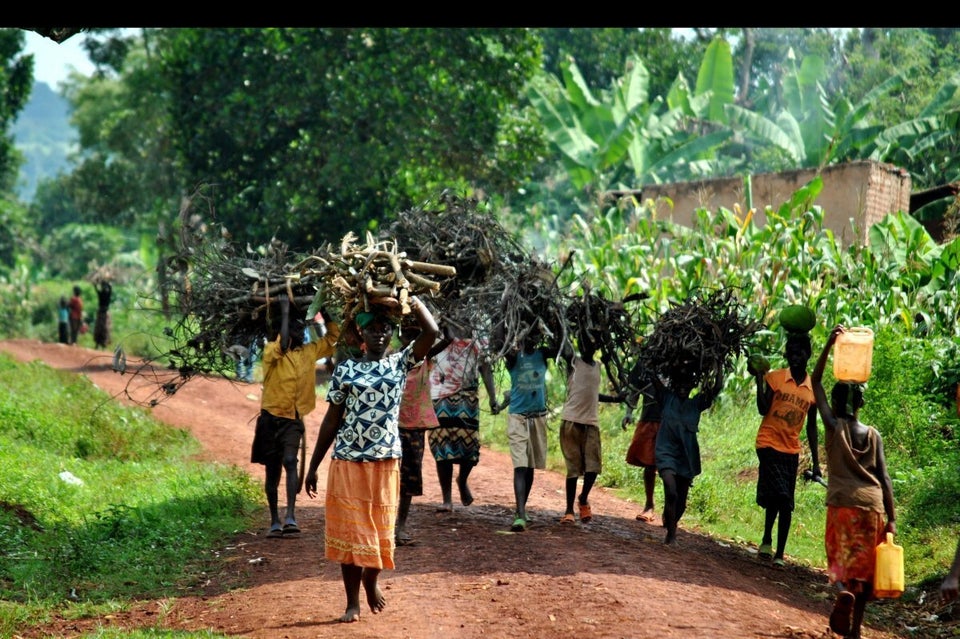 Hear our voices: Uganda