Before the dust had even settled on Mount Polley, mine owner Imperial Metals was active again in British Columbia's Clayoquot Sound. This finding was announced in Who's Knocking?, a report on mineral tenures in the Clayoquot Sound UNESCO Biosphere Reserve. The report, released by Clayoquot Action in partnership with Fair Mining Collaborative, details who is looking for minerals in Clayoquot Sound, and what types of minerals they are looking for.
Twenty years ago when someone said "Clayoquot," protests against clearcutting of old growth forests came to mind. At that time nobody thought anybody was crazy enough to propose an open-pit copper mine in the heart of Clayoquot Sound.
Who's Knocking? shows that 5.8 per cent of Clayoquot Sound is under some form of mineral title, with a total of 257 claims held by 23 licensees. As recently as five years ago, 24.5 per cent of the region was under mineral tenure -- the area staked has fallen due to low mineral prices. This highlights the "boom and bust" nature of the mining industry. No doubt claim staking will increase again when metal prices rebound.
Premier Christy Clark clearly wants to see more mines opening in B.C. This January, she announced millions of dollars in funding to fast track the permitting and approval of new mines. Since the Mount Polley disaster, her government has approved two new mines, including Red Chris, a contentious Imperial Metals mine in the Sacred Headwaters region of Tahltan First Nations territory.
The B.C. government appointed the Mount Polley review panel to determine why that dam failed. Their January report firmly rejected "any notion that business as usual can continue."
They called for an end to underwater storage of toxic tailings behind dams that could fail, causing irreparable environmental damage. They recommended shifting to "best available technology" such as dry-stacking tailings. The panel acknowledged that while safer technologies might be more expensive, cost estimates for conventional tailings dams do not include the costs associated with failures like Mount Polley. They argued that while economic factors cannot be neglected, neither can they continue to pre-empt best technology.
Despite committing in January to fully implementing their recommendations, B.C. Minister of Mines, Bill Bennett reneged on that promise recently, saying "I don't think that's in the cards...to adopt a policy where all you can use to manage tailings is dry-stack tailings".
Storage of toxic tailings is a challenge that will not go away. With the world's best ore bodies already mined out, we are scraping the barrel to get the last bits of valuable metals out of the ground. This translates into much larger quantities of mine tailings than were produced in past.
The Mount Polley review panel noted that there are currently 123 active tailings dams in B.C. If performance in the future reflects that in the past, then on average there will be two failures every 10 years.
Many British Columbians are not opposed to mining per se. But the average person can see that Mount Polley should not have been allowed to happen. Where was the government in their role as protectors of citizens and the environment? What is going to change to ensure another Mount Polley is never allowed to happen?
There have been repeated calls for mining legislation reform in British Columbia. Our "free-entry" system for mineral exploration was first developed in Europe in the 1500s, and was adopted in B.C. during the first gold rushes of the 1850s, before the province had telegraph communication. It's time for an update.
A common sense approach to best practices would begin by acknowledging that some areas, such as Clayoquot Sound, are just too special to mine. The government needs to designate 'no-go' zones which are off-limits to all mining activities including exploration.
As B.C.'s retired director of wildlife, Jim Walker, stated in 2011: "...as more and more of the province is developed, the ecological, societal and economic value of undeveloped areas increases dramatically...British Columbians do not want all the few remaining pristine areas accessed, no matter what the economic benefits or technical assurances."
It's time to ensure that any mining which does occur in British Columbia does not put at risk our own tagline as "The Best Place on Earth."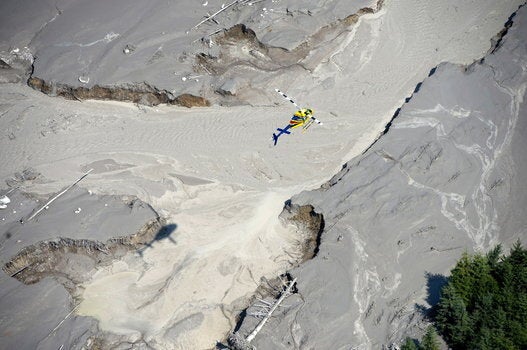 Mount Polley Mine Tailings Pond Breach