"This is a 'no,'" Liberal candidate Anthony Housefather hears a volunteer say behind him as he door-knocks through the hallways of a luxury condominium building in the Montreal riding of Mount Royal.
"It's OK. I'm going to talk to her."
"You're a very nice man," the older lady in a blue house coat tells him.
"In this riding, remember, we are one riding out of [338] and you're voting for a local MP," Housefather, the popular mayor of Côte Saint-Luc, begins to say.
"I know you," she interrupts. "I don't think that Trudeau is experienced enough. He's too young to be the prime minister of Canada."
"Do you know that Stephen Harper was elected when he was only two years older than Trudeau is now?" Housefather responds.
"But do you know Robert Libman who is running against me?"
"Not personally, but I have met him. Yes."
"And you know that he didn't support our community's existence? He didn't support the demerger of our community, when we were part of Montreal, we were both elected and we promised to both support demerger… I led the fight to demerge, and he broke his promise and fought to keep us in the mega-city. He was not in favour of our city even existing. Did you know that?"
"I don't think Trudeau would be that good," she responds.
"I think he would be great," Housefather replies undeterred.
"He's not such a great friend as far as I can tell."
"Friend to?" Housefather asks.
"Friend to the Jews," she tells him firmly. "Also, as a matter of fact, his brother was more for the Palestinians."
"His brother is not him, though. His brother is not an adviser. His brother can support the Palestinians. My brother may have different political views than I do, but it shouldn't reflect on Justin," Housefather says. "Justin was here at a synagogue in this riding. He said we are not changing the votes on Israel at the UN that were changed by Paul Martin to start with —"
"If he does. That remains to be seen," she interrupts.
"No, but, but. Ok. But, I'm there. You want me there, when Trudeau is prime minister, you want me there?"
"You, it's too bad, if you were for Conservatives I would vote for you," she tells him.
"…But think about it this way: If you think I'm the best guy to represent this riding, regardless of party because I will always speak up for us. No matter what —"
"Someone needs to speak up for the Jews."
"For the Jews, for the minorities, for any minorities. That is what I have done for 21 years as a councillor, as a mayor. I suggest [you] vote for me. I will be the best, no matter what. Think about me. Think about electing me over Libman. Then it doesn't matter whoever gets elected, I'll work well with…"
"You're a good salesman," she tells him. "I'll keep it in mind."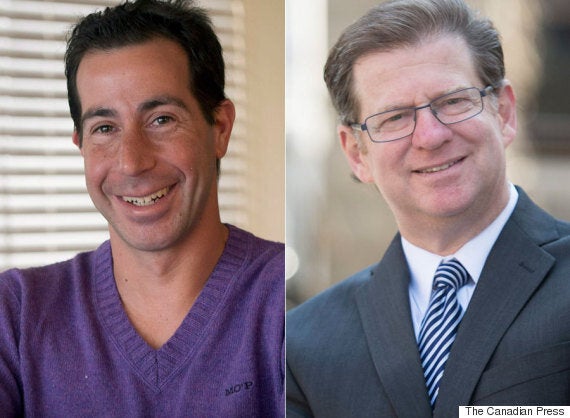 Liberal candidate Anthony Housefather and Conservative candidate Robert Libman (The Canadian Press)
Housefather is a bit deflated.
The last time he knocked on doors in the neighbourhood, he said every single door was a Liberal vote. The reception, this September morning, has been overwhelmingly positive. Fewer than a handful of residents declined to give their vote preference or said they planned to cast a ballot for the Tories. Most residents welcomed him like a close friend or relative. There were smiles. There were hugs. "You better win!," one woman told him, before she offered to volunteer on his campaign.
"Everybody loves Anthony," another woman, Marilyn Berman, told HuffPost, in an aside.
"This is Côte Saint-Luc, everybody is a friend. Or they are not," she added.
She has no kind words for Housefather's Conservative opponent, Robert Libman. She said she used to see him and his former wife argue in the street. "No Jewish woman forgets that!"
Perhaps, the love-in for Housefather could be expected. He lives in the neighbouring condo tower. His campaign manager lives in this building. City hall, where he's been mayor for the past 10 years, is across the road.
But in 2011, the Liberals lost this election polling area — along with so many others in Côte Saint-Luc — to the Conservatives. The Tories had heavily targeted the riding's Jewish community. They sent taxpayer-funded pamphlets into Mount Royal alleging that the Liberals were anti-Semitic.
Liberal incumbent Irwin Cotler, an internationally known human rights lawyer, told reporters after the election that he was deeply hurt when one woman, referring to the flyers, asked him when he had become so anti-Jewish. As a result of the Tories' tactics, Cotler lost the Jewish vote.
But he kept his seat with the support of the Filipino community, Maclean's magazine noted. Conservative candidate Saulie Zajdel lost by 2,260 votes. He was later hired as a Tory aide but this spring pleaded guilty to avoid jail time on charges of corruption and breach of trust stemming from his time as a city councillor.
Housefather said he spends a lot of his time trying to correct rumours that Trudeau is anti-Semitic or that the Liberal party is anti-Israel. He said he attended a speech at a local synagogue with Finance Minister Joe Oliver and after the Conservative had spoken, a woman came by and told him "I really liked you as the mayor, I'm shocked to hear you don't like Jews. And that's terrible. How could you be our mayor?"
"I said, 'I'm Jewish!' How could you believe that all Liberals are — but this is how the speech comes across," he said. "At that moment, I felt so profoundly hurt. You know, when you put yourself in public life, you have to expect to be hurt. I have very thick skin, I'm used to people saying anything and everything about me. But you don't expect to be called something that is so ludicrous."
Mount Royal has a been a Liberal riding since 1940. Former Liberal prime minister Pierre Elliott Trudeau represented the riding from 1965 to 1984. When Cotler first ran in a 1999 by-election, he won an astounding 91.97 per cent of the vote.
Most of the residents in the riding speak English at home. There are very-well-to-do-neighbourhoods, such as Hampstead and the Town of Mount Royal. The average household income is $92,804, according to the 2011 National Household Survey.
About a third of the riding is Jewish — it's the second largest Jewish riding in Canada after Thornhill in Toronto. The riding also includes the neighbourhoods of Côte-des-Neiges and Snowdon, which are poorer and very multicultural. There are lots of South Asians and Blacks, but the largest ethnic group is the Filipino community.
Over coffee at a local landmark, the Snowdon Deli, Libman suggests that the Jewish community is about 36 per cent strong but their turnout is higher, so they account for about 40 to 50 per cent of the voting share in the riding.
The Tories always planned for 2015 to be a rematch. Right after the last election, the Conservatives' polling firm found itself sanctioned after its voter identification calls suggested Cotler was about to resign
Cotler announced last year that, after six elections, he would not run again.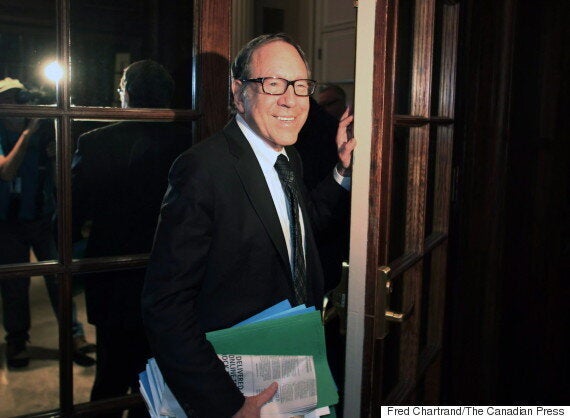 Irwin Cotler enters the Liberal Party caucus meeting in June, 2015. (Fred Chartrand/The Canadian Press)
Now, after 75 Liberal years, Libman believes the riding is ripe for the taking. He points to the lack of a strong incumbent, his own local roots in the riding and Conservative Leader Stephen Harper's "strong leadership" on Israel.
In 2011, the former city councillor, MLA and mayor of Côte Saint-Luc (he retired from politics in 2005 and returned to architecture), said he was approached by the Tories to run but he didn't want to go up against Cotler.
"I felt that running against him would be very divisive"
Cotler is "somewhat of an icon," Libman said, and a very well respected member of the Jewish and international community. Housefather, he noted, is "no Irwin Cotler."
Libman said he was inspired by Harper and wanted to get involved again. He created somewhat of an upset this April when he defeated the Tories' star candidate, TVA journalist Pascale Déry, for the Mount Royal nomination. Some Conservatives in Quebec, he said, were uncomfortable with his past as the co-founder of, and later MLA for, the English-rights Equality party. He said, however, that his background is seen in the riding not as a hindrance but rather as a "badge of honour."
'No one questions Stephen Harper's stance on Israel'
Driving through Mount Royal on Cavendish Boulevard, Housefather's red lawn signs and Libman-Harper's signs seem equally dispersed on the front lawns. In the middle of the street, however, hanging from the light posts, are large horizontal Conservative-blue signs with Harper, wearing a kippah, at the Western Wall in Jerusalem during his official visit in 2014.
"Shana Tova!" the ad states in Hebrew, wishing residents a Happy New Year. "Through Fire and Water, Canada will stand with Israel," it quotes Harper saying.
This riding is very important to Harper, Libman told HuffPost. "He would like to win this riding, and I promised him that I would deliver him this riding."
The Conservative leader's first campaign stop on Aug. 2 was in Mount Royal. Laureen Harper has been to the riding, as has Calgary incumbent and high-profile cabinet minister Jason Kenney, who visits two to three times a month, Libman said.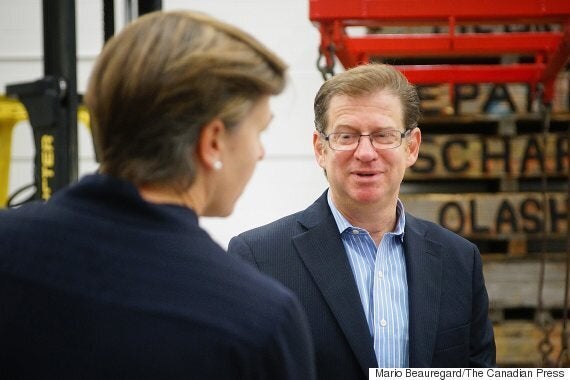 Robert Libman greets Labour Minister Kellie Leitch at a July press conference in Montreal. (Mario Beauregard/The Canadian Press)
Last Thursday, former foreign affairs minister John Baird gave a speech highlighting the Conservatives' support for Israel during last year's crisis with Gaza — and stressing what an important contribution Libman could make as a cabinet minister from Montreal.
"This government has been, perhaps, the most unequivocal in the world on the fact that when it comes to the Middle East, we are not going to single out Israel," Harper said onstage. "It is the one Western democratic ally … it is on the front line of the threats directed against us. We are not going to single out the Jewish state for attacks or criticisms. We recognize unequivocally the right of Israel to be a Jewish state and to defend itself."
Trudeau responded that both he and NDP Leader Thomas Mulcair had no plans to reduce support for Israel.
"Where we most disagree, as Liberals, with Mr. Harper, is that he has made support for Israel a domestic political football when all three of us support Israel and any Canadian government will."
But Libman said there are still very big questions about where Trudeau stands on the issues.
"His suggestion that we reopen diplomatic ties with Iran is something that certainly doesn't have much credence within the community. His decision not to join the alliance fighting ISIS is also something that many people raise in terms of question marks as far his aptitude to run the country. These are questions that come up and people have severe doubts about.
"No one questions Stephen Harper's stance on Israel," Libman added. "But questions come up with regards to Trudeau. In the [candidates] debates, I have mentioned or it has come up...that some of his closest foreign advisers, such as [former MP and current Liberal candidate] Omar Alghabra or [retired army general and Liberal candidate] Andrew Leslie, their position on Israel have been very different than Stephen Harper's," Libman said.
One reason questions are coming up — or are being raised — is because Kenney is sending out emails to members of the Jewish community attempting to create a wedge issue and casting doubt on the Liberals' support for Israel by suggesting that any support for Palestinians is an affront to Jews.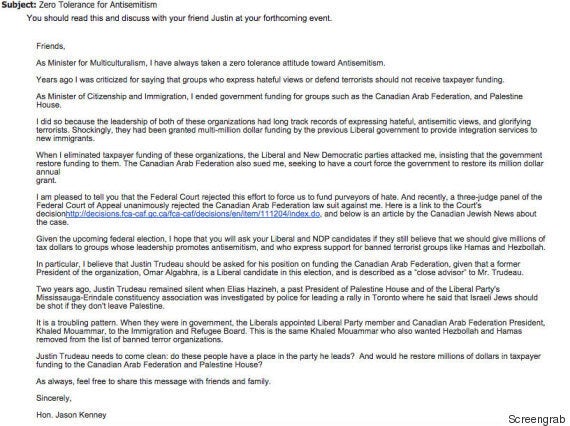 Libman said Trudeau spooked a number of residents during a speech at a synagogue in which he said Canada's reputation had taken a hit because of its position on the Middle East and that, if the Liberals were elected, Canada would become more of an "honest broker."
"That is interpreted by many people as a watered down support for Israel, in order to go along and get along with the United Nations, for example," Libman said.
In an op/ed published in The Huffington Post Canada on Monday, Trudeau called for Canada "to become, once again, an active and constructive member of the United Nations and other multilateral organizations."
"Shouting from the sidelines, as the Harper Conservatives have done for years, marginalizes Canada. That's not leadership," Trudeau wrote.
Libman said Jewish voters remember that the Canadian government under the Liberals "stood against Israel" at the UN or abstained from resolutions that were critical of Israel.
Canada's UN votes began to change in Israel's favour under Liberal prime minister Paul Martin, and hardened under Harper.
Libman said he was surprised to hear that, but it is a message Housefather is trying to get across at the doors.
"Mr. Trudeau has made it very clear that his position on Israel is essentially the same as Mr. Harper's," the Liberal candidate said. "We are not changing the votes at the UN; we are going to continue to boycott anti-Semitic conferences like Durban; Israel apartheid week has no place on Canadian campuses."
The Tories are campaigning on Israel, he said. "If they see a mezuzah on the door, [they say] Mr. Harper is the greatest on Israel and you're a Jew and you should vote for Mr. Harper.
"It's not enough for the Conservatives to say Harper is good. They have to pretend Trudeau is bad."
The Tories are spreading falsehoods about Trudeau, saying that his brother Sasha, a documentary filmmaker, is his biggest adviser on the Middle East; that Omar Alghabra is his biggest adviser; that the Liberals don't think Hamas should be a terrorist organization, Housefather added. "They make up things. One after another after another."
"We need to look at Justin's word. Justin's word was: We are not changing the votes at the UN, presuming that whatever votes that happened at the UN he wouldn't have changed," Housefather said.
"That's Justin's position. It's my position. We are interchangeable with the Conservatives on that. The only difference is we don't see it as a wedge issue. And we certainly don't see it as the No. 1 issue in a Canadian election when we have an economy that is in recession and we have a joblessness rate, in the island of Montreal, over 11 per cent."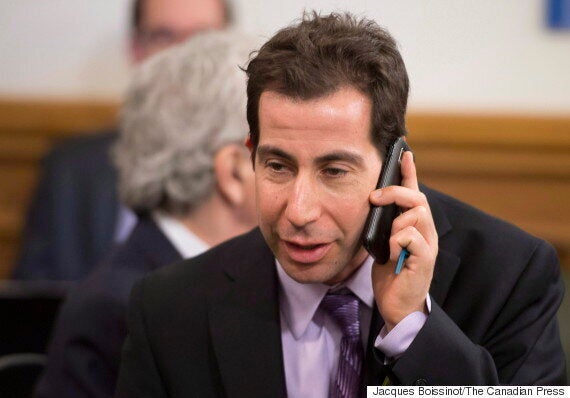 Anthony Housefather speaks at a legislature committee in Quebec City in March, 2013. (Jacques Boissinot/The Canadian Press)
Outside the Jewish community, nobody raises the Israel issue, he said. He wants to bring everyone together to talk about the economic issues, environmental issues, local issues such as the Tories' record on ending Canada Post home delivery, on scrapping the long-gun registry, on infrastructure and rail safety — Mount Royal is next to a large rail yard, he said.
Housefather is trying his best to make this a local race.
He hopes his personal popularity — he has been mayor of Côte Saint-Luc since 2005 and was twice acclaimed — will trump the increasing closeness the Jewish community feels to the Harper government.
"They are voting for me," Housefather said, in the stairwell between condo floors. "It has nothing to do with the Liberal party, [for] a couple yes … but [for] most of them it is entirely personal."
At the door, he reminds voters that Libman broke a promise to residents to help fight for the demerger of their city — changing his mind once on the executive committee in Montreal, and he then fought for maintaining the merger. Housefather said it showed his opponent cannot be trusted to keep his promises to resident and instead will put his "own self-interest first."
Libman calls Housefather's pitch a "ruse."
"I've always stood up for what I believed was in the best interest of my community."
He campaigned for retaining the mega-city because he felt the community "finally had power and influence" in the region, he said. "[This] seems like a desperate attempt to lower the debate level. This is not a municipal election," he added.
Housefather shouldn't be casting stones, he suggested.
"He's the only mayor in Quebec who is [still] sitting in office. We get complaints from people who feel pressured by him, by using his municipal apparatus. He has city councillors working on the public dime, working on his election campaign," Libman charged.
Libman doesn't dispute that he's campaigning on Israel. But he suggests residents throughout the riding also find the Conservatives' low-tax plan attractive. Residents in Mount Royal, he noted, don't like Trudeau's plan to increases taxes on incomes above $200,000.
One thing playing into Libman's advantage, is the popularity of the NDP. In 2011, the New Democrats won 17.9 per cent of the vote. The Tories won 35.6 per cent, the Liberals 41.4 per cent.
"I guess that made it closer between the Tories and the Liberals, because they [the NDP] took a chunk of votes from what I would surmise came from the Liberals."
Libman believes most people will vote on the issues that are important to them rather than voting strategically. If that's true, it could help him on Oct. 19.
New Democrat predicting historic upset
NDP candidate Mario Jacinto Rimbao also hopes Mount Royal residents won't vote strategically.
Although he lives in Brossard on Montreal's south shore, Rimbao is a well-known local basketball coach and prominent member of the Filipino community. He told HuffPost he's pretty confident he can create an upset.
He is reaching out to the 40 per cent of the riding that didn't vote last time. Looking for support among new Canadians, first-time voters and young people, he also counts on receiving votes from the Caribbean and Filipino communities, he said.
"A lot of people feel rejected and ignored. Not this year. That's why I tell them there is going to be history made on Oct. 19."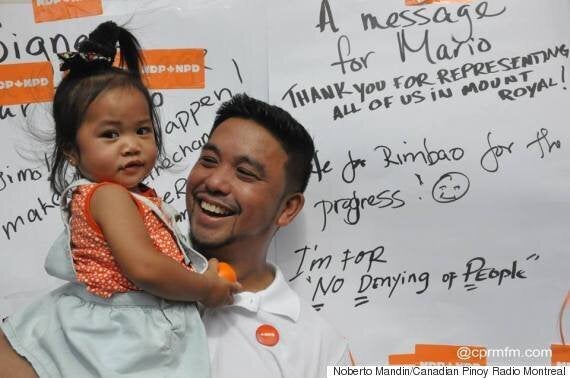 Mario Jacinto Rimbao holds his daughter. (Canadian Pinoy Radio Montreal))
He said he knows there is a strong anti-Harper sentiment in the riding, so he's convinced Libman is not going to win.
"It's between me and Anthony Housefather."
When he goes door to door, the first thing on people's minds is the economy, then healthcare and senior care, social housing and daycare. Foreign affairs, he said, is down the list.
The NDP wants "peace in the Middle East" and is committed to a two-state solution, Rimbao said. He had "no comment" for now about whether Canada's UN votes on Israel would change under an NDP government but he said the party "support[s] the idea of Israel to exist."
"I understand it's a very touchy and sensitive issue for many people in the riding."
The biggest challenge Rimbao is encountering, he said, is this idea that a vote for him is a vote for Libman.
"There are Liberals saying that if you vote for Rimbao, it's a vote for Harper, which I really find is a low blow," he said, over the phone. "I explain to them that if they are going to let another party dictate to them how they are going to vote, then they are just losing their democratic right to vote."
People should vote for whom they want to vote for, he said. "It shouldn't be strategic."
Rimbao has high praise for his Liberal opponent.
Both he and Housefather are "trying to represent the people," he said, and he has "a lot of respect" for him as a mayor and as a candidate. They just disagree on who would be the better prime minister.
"I say Thomas Mulcair, and he says Justin Trudeau."
Housefather said he gets a lot of questions about what differentiates the Liberals from the NDP.
Outside of Côte Saint-Luc and Hampstead, the Tories are not the natural second choice, it's the NDP. So he talks about the Clarity Act — and the NDP's deeming 50 per cent plus one vote to be enough to lead to negotiations on the breakup of the country — as well as the NDP's position that Bill 101 should apply to all federally regulated institutions in Quebec.
"That shocks them, because they don't know that about the NDP, and that certainly discourages a vote from many people in this riding who are federalist to vote for the NDP."
Housefather said he worries a lot about vote-splitting.
"Any vote in this riding that goes to the NDP, goes to elect Robert Libman. That is what I say to everyone," he said. "The NDP has no chance to win here. The NDP would have to win every riding in Quebec to win this riding. And they would have to win almost every riding in Canada. Their vote percentage would have to be in the 80s in Quebec to win Mount Royal because they don't have the English-speaking vote. It is almost impossible — it is impossible. So what I tell people is if you want to not elect the Conservative in this riding you have to vote Liberal."
Housefather said he's taking nothing for granted. He is door-knocking, shaking hands at the Metro station, trying to be available and accessible to ensure that, regardless of what happens in the national race, he doesn't lose the riding.
"You don't want to be the guy that loses a riding that has been Liberal for 75 years. The embarrassment would be huge, personally."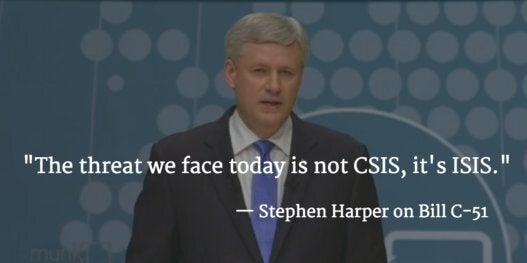 Best Quotes From Canada Election Munk Debate On Foreign Policy