You could throw in a moose drinking a double double, next to a beaver nursing a beer, but really, this picture is pretty much perfect.
The photo, which was shared online by the B.C. RCMP, has been hailed as "the most Canadian photo ever" — but the Mountie captured in the image says he had no idea how much attention it would get.
"Obviously I didn't anticipate this kind of fanfare but I'm a very proud Mountie and an even prouder Canadian, and I thought 'what better way to capture that,'" RCMP Cpl. Shaun Begg tells The Huffington Post B.C. in an interview.
Begg says the photo was taken on a once-in-a-lifetime trip with his oldtimers' hockey team, the Kaslo AfterBurners, this week.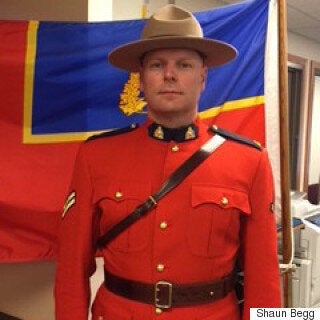 The team's captain is also a helicopter pilot who helped organize the excursion to Shamrock Lake in a remote area of the East Kootenay region, says Begg, the detachment commander in Kaslo.
Begg and nine other teammates pooled their money and took time off work to play some pick-up hockey.
"This was an opportunity of a lifetime to play at 9,000 feet on a glacial-fed lake in the pristine Purcell Mountains. So I thought I'd take my red serge and take a picture for a Christmas card or a screen saver," says Begg, who got his supervisor's blessing to bring his uniform on the personal trip.
On Wednesday, the team flew in a helicopter up to the lake and played shinny against another squad of 10 people from Western Canada. Near the end of the five-hour experience, Begg put on his uniform for a few photos, and even played a couple of shifts in the red serge.
He says he had no idea one picture would reach so many people:
Beggs' photo is the latest addition to Canada's "RCMP Officers Doing Awesome Things" album, which already includes Const. Ryan Steel of the Ridge Meadows RCMP:
And don't forget Const. Doug Sokoloski from Alberta, who is also known as the "coolest cop ever playing drums in the woods":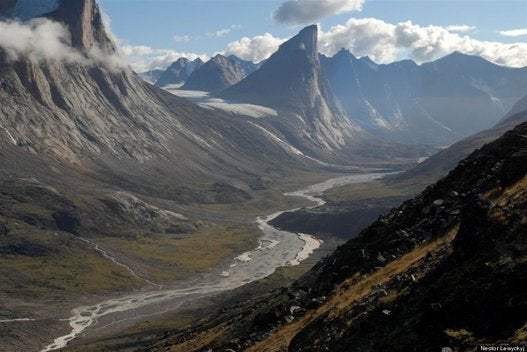 Canadian Places You Won't Believe Exist