When RCMP Const. Neal Machek saw Ski-Doos gliding across a Northwest Territories lake, he knew it was time to finally cross a very Canadian dream off his bucket list.
The Mountie said he and his partner Const. Jason Ellefsen were returning from an early Remembrance Day ceremony on Nov. 10 when they passed by Great Bear Lake, its conditions ideal for some shinny.
"It was the perfect temperature. The ice was frozen, nice and flat," Machek, who is from Kelowna, B.C., said in an interview with The Huffington Post Canada.
"So we figured it would be good enough for us to skate on."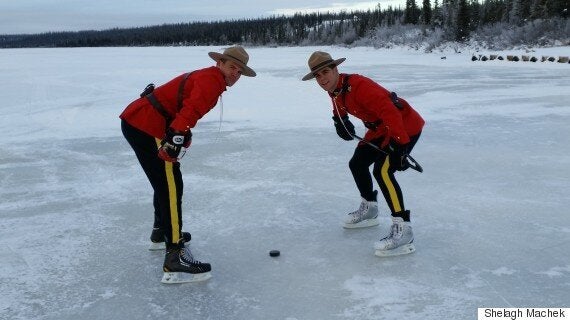 So he convinced his wife Shelagh to accompany them and take photos and video of their quick game.
He shared some of his favourites with HuffPost Canada.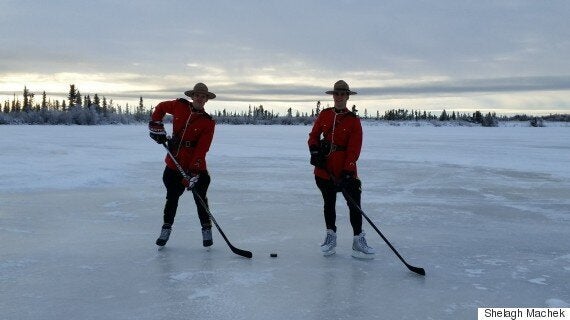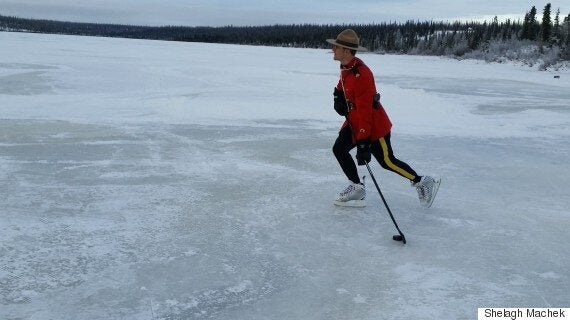 "We're big hockey fans," Machek said. "I grew up watching hockey, but never got to play until I was about 15 years old."
According to local lore, the sport's earliest beginnings trace back to Great Bear Lake when explorer Sir John Franklin used to play shinny with his crew out on its ice. It's also an origin story that challenges the same claim by Windsor, N.S.
But that contentious detail is irrelevant to Machek, because he finally got to do something he's been eyeing since he arrived in Deline a year ago.
"We're two Mounties and didn't think we'd get an opportunity like that again — to be able to say we played in the birthplace of hockey out on a lake being in serges," he said.
"I just wanted to get out there and do it." — Const. Neal Machek
Deline is a remote, northern fly-in town that sits along the edge of a lake the size of the Netherlands. With a population under 500, it carries a "very good reputation" and is "very receptive" to Mounties, says Machek — which is why he requested a two-year posting in the community.
Machek said locals have welcomed him warmly and have taken him on hunts. He even successfully convinced Ellefsen, who he worked with in Inuvik, to move to Deline, too — admitting he lured him with the idea of building an ice fishing shack come wintertime.
Since the lake froze over nearly two weeks ago, the town's efforts to develop its tourism industry are on a seasonal hiatus since deep-pocketed tourists can't fly in and fish for some of the world's biggest trout.
So what exactly motivated Machek to play some shinny in traditional Mountie attire? He simply said it was a "once in a lifetime" moment.
"I just wanted to get out there and do it, for whatever reason I don't know," he said "Just something fun to do."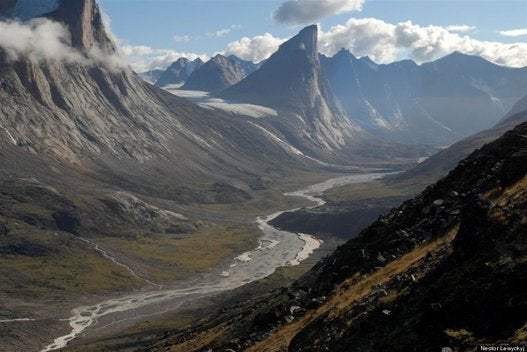 Canadian Places You Won't Believe Exist