It appears Canada's national anthem is well on its way to becoming gender-neutral after a vast majority of members of Parliament voted in favour of the change Wednesday.
And, in a rare moment of harmony after the vote, MPs of all stripes broke out in a spontaneous rendition of "O Canada."
C-210, a private member's bill from veteran Liberal MP Mauril Bélanger that seeks to replace the lyrics "all thy sons" with "all of us" in the English version of the anthem, easily passed its second reading in the House of Commons by a vote of 219-79.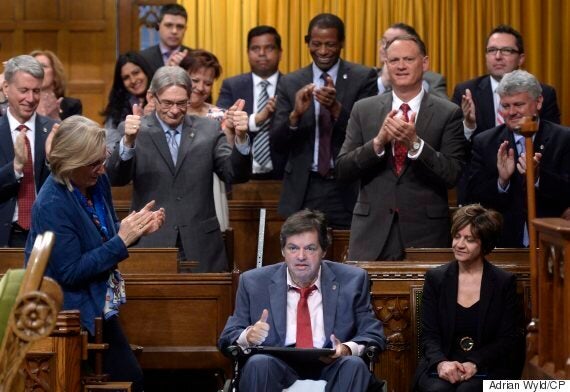 Ottawa-Vanier MP Mauril Belanger uses a tablet with text-to-speech program to defend his proposed changes to neutralize gender in the lyrics to "O Canada" in the House of Commons on May 6, 2016. (Photo: Adrian Wyld/The Canadian Press)
Bélanger, diagnosed with incurable amyotrophic lateral sclerosis (ALS) last year, has long advocated the change. A similar bill tabled by the MP in 2015 was voted down by the then-Conservative majority, despite support from Liberals and New Democrats.
Nine Conservative MPs voted in favour of Bélanger's bill this week, including leadership candidate Michael Chong who supported making the change last year.
Former cabinet ministers Michelle Rempel and Peter Kent, as well as veteran MP Deepak Obhrai also voted to alter the lyrics. All three opted not to support Bélanger's bill last spring.
A highly emotional debate
It's not a done deal yet, though. The bill is headed for the heritage committee for further study and will be voted on again. The overwhelming show of support, however, suggests it should pass.
The debate over Bélanger's bill has been highly emotional. Though he has lost his voice, the MP made history in January by delivering his remarks on the bill electronically, through the use of a program on his iPad.
Tory MPs thwarted an attempt to pass the bill quickly last month, prompting accusations they were stifling a dying colleague's dream.
Rempel took to Facebook to challenge that narrative with a lengthy post in May, arguing her party was trying to give the bill the debate and scrutiny it deserves.
Conservatives opposed to changing the anthem have argued that altering national symbols could be a slippery slope.
"Maybe the botanists will be in an uproar about the shape of the maple leaf on our flag and demand that it be changed," Tory MP Larry Maguire said during debate on C-210 last month.
"Some may be upset that the almighty beaver will not stop chopping down trees, so the National Symbol of Canada Act must be amended to swap out the beaver for an animal that is far less destructive."
But Bélanger and others have pointed out that the original, gender-neutral wording of the anthem — "thou dost in us command" — was changed to "all thy sons" in 1913.
Library and Archives Canada noted on Facebook Wednesday that the original 1908 English lyrics also left out a reference to God.
With a file from The Canadian Press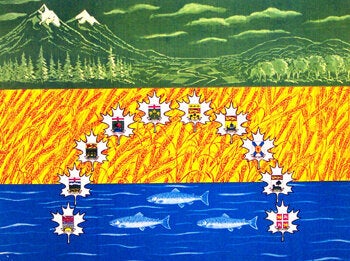 142 Rejected Canadian Flag Designs
Popular in the Community