The female stars of "Orange is the New Black" perfectly summarized the 2014 MTV Video Music Awards when they noted "this years VMAs are a lot like our prison show, there are a bunch of badass women all crammed in the same place trying to get one over on each other."
Hell, Drake won a Moon Man for best hip-hop video for "Hold On (We're Going Home)" and didn't even bother to show. A shame, really, since it would have been handed to him by Common who once tried to spark the lamest beef ever by calling him "Canada Dry."
There were a few boys invited to the party, of course, but the mega-popular 5 Seconds of Summer felt as ephemeral as their name, and certainly not comparable to Green Day or Blink 182, which is how they were introduced. Maroon 5 played outside, presumably intended to remind us that People's "Sexiest Man Alive" and "Voice" judge Adam Levine is also in an arena band. Didn't work.
Usher clearly saw this coming, though, and invited Nicki Minaj to come out for yet another sparkling turn on the mic. None of this is to discount Sam Smith, though, as his performances of "Stay (With Me)" was incredible, but he'll no doubt be back for another go the Grammys.
In fact, the only other male who made an impression was Miley Cyrus' homeless friend Jesse, who accepted her Video of the Year award for "Wrecking Ball" on behalf of America's 1.6 million runaways and homeless youth before reminding the celebs and suits that "the music industry will make over $7 billion this year and outside these doors are 54,000 human beings who have no place to call home."
Even the Best Rock Video category -- which had men as four of the five nominees prompting patronizing presenter Trey Songz to stupidly say "There's even a lady in the mix" -- still went to that lady, Lorde, for "Royals." She acted nonplussed, thanked "all my friends from school who were in the video" then accidentally swore. But a Lorde win isn't so unlikely, even in rock, at least not compared to all-girl vocal group Fifth Harmony who didn't win "X-Factor" but did trounce 5 Seconds of Summer and Sam Smith in an audience-voted category.
Best pop video winner Ariana Grande was set-up as this year's breakout star, and she delivered vocally on "Break Free" and her collab with Jessie J and Nicki MInaj "Bang Bang" but she can't seem to help her innate blandness.
Minaj has no such problem, of course, though her ability to power through her unfortunate wardrobe malfunction on "Bang Bang" will likely be remembered more than her powerhouse performance of "Anaconda." (Oh, the VMAs girls-only premise was made pretty clear when she didn't other to invite Sir Mix-a-Lot to rap his sample that roots her entire song.)
Iggy Azalea won a Moon Man by proxy for her Ariana Grande collab "Problem" but did make an impression with her performance of "Fancy" follow-up "Black Widow" with Rita Ora and managed to stay on the stage, unlike her infamous fall the night before at a pre-VMA benefit concert.
Beyonce, of course, closed the show with the regal bearing that she's become famous for. She received the Michael Jackson Video Vanguard Award, presented by, yes, loving husband Jay Z and adorable daughter Blue Ivy. Jay noted that she was "the greatest living entertainer," no gender qualification needed, and then she proved it with a 20-minute concert of last December's surprise album that emotionally climaxed with the indelible Chimamanda Ngozi Adichie sample from "Flawless":
"We teach girls to shrink themselves
To make themselves smaller
You should aim to be successful
Otherwise you will threaten the man.
Feminist: the person who believes in the social
Political, and economic equality of the sexes."
Then, because of course, she performed "Bow Down Bitches."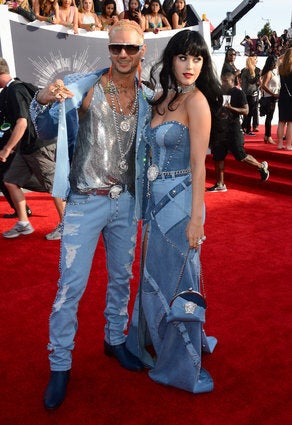 2014 MTV VMAs Red Carpet
Miley Cyrus, "Wrecking Ball"
Drake ft. Majid Jordan, "Hold On (We're Going Home)"
Ed Sheeran ft. Pharrell Williams, "Sing"
Katy Perry ft. Juicy J, "Dark Horse"
Ariana Grande ft. Iggy Azalea, "Problem"
Fifth Harmony, 'Miss Movin' On"
5 Seconds of Summer, "Don't Stop"
Popular in the Community