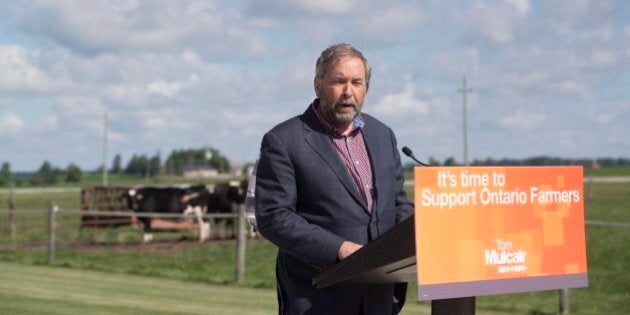 Thomas Mulcair says the same excuses for what he deems as Stephen Harper's inaction on climate change could have been used to keep Canada out of the Second World War.
The NDP leader, currently on a campaign-style tour of battleground Ontario, sat down with Hamilton's CHCH Morning Live on Wednesday. At one point, host Annette Hamm remarked that Canada has received a "bad rap" internationally when it comes to fighting climate change.
Mulcair said Canada isn't doing enough and that Harper's answer to critics is always to say that the country only represents "a couple of per cent" of the world's greenhouse gases.
"At the same time, whenever we've taken on these big fights internationally, we were always one of the smaller players," Mulcair said. "But it didn't mean that we didn't go in.
"In the Second World War, the same argument could have been made. 'Oh, we only represent a couple of per cent of the forces.' But we knew that we had a job to do. This is a battle that the world has to take on. Climate change is real, reducing greenhouse gases has to be made a priority. It can be done."
The NDP leader said that when he was Quebec's minister of environment between 2003 and 2006, greenhouse gases were reduced each year.
"Mr. Harper doesn't believe in the science of climate change, so he's not doing anything," he added.
Mulcair has previously said he will lean on his experiences as an environment minister to bring in a cap-and-trade system with a clear price on carbon if he is elected prime minister this fall.
While facing down the opposition in question period, Environment Minister Leona Aglukkaq has frequently mentioned that Canada "emits less than two per cent" of global greenhouse gas emissions, while the United States and China combine for 39 per cent.
At the G7 meeting last month, Canada joined other countries in committing to end the use of fossil fuels by 2100, a move the prime minister said will require "serious technological transformation" for Canada's energy sector over decades.
"Nobody's going to start to shut down their industries or turn off the lights," he said. "We simply got to find a way to create lower-carbon emitting sources of energy."
As Mulcair made his remarks Wednesday, 60 mayors, including Vancouver's Gregor Robertson, met at the Vatican for a climate talks meant to put pressure on world leaders ahead of the United Nations Climate Change Conference in Paris this December.
The mayors signed a declaration this week stating that "human-induced climate change is a scientific reality and its effective control is a moral imperative for humanity."
Pope Francis, who in June called for decisive action to combat global warming and stop the Earth from looking more and more like "an immense pile of filth," lauded the mayors as the "conscience of humanity."
Robertson told The Canadian Press he will push the federal government to support bolder targets for carbon reductions in Paris. Robertson also said he and other mayors intend to make climate change a federal election issue this fall.
"I've heard other mayors and governors wondering where Canada's leadership is on climate change,'' he said.
According to Veterans Affairs Canada, more than one million Canadians and Newfoundlanders served in the military during the Second World War, with 45,000 sacrificing their lives.
"While the great powers made more significant contributions to the war effort; for a country of only 11 million people Canada's contribution was remarkable," a Veterans Affairs website states.
JS Woodsworth — the leader of the Co-operative Commonwealth Federation that preceded the NDP — opposed Canada's war effort.
With files from The Canadian Press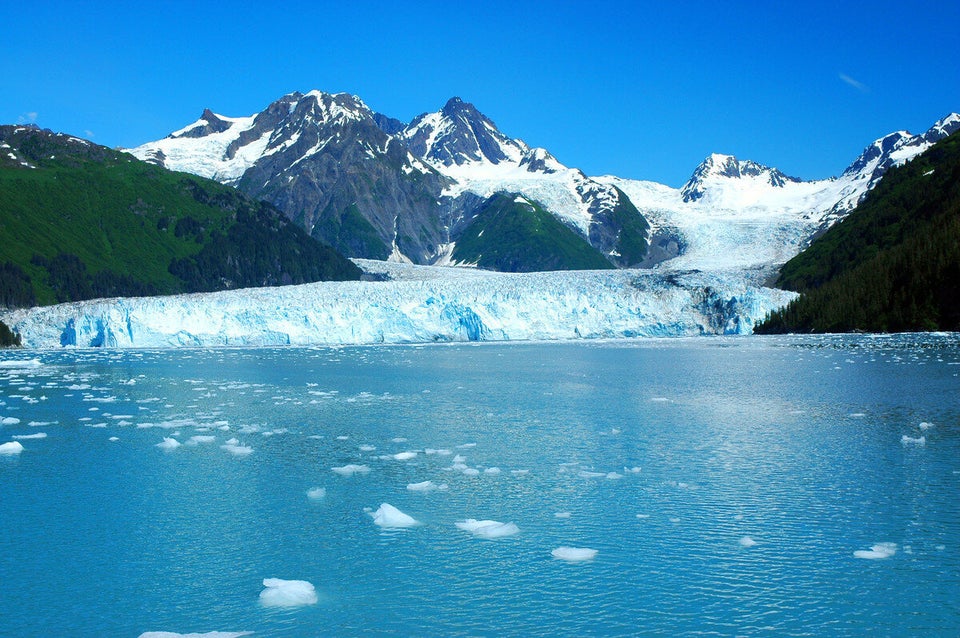 Climate Change: 10 Beautiful Places Under Threat