NDP Leader Thomas Mulcair is urging the new Liberal government not to let fear result in the exclusion of unaccompanied men from federal plans to resettle 25,000 Syrian refugees before the end of the year.
Mulcair held a press conference Monday in Ottawa as Canada's first ministers sat down with Prime Minister Justin Trudeau. He said that resettling Syrian refugees — among "the most vulnerable people on the planet" — was a key challenge facing Canada's premiers.
He pledged that New Democrats will help achieve the "extremely ambitious" goal, but accused the Liberal government of not being "fully transparent about how we are going to go about it" and the costs.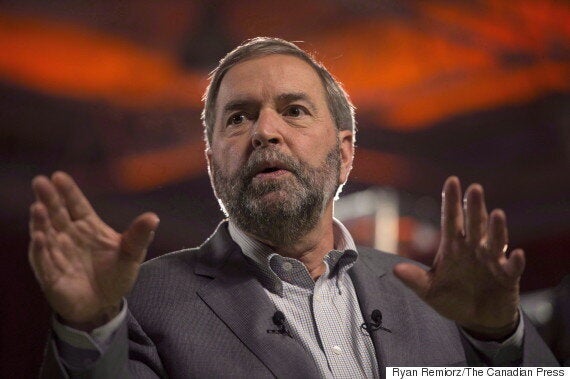 NDP Leader Tom Mulcair addresses supporters at a campaign event in Toronto on Oct. 5. (Photo: Ryan Remiorz/CP)
The NDP leader said the cost of resettling 25,000 refugees has been pegged at $1.2 billion. The Canadian Press reported that figure, covering the next six years, based on a government document. The Canadian Press also reported last week that the plan would cost $876.7 million in 2015-2016 alone.
While Mulcair said the Liberal platform only earmarked $100 million for refugee resettlement this year, the document also included $100 million for the United Nations refugee agency co-ordinating global efforts.
"Premiers and mayors are justifiably wondering how the federal government is going to pay for it," he said.
Mulcair also appeared to reference a story from CBC News, in which sources said the Liberal plan to be unveiled Tuesday will mean women, children, and families are the only refugees accepted by Canada. Unaccompanied men will reportedly be excluded due to security concerns.
Mulcair said the news meant "the politics of fear and division appear to be resurfacing."
"Excluding them in advance is not the Canadian way."
While conceding it was "proper" to prioritize families and children, the NDP leader said that under United Nations and Canadian rules, refugee resettlement must be based on protecting those with a "well-founded fear of persecution and those who are personally and seriously affected by war."
It would be simply wrong if a "vast generalization" about any category of refugees excluded them from processing, he argued.
Gay men will be included in resettlement
The NDP leader said concerns were raised about the past Conservative government's plan to prioritize certain religious groups, and called on Liberals not to repeat "the same kind of mistake."
"While security concerns remain of vital importance, will a young man who lost both parents be excluded from Canada's refugee program?" he asked. "Will a gay man who is escaping persecution be excluded? Will a widower who is fleeing Daesh (ISIS) after having seen his family killed be excluded?
"Excluding them in advance is not the Canadian way."
In French, Mulcair said the decisions around which refugees come to Canada should be based on their distress, "not our fear."
NDP will be a 'progressive opposition'
Mulcair told reporters that his party aims to be the "progressive" opposition in the House of Commons and will push Trudeau's Liberals to deliver on the commitments made during the campaign.
He called on Liberals to show leadership on climate change and health-care funding that would "undo the damage done by Stephen Harper."
Morneau's update showed the $2.4-billion surplus for 2015-16 projected by the Tories in April is expected to be a $3-billion deficit.
Mulcair said the "significantly deteriorated" financial position could mean Liberals have to backtrack on promises, make cuts to public services, or run bigger deficits.
"Those options are not progressive and they will hurt Canadian families expecting change," he said.
With files from The Canadian Press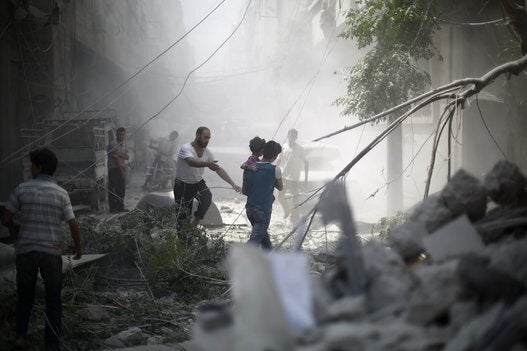 The Syrian Refugee Crisis In Numbers