OTTAWA — Liberal Leader Justin Trudeau's office says NDP Leader Thomas Mulcair is lying about a discussion he claims the two leaders had last year about forming a coalition.
Trudeau, who has ruled out forming a coalition with the NDP, says a meeting that Mulcair says happened at the Irish Embassy never occurred.
UPDATE: The NDP leader's office says Thomas Mulcair never meant to suggest he personally approached the Liberal leader about a coalition when he spoke to a crowd in Nanaimo, B.C.

Wednesday, Mulcair's principal secretary Karl Bélanger said the NDP leader wasn't claiming the two had spoken.

"Mulcair never said he met Trudeau about the coalition," Bélanger wrote in an email. "He was referring to a speech he gave at the Irish Embassy. Not a meeting."
"Mr. Trudeau has never been to the Irish Embassy," his spokeswoman, Kate Purchase, told The Huffington Post Canada on Tuesday.
"[He] has never discussed coalitions with Mr. Mulcair," she added.
Over the past few weeks, Mulcair has repeatedly floated the possibility of forming a coalition with the Grits.
It's a strategy designed to ward off voters who think they need to vote Liberal in order to avoid another Stephen Harper Conservative government, an NDP strategist said. The message is designed to make potential New Democrat voters more comfortable with the idea of casting a ballot for the NDP, the adviser explained.
Two weeks ago, he told 300 people at a town hall Q&A session in Nanaimo, B.C., that he had raised the possibility but that the Liberal leader had thumbed his nose at it.
"Almost exactly a year ago, I was at the Irish Embassy – the real Irish Embassy not a bar – and I opened up that door again," Mulcair said on March 3.
"And Mr. Trudeau slammed the door so hard on my fingers, it wasn't even funny. And then just before Christmas, I made another overture on that same front, and the Liberals slammed the door on it."
"My priority is getting rid of Stephen Harper. Justin Trudeau's priority is Justin Trudeau," Mulcair declared in Nanaimo and again Tuesday in Montreal.
On Tuesday, Trudeau's office said Mulcair made the meeting up. The NDP say Mulcair was referring to a speech he gave, not a personal meeting.
Since his leadership bid, Trudeau has consistently ruled out working with the NDP in any formal manner.
During a scrum with reporters on Feb. 26, 2014, Trudeau was asked to comment on Mulcair's remarks about forming a coalition. He said he had received a mandate from Liberal supporters not to engage in coalition discussions but was open to working with all MPs in the House of Commons in order to pass legislation.
"There are significant substantive disagreements on very serious matters of policy between the NDP and the Liberal Party – on unity and economy, for example," Trudeau said on Feb. 26.
"On unity, [Mulcair's] willingness to break up the country on a 50 per cent plus one vote and repeal the Clarity Act is unacceptable," Trudeau said. "As is his cavalier approach to flinging open the Constitution and embroiling us in many-year discussions...and on the economy, whether it's natural resources or their approach to trade.
"It's very clear that they are not part of the better government that Canadians need and … they're just trying to offer some sort of different government, and that's not good enough for us."
Mulcair was asked a day earlier, on Feb. 25, if he would work with Trudeau in a coalition if the NDP didn't win a majority of the seats in the next election. The NDP leader said he would be willing to work with other parties, just as the NDP had tried to do in 2008 when then-Liberal leader Stéphane Dion and then-NDP leader Jack Layton agreed to work with the Bloc Québécois to replace the Harper Conservatives. The opposition parties were denied the chance to topple the government when the governor-general, Michaëlle Jean, refused to dissolve Parliament and call a general election.
"We're a progressive party. We want to get results," Mulcair said. "I'll let other parties explain to you why they don't think that that's a good idea."
That was a notable departure from Mulcair's previous position on coalition agreements.
During his NDP leadership bid, and when the Liberals were doing badly in the polls, Mulcair told HuffPost in no uncertain terms that he would never form a coalition with the Grits.
Mulcair said he would court Liberal voters but would not work formally or informally with the party.
The NDP tried to form a coalition with the Liberals in 2008 and then the Grits "lifted their noses up on it," Mulcair said, adding that the experience taught him everything he needed to know about the Grits.
They're untrustworthy, he said, and would never work with them again, whether in a formal or informal coalition.
"The 'no' is categorical, absolute, irrefutable and non-negotiable. It's no. End of story. Full stop," he said.
Mulcair isn't the only leader now discussing co-operation.
Green Party Leader Elizabeth May has consistently championed the concept. She told HuffPost that she wrote a letter to all NDP and Liberal members of Parliament in December 2011 asking them if they were willing to form a small ad hoc committee. The proposed group would discuss one-time electoral co-operation, such as joint nomination meetings or agreements not to run against each other in ridings where they could split the vote in a way that could lead to the election of a Tory MP.
She said Mulcair instructed his MPs not to respond to her letter or talk to her about it.
"We know that the only reason that Stephen Harper became prime minister between 2006 and 2011 [with a Conservative minority government] is because of the animosity between the Liberals and the NDP ran so deep that they couldn't work together," May said.
"Greens don't have any animosity towards Liberals or NDPers. We are very happy to work with either or both to ensure the best possible government for Canadians."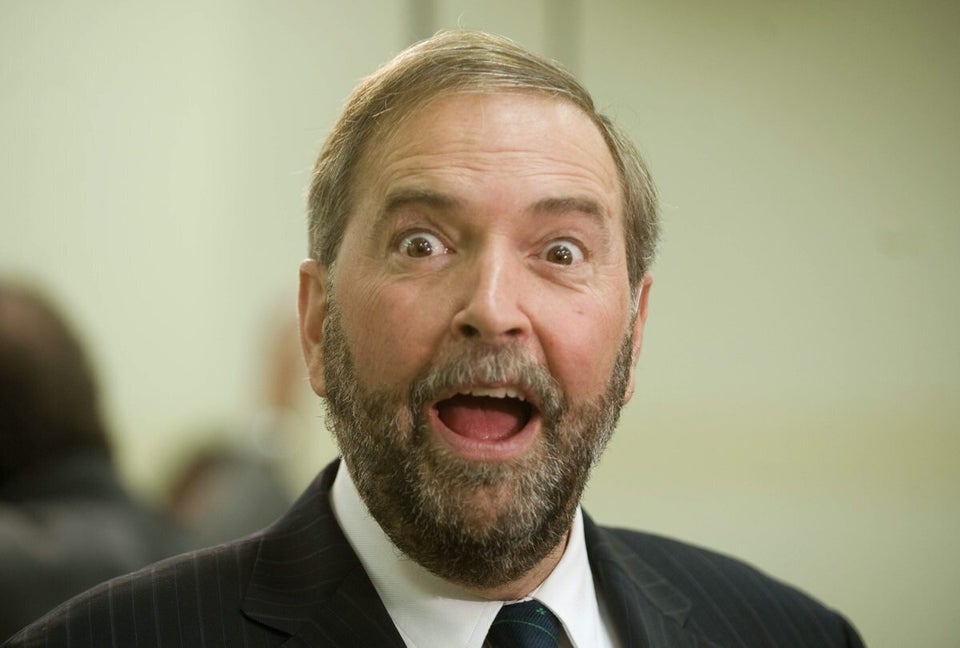 What Mulcair's Really Saying
Popular in the Community