It was a cold winter day in mid-January when Thomas Mulcair returned to Parliament with a new plan to turn the NDP's fortunes around. For two years, Mulcair had watched his official Opposition party struggle in public opinion surveys against the third-place Liberals. Justin Trudeau's election as leader of the Liberals had boosted the Grits' fortunes, and the NDP appeared stuck in the polls.
The fall had been hard. The shootings in Ottawa on Oct. 22 had thrown the NDP off their game plan, and made it difficult for the party to get its message out. Instead of talking about his child care plan, Mulcair and the NDP were consumed with sexual harassment allegations levied by two of his female MPs against Liberal counterparts. NDP insiders believed the Ottawa press gallery had written them off, thinking the 2015 election would be a contest between Trudeau and Conservative Leader Stephen Harper. Just before Christmas, Mulcair and a close team of advisors decided that major changes were needed.
Mulcair would go on the offensive.
On Jan. 15, the NDP leader told his caucus he had replaced his chief of staff with a close confidant, Alain Gaul, his former chief from his days at the Quebec National Assembly. Gaul, a successful Montreal lawyer described as having "extremely good judgment," had Mulcair's implicit trust.
One of the other people he recruited was an architect of the 2011 orange wave, former Jack Layton advisor and national campaign director Brad Lavigne. Lavigne's return — he had left the leader's office after Layton's death — was a signal that any old wounds from leadership race had been healed. Mulcair's team also reached out to other party stalwarts such as Robin Sears, Raymond Guardia, and former leadership contender Brian Topp.
"For Tom to be an alternative to Harper, more people needed to know him, they needed to feel a comfort level with him," Lavigne told The Huffington Post Canada.
The NDP felt it could win a ballot question about leadership — specifically, who was the best leader to replace Harper. They designed a strategy that told people why Harper needed to be replaced, then compared and contrasted Mulcair to Trudeau in favourable terms.
"Being prime minister is not an entry-level job," the NDP leader told his caucus that January, to great applause. Mulcair had already delivered the catchy line — now being used by the Tories against Trudeau in attack ads — earlier that September.
In the months that followed, that line would be repeated countless times. Mulcair started attacking the Conservatives and the Liberals on their turf, at well-attended rallies in ridings held by his opponents. It energized the NDP troops and showed outsiders the party had momentum. Mulcair reached out to regional media, doing a handful of radio interviews every day. The party's messaging became more disciplined.
Stories about Mulcair's middle-class upbringing as the second-eldest of 10 kids were repeated, ad nauseam. He talked about having to work to pay his way through school. He talked about his 35 years in public service. He talked about the middle-class, his plan to bring in one million $15-a-day child care spaces and his proposal for a $15-an-hour federal minimum wage. He talked about Harper's failings. He toured, extensively. He smiled. A lot.
The party also sought to beef up the NDP's economic credentials — a traditional area of weakness. His advisors wanted to ensure that Mulcair would be a safe landing spot for Canadians feeling the need for change.
They knew Harper would suggest that change was risky. So Mulcair set out to make a compelling case for change, to show that the status quo was untenable, and to demonstrate that he would be an acceptable alternative, someone with a good plan and the experience to do the job.
"In this election campaign, Tom is the only leader who can offer that," Lavigne said.
Mulcair toured chambers of commerce and spoke at business luncheons. He tried to assure them that he is no radical socialist. He had already nixed the idea of raising personal taxes — calling income tax rates above 50 per cent "confiscation".
He promised to keep the Tories' popular Universal Child Care Benefit (UCCB), although he pledged to scrap income-splitting. He told chambers of commerce he would extend a tax incentive for manufacturers and introduce a tax credit to spur investments in machinery and equipment. He would also cut the small business tax rate to 9 per cent from 11 per cent — Harper borrowed that tax cut in his 2015 budget, lending the NDP proposal additional credibility.
Often, Mulcair didn't mention that he planned to increase corporate taxes to pre-Harper levels — about 22 per cent — or to close a $750-million stock-option loophole. But he did stress that he is not anti-trade, pointing out that the NDP under his his leadership had supported two free trade deals with Korea and Jordan.
It was unclear whether Mulcair's new narrative was working, when two other events shook things up.
C-51 And The Alberta Election
NDP strategists point to two factors they think helped catapult them ahead of the Liberals and into a head-to-head contest with the Tories in the polls: Trudeau's parliamentary support for the anti-terrorism bill – C-51 – and the Alberta election.
C-51 was a gift that allowed the NDP to express and repeat criticisms about Trudeau's leadership — that he was cynical, unprincipled, and weak — that the party had been itching to get out but hadn't had an opportunity.
"C-51 became an issue about leadership as much as it was about civil liberties," Lavigne said. "Mulcair opposed the bill because it was flawed, despite its initial popularity. Trudeau [supported] the bill because it was popular, despite its flaws."
Trudeau did himself no favours by telling a UBC crowd that his position might have been different if it weren't an election year.
"Tom is a leader who not only knows where he stands but has the courage to back up his convictions with action, and there is no better example of this than the leadership he has shown on Bill C-51," NDP Scarborough Centre candidate Alex Wilson said last month to a cheering rally in Scarborough, Ont.
"It is a failure of leadership to say you oppose Bill C-51 and then support it, only because you are afraid Stephen Harper will criticize you for it," NDP candidate Mary Fowler of Oshawa added.
The Liberals say their polling suggests the NDP's attacks about C-51 didn't move many votes. But it did give Mulcair an opportunity to lump the Liberals in with the Tories. Public opinion polls show support for C-51 dropped in April, months before the Tory attack ad, or the NDP's sharp rise in the polls.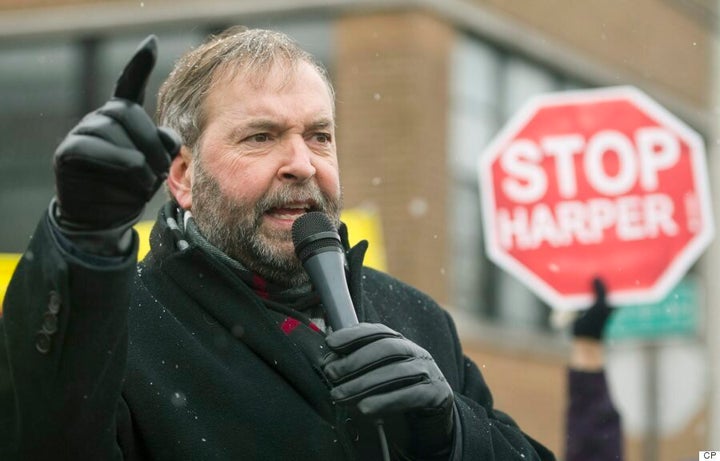 The NDP spent more time attacking Trudeau for C-51 than the government that introduced it, they note.
Liberal party national director Jeremy Broadhurst said the Grits made the responsible decision, striking a balance between keeping Canadians safe and protecting their civil rights.
"We made a choice to support the bill with a clear and solid pledge to fix the problems with it going forward, as opposed to taking the easy way out by saying you're against everything in it," he told HuffPost. "It's often easy to lob the grenade and be opposed to things, but what are you actually going to do in government?"
The second factor that contributed to the federal NDP's rise was the provincial NDP's surprise win in Alberta.
"Its effect was to illustrate to NDP-leaning voters that the NDP could win anywhere," Lavigne said. "So if you live in a riding that has not traditionally elected an NDP MP, say in Fredericton or Kingston, you could now see that if the NDP can defeat a 44-year dynasty of Conservatives in Alberta, then they could win here too."
Geoffrey Chambers, a close friend and advisor to Mulcair, called it a "cathartic event" that accelerated their game plan. The NDP didn't have the breakthrough it thought it would have in British Columbia in 2013, he said, and it also had a bad election result in Nova Scotia.
"So the narrative that the NDP has actually been a successful provincial administration across the country, wasn't front of mind," he said. "But now it has been dramatically well illustrated at a very useful moment for us. And the drama comes from the fact it is a big win in Alberta of all places."
"It's hardly the kinds of thing that you would have dared to write into your novel, but in real life, there it is," he said.
Former Harper advisor Bruce Carson said Mulcair had been building his reputation as a strong and capable leader carefully, first through his prosecutorial style in the House of Commons, then through his policy announcements. So when Alberta made it okay to look at other political options, "he reaped the benefits."
Broadhurst, the Liberal, unsurprisingly dismisses Rachel Notley's win as a big event for Mulcair. What it showed, he said, was that there are no safe seats, the Tories can be defeated anywhere, and anyone can win.
'A lot of people say C-51, but I don't believe it," Mainstreet pollster Quito Maggi told HuffPost about the factors behind the Liberals' slide in the polls. "I really think it's the attack ads."
In polling he conducted, most of the people who had seen the Conservatives' "Just Not Ready" ad multiple times — perhaps so many times that they couldn't recall the precise number — reported the strongest support for the Conservative party at 46 per cent, he said.
"The Liberal drop is 100 per cent tied to the attack ads, and the effect it is had on people's opinions of Justin Trudeau," Maggi said.
Trudeau's decline in the polls made Mulcair the default alternative to Harper, he said. But when you look at the strength of the NDP support, it's weak, he said, with a lot of apparent NDP voters open to the possibility of switching sides.
"A lot of people don't want to vote Conservative, and now that the ads have told them Justin is just not ready, what is the default third option? It's the NDP," Maggi said.
"Not to diminish the NDP or Tom Mulcair, but I think it's a parked vote," he added. "It doesn't mean it's staying. It's just parked. And it could solidify."
Mulcair wasn't too far behind Harper as the leader respondents felt would be the best manager for the economy, Maggi noted. "Stuff like that can take that parked vote say, " we are staying; we are not just visiting," he added.
Several Liberals have acknowledged off the record that the Tory ads have hurt.
"[The NDP's] strategy is to stay out of the way while the Tories blow our brains out and be the only ones left standing," one Liberal said.
Broadhurst, the Liberals' national director, is more understated. The ad is everywhere but it isn't going to do permanent damage, he said.
"The size of the ad buy was enormous, so even if you weren't paying attention to politics, it would have been difficult if you owned a television set to miss it over the past little while," Broadhurst said. "Fortunately, there is time to correct it."
Lacking the cash to fight back in June, the Liberals are now devoting significant resources to countering the message. They will release television spots this week that have a confident Trudeau telling the audience why he thinks he's ready to lead.
Yaroslav Baran, a senior communications advisor for three Conservative election campaigns, told HuffPost the Tory ad against Trudeau is quite successful because it is based on a pre-existing notions voters have about Trudeau.
"It's respectful, it doesn't beat up on him," Baran said. "But it homes right in to that issue of experience … Mr. Trudeau's weakness."
Tim Powers, the managing partner of polling firm Abacus Data and a frequent Conservative commentator, said the ads helped make Trudeau appear wanting when compared with Mulcair.
"It has helped knock the Liberals back," he said. "The challenge is you don't want to knock the living daylights out of him, either."
Carson agrees. The Tories' strategy depends on splitting the vote between the NDP and Liberal parties, but the ads may have been too helpful to the NDP — creating a one-on-one fight with the Tory leader.
"I know the prime minister wants to decimate the Liberal party. But you don't decimate the Liberal party to your own disadvantage," he said.
"If you need the splits to win, you need to make sure that the two opposition parties are almost equal so that the split occurs," he said. "I know they think they can win a battle with the NDP, but I'm not sure they are right."
Carson thinks the Liberals' first error was miscalculating the importance of public policy. For more than a year, Trudeau offered no specifics, saying he was listening to Canadians. He said he wanted to invest in education and infrastructure. Then he announced plans to legalize and regulate marijuana. While Mulcair announced specific policies, including a national daycare program, Trudeau sat on the sidelines.
"I think there was a miscalculation that he didn't need policy to back up the hope-y change-y stuff. I think he did. And I think there was a contrast built with him and the other two leaders," Carson told HuffPost.
Then there were the-often-alluded-to gaffes: a flippant comment about the phallic CF-18 fighter jets that Harper wanted to send to bomb ISIS, jokes about Chinese dictatorial efficiency and Russian aggression towards Ukraine. Internally, Trudeau's unplanned public pronouncement that only pro-choice candidates were welcome in his party also caused headaches. Some nomination battles turned ugly, and a handful of lawsuits ensued. Trudeau's refusal to back the military mission against the Islamic State also riled some in the party. Then, like the NDP, the Liberals were thrown off the economic message they wanted to stress because of the Parliament Hill shooting on Oct. 22 and the sexual harassment complaints in November against two Grit MPs.
In February, Trudeau got off to a better start, receiving positive reviews from those in attendance at the Petroleum Club in Calgary for his approach to dealing with greenhouse gases and provincial innovation. Then he flew to Ottawa to announce that he was welcoming the bête noire of the Conservatives, Eve Adams, into the Liberal party, along with her fiancé, Tory operative Dimitri Soudas. Trudeau, the candidate who had promised to do politics differently, said wonderful things about a woman most regarded as a prima donna and a Conservative problem.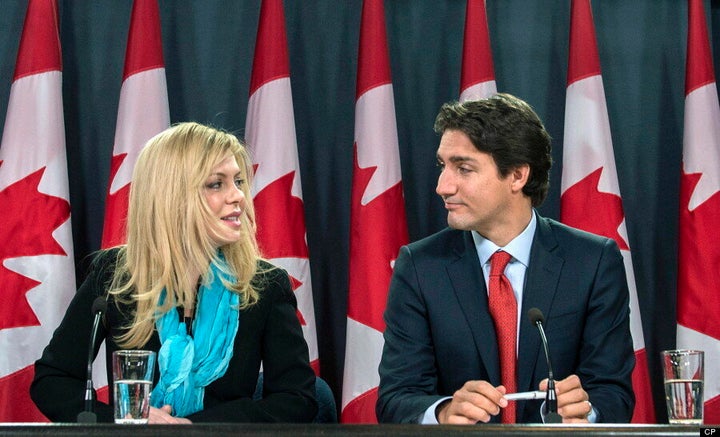 In March, Trudeau gave a speech at a McGill University event in Toronto in which he attacked Harper for engaging in divisive politics and accused the party of stoking anti-Muslim fears. He pledged that, as prime minister, he wouldn't pit Canadians against each other; he would work to unite them.
In early May, after saying that he would wait to announce specific policies, Trudeau revealed the major plank of his economic platform: the Canada Child Benefit and income tax changes.
Trudeau's so-called "fairness plan" would replace the Universal Child Care Benefit (UCCB) with a more progressive and generous payment scheme for families earning less than $200,000. The Liberal leader would also cut income tax for those in the middle-class bracket and increase taxes on Canadians earning more than $200,000, the so-called one per cent. The measures, Trudeau said, would lift more than 300,000 children out of poverty.
The Liberals filmed an ad selling their plan and for a short while it played on TV. Three weeks after the announcement, the Tory attack ads against Trudeau began.
Suddenly sitting in third place, the Liberals announced a bold packet of changes that could alter the way Ottawa works. One Liberal connected to the Trudeau camp speculated that the caucus would never have backed such measures if the party were sitting comfortably in the lead.
Trudeau's 32-point plan was delivered under the banner "Real Change." The measures — including free votes for Liberal MPs on nearly all bills, changes to the electoral system, the return of home mail delivery and ending partisan government advertising — would be difficult to implement. It was also a huge plan. It was difficult to explain. An NDP strategist quipped that no one understood it.
Maybe. But the Liberals believe it showed that Trudeau is serious about making changes. Mulcair might offer nice soundbites, but his policies were unimplementable and disingenuous to hard-working voters, they suggested. Trudeau, on the other hand, would offer Canadians real, doable proposals that would put money in their wallets, fix the environment, safeguard their pensions and jumpstart the economy.
On Sunday, Trudeau declared that the election is about change. And if people want change, he suggested, it is because the economy isn't working for them.
"Canadians want change. They want real change," he said at his election launch in Vancouver. "Stephen Harper's plan has failed our country." Canadians are working harder and falling further behind, he added.
But can he convince them Harper is really to blame? Can he convince them he is the one to turn things around?
"The Conservatives think you grow the economy by making wealthy people wealthier," he said.
"And Mr. Mulcair's plan is only a mirage," he later added.
"This election is not about polls," he said, "it is not about political tactics. It is about the future of people who work hard every day to raise their children and build their communities."
"I believe a prime minister has three major jobs: keep the country united, keep Canadians safe, and give everyone, the Canadian people, a real and fair chance to succeed."
Trudeau may be viewed as the underdog now — a position he enjoys and one in which he often shines. A few percentage points could switch the dynamic of the race around.
Broadhurst, the Liberals' national director, said he thinks the Tories know Trudeau is the biggest threat to their continued existence as a government. A lot of the seats the Tories need to keep are traditionally Liberal seats, Conservatives sources acknowledged.
"He is not just the flip side of the Harper coin. He is not just another career politician [like Mulcair] who does politics the same way, with negative advertising," Broadhurst said. Trudeau embodies change, he said.
Polls are meaningless, Broadhurst added.
"Go ask premiers Dix and Hudak how important polls a few months before an election campaign [are]," he said jokingly. Former B.C. NDP leader Adrian Dix and Ontario Progressive Conservative leader Tim Hudak were riding high in the polls and were expecting to become premier before going down to crushing defeats in the actual elections.
"This map is so dynamic right now that I think there are areas in play for all the parties that people would not have traditionally thought of," he added.
After 9½ years of Conservative government, Broadhurst said, people are ready to move on.
"People are testing the waters," he said. "We really did anticipate that, I don't think anyone really thought this was going to be a cakewalk."
"We feel that we are offering a plan that is going to resonate with folks, and we think that the NDP aren't putting out much of a plan at all," Broadhurst said. "This campaign is going to matter."
The Conservatives' game plan was to scare voters off Trudeau with ads suggesting he isn't ready to govern — just as they had successfully done against former Liberal leaders Stéphane Dion and Michael Ignatieff. Then, the Tories would tell those voters who were itching for change that Mulcair would be a worse bet than another few years of Harper.
"A national election is not a popularity contest," Harper told reporters assembled outside Rideau Hall on Sunday morning as he announced the 11-week campaign. It's a "serious choice."
"It's an election about who will protect our economy in a period of ongoing global instability and secure Canada's future prosperity, and it is an election about who is best equipped to make the tough calls to keep our country safe," Harper said.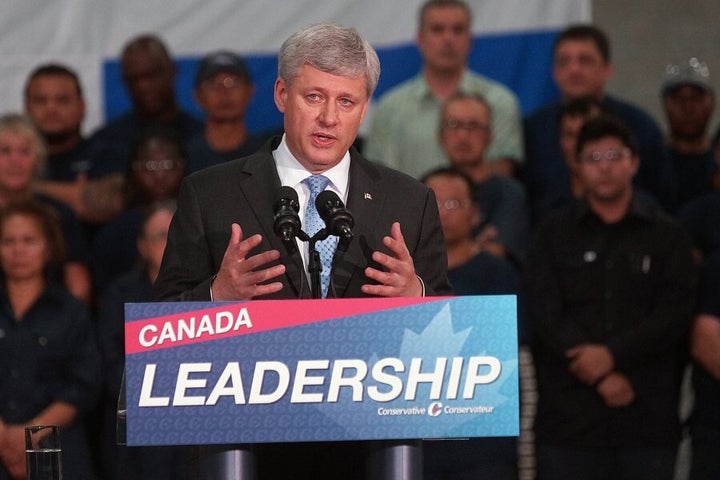 But with Mulcair so high in the polls, and the Conservatives depending so much on electoral splits for seats in vote-rich areas like the Greater Toronto Area, the Tories may have recalibrated for a two-front war with Mulcair and Trudeau earlier than anticipated.
We can't let all the voters who want change coalesce around one group, we need both parties to be fighting, one Conservative advisor told HuffPost.
Harper had also learned from the 2011 election — when former NDP leader Jack Layton surged in the polls towards the end of the campaign — that the Tories shouldn't wait too long before attacking the NDP.
"Now is not the time for the kind of risky economic schemes that are doing so much damage elsewhere in the world," Harper said Sunday. "Now is most certainly not the time for higher taxes, reckless spending and permanent deficits. Now is the time to stay on track. Now is the time to stick to our plan."
Harper didn't mention that Canada is doing far worse than the United States or that many analysts believe the country is already in a recession. He didn't mention that the Parliamentary Budget Officer now projects that Harper's balanced spring budget is actually a deficit-producing document.
Instead, Harper stressed the insecurity of the global economy, Europe's debt crisis, and China's downturn.
Despite poll after poll suggesting a huge appetite for change – somewhere about the 70 per cent mark – pollster Maggi said the economy is also people's top priority.
"Everybody is now talking about a recession," he said. "People are looking at the Greek vote, the Chinese stock market, and I think when people see that they get spooked.
"All those things combined — the Bank of Canada dropping interest rates, talks about deficit budgets — that moves people back towards safety. And the safe bet is the Conservative government right now.
"Change is great, but it can also be scary," he said. "So if we are going into another rough patch, better safe than taking a chance on change."
If all this sounds familiar, it's because it is. The Tories' 2011 election strategy was also built around campaigning on strong economic stewardship amid uncertain times and scaring middle-of-the-road voters into casting ballots for Tory candidates — rather than risk having a spendthrift NDP government.
Harper insiders, all of whom would speak only on condition of anonymity, believe Canadians won't hold the prime minister responsible for outside world events, the drop in oil prices or the shrinking economy. If Statistics Canada reports on Sept. 1 that the economy has contracted again for the second quarter in row, and the country is in a technical recession, the Tories might actually be able to benefit by suggesting that now is not the time for risk.
If the election is about who can best manage the economy, the Tories believe they'll win.
"If you put yourself forward, as the best party, on the most important issue, then you sort of win by default," Baran, the former Conservative strategist, said.
Baran also believes a negative GDP number would be drowned out by other economic numbers, such as good job figures and positive growth projections.
"Who do you want to go for? The guy who isn't ready? The guy who is a risk? Or the guy who has done the job before? That is the questions they are setting up," Powers told HuffPost last week.
On Tuesday, the party released an ad framing the ballot question around the economy precisely that way.
"The wrong leader could do real harm," a dark and gloomy voice states in the ad. "Justin thinks budgets balance themselves." What about Thomas Mulcair? "He and the NDP would wreck our economy."
"The Conservatives want the ballot questions to be — almost a repeat of 2011 — capable leadership in uncertain times. The man with a plan," Powers added.
If it worked in 2011, what's to say it can't work again?
Chambers, Mulcair's friend and advisor, thinks it won't because the Tories, after nine years in office, are coming to the end of their natural life in government.
"I think they have really scared a large part of the population because they are really committed to their extreme right-wing agenda," he said.
The pragmatic voters who gave Harper his majority won't return to him if they are given a credible alternative, he said. That's where the NDP is focused, making Mulcair and the party appear ready to govern. Responsible. Reliable. Safe.
"Fundamentally, I don't think you can look at Tom Mulcair and think he is a wild and crazy guy," Chambers said.
The Liberals, on the other hand, believe their challenge lies in making Harper wear the economic downturn.
"When the plan isn't working, sticking with the status quo is the real risk," a Liberal source told HuffPost. "And if we know anything about Harper, it is that he will never change. Ever."
If the Liberals can make that point over and over again, maybe they stand a chance.
"We are where we are because we have had an economic plan that for 10 years was based on the premise that you grow the economy based on giving more to wealthy people. And we think you grow the economy by strengthening the middle class," the Liberal said.
The NDP also plans to hammer the Tories on that front.
"Mr. Harper has the worst economic growth record of any prime minister since 1960," Mulcair declared Sunday at his launch speech in Gatineau, Que. Canada's economy has shrunk for the past five months, he said. Many believe the country is already in recession.
"Clearly, Mr. Harper your plan isn't working," Mulcair said.
So will the Liberals' narrative help the NDP or will the NDP's help the Liberals?
The Conservatives still have an easier path to victory than any of their opponents.
Carson, the former Harper advisor, suggested the Conservatives could get another majority as long as the other parties don't bite into their electoral coalition from 2011.
"If the splits don't materialize and you end up with Mulcair mania kind of thing, then they are real trouble. But it's early," he said.
The NDP, according to Carson and most political observers HuffPost spoke with, has the second-easiest path. They will need to keep their seats in Quebec — something that has preoccupied Mulcair and to which the NDP has devoted significant resources since the 2011 breakthrough win. There is also growth potential in Ontario, where they have some support and in B.C., where the party is polling ahead of the Tories.
The Liberals have the hardest road to 24 Sussex Dr.
"The Liberals have a real problem. There aren't that many seats in Atlantic Canada. They have strength in Quebec and in Ontario," he said. "But beyond that it's hard to see where the Liberals could pick up many more seats." There are a handful in B.C. and the urban west, such as Calgary, Edmonton and Winnipeg.
The landscape could change, however. Maggi, the pollster, notes that among declared Liberal and NDP supporters, almost 60 per cent of those surveyed are open to voting for the other party.
The Tories aren't writing Trudeau off and neither should the public.
"I think anybody can come back," said former Conservative staffer Adam Taylor, who is volunteering on the Tory campaign.
But for now, at least, Mulcair seems to be the agent of change — the person voters might coalesce around if they want to boot out the Tories.
That comes with its own set of challenges.
"His problem now is going to be, what kind of campaign do you run?" Carson said. Do you run a front-runner's campaign, which is safe and designed not to lose, or do you run a campaign designed to win?
"He's not that far ahead, so he has to be careful about what he does."
If he were working for Mulcair, Carson said, he would be concerned with whether the party's policies stand up to scrutiny.
"For example, his child care policy makes no sense at all. It is based on the provinces' paying a good part of it, and it's a great theoretical proposal to deal with childcare across the country. However, the implementation of it will be a nightmare, because the provinces have no money," he said.
"It doesn't sound like Notley is going to buy in, and it doesn't sound like Manitoba would buy in immediately — and these are the NDP provinces."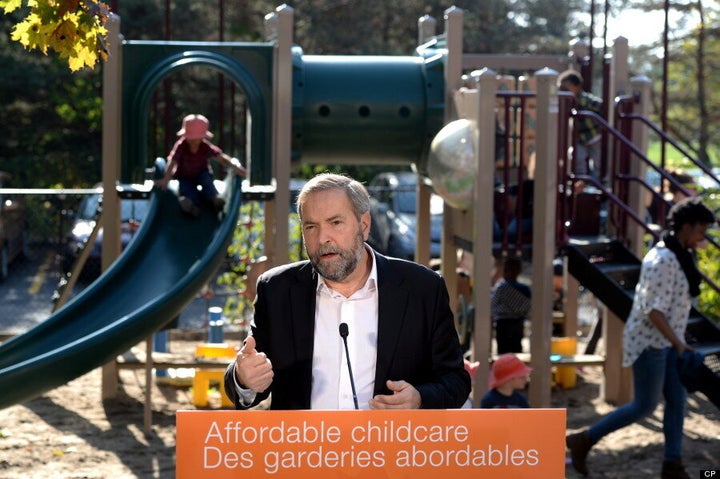 Carson said he also thinks that, given the economic downturn, the NDP might have trouble with its pledge of a $15-an-hour minimum wage and its plan to increase corporate taxes substantially.
Taylor agrees. He used to work for Trade Minister Ed Fast and now spends his days at Ensight, a government relations firm.
"If you are a business person who cares about competitiveness with the U.S., Europeans or the Japanese, his taxation policy on corporations and on businesses is worrisome," he said.
Once the spotlight is shone on the NDP policies, Taylor said, he believes it will illuminate a lot of the vulnerability the party has as a potential government in waiting.
"These are people who can't say straight up or straight down whether they support free trade with Europe," he said.
"They are people who still to this day cannot say whether they support the North American Free Trade Agreement. They have supported a small agreement with Jordan, they have supported an agreement with Korea, we don't know where they stand on Transatlantic Partnership, and they generally oppose 95 per cent of free trade agreements Canada has signed. So for a country that has one in five jobs tied to exports, the NDP are a scary option."
Now in the lead, Mulcair finds himself under attack from the Tories, the Liberals and the Bloc Québécois.
The Bloc Québécois wants to paint Mulcair is a hypocrite who says one thing in English Canada and another in francophone Quebec. Gilles Duceppe's best lines of attack so far has been Mulcair's shifting policy on the Energy East pipeline — the cornerstone of NDP energy policy in English Canada but a reason for expressing concern in Quebec, where the pipeline is unpopular.
It is not the only example. Mulcair also said, in French, on the eve of the anniversary of the École Polytechnique massacre that he would bring back the gun registry. Later – pushed by his rural MPs – Mulcair said in English that the NDP has no such plans.
The Liberals want to showcase Mulcair as weak on national unity and the NDP as cynical and disingenuous by pointing out that the party's proposals won't help all the people who think they'll reap benefits.
"The NDP will talk about its plan to increase the minimum wage, and yet they won't tell you their plan won't help 99 per cent of people who earn the minimum wage in this country," Trudeau said on Sunday. It won't help servers, hotel receptionists, garage attendants or cashiers, he said. "Tom Mulcair's plan will not give them an extra cent, because it only applies to people under federal regulations…. They'll give false hope to people who work hard."
He said "the NDP's other answer for everything is to make the company you work for pay more in taxes. That means fewer jobs and less investment; all while our economy is stalled. The NDP would put the brakes on the economy at the worst possible time.
"The NDP will talk about helping the middle class, but they won't raise taxes on the wealthiest Canadians, and Mr. Mulcair won't cut taxes to the middle class."
Before the campaign began, Trudeau had been attacking Mulcair for the NDP's Sherbrooke Declaration, a document that says the NDP would negotiate with Quebec separatists if they won a referendum with 50 per cent plus one vote. Trudeau's Liberals are staunch defenders of the Clarity Act — a document that says the House of Commons will decide what the majority constitutes. They — and many Conservatives — believe Mulcair would make it easier to break up the country.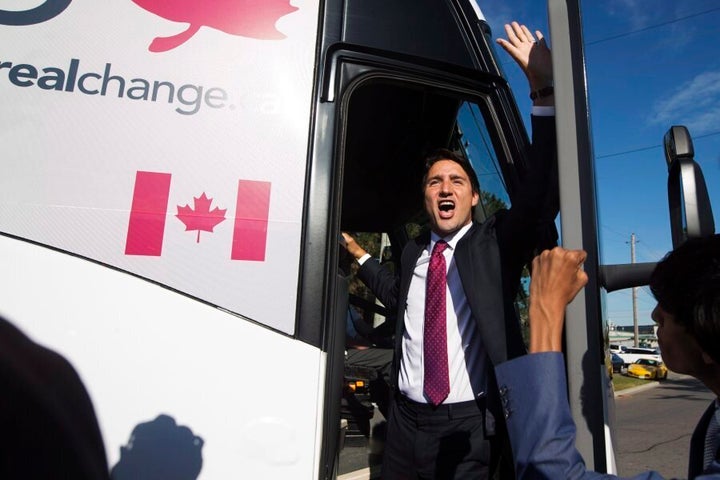 Mulcair's people have been waiting for the attack. They know they are vulnerable on that front, especially with several NDP MPs in Quebec who were previous supporters of, or donors to, separatist parties and candidates.
In his autobiography, Strength of Conviction, Mulcair says he believes 50 per cent plus one is necessary to tell Quebecers that another referendum — with a clear question — would really mean the breakup of the country. It wouldn't be a vote to send a message to Ottawa, as the 1995 referendum vote was viewed.
Fifty per cent plus one is also the democratic thing to do, Mulcair writes. Randomly insisting on a margin of 60 or 65 per cent – only if the Yes side won – would be "not only unrealistic and dishonest but demonstrably unfair and disrespectful of people's democratic rights," he says. "You can't respect the democratic process only when it suits you."
At the same time, though, Chambers, Mulcair's advisor, said the No side knows the Yes side cheated. In his book, Mulcair talks about how in his riding, a heavily multicultural and federal riding of Chomedey, 5,426 ballots were rejected by government scrutineers.
When asked about it, Chambers said the NDP's strategy on national unity is to "try to heal the wounds." The NDP wants to be a uniting force that shows to Quebecers that they can thrive in a united Canada. Having a significant number of MPs from Quebec reinforces that, he said.
"There is no other reason to raise this issue in this election except for this tactical advantage that the Liberals think that they might be able to get in Southern Ontario by calling us a bogey man. It's just not going to work."
Another Mulcair advisor called the Liberals' strategy "dangerous" for national unity.
Over on the Tory side, campaigners are waiting for Mulcair to lob an attack against them on ethics and accountability.
Online, the NDP has gone after Harper for his 59 Senate appointments, including Mike Duffy, Pamela Wallin and Patrick Brazeau, not to mention numerous election violations involving Tory staffers, organizers and ministers — including one that led to a jail term for Harper's own parliamentary secretary, Dean Del Mastro.
"They want to put a pinprick in the NDP balloon," Powers said.
The NDP act holier than thou, but they themselves have some questionable history, he said.
In the weeks ahead, voters can expect to hear more about the NDP's satellite office scheme and the party's refusal to pay back $2.7 million it is accused of inappropriately funnelling from the House of Commons.
Mulcair will come under attack as yet just another opportunistic "career politician" who flirted with the Tories before agreeing to run for the NDP and who, as a senior Quebec politician, said nothing for 17 years about a local mayor offering him a suspected bribe. Mulcair was a rookie politician in Quebec's national assembly at the time.
"Well, he didn't take accept it, right? He threw it away," Chambers interjects.
The Mulcair advisor said there are number of a possible attacks that might be directed at the NDP — too risky on the economy, too risky on national security, an opportunistic leader — but they all have the fault of "not being plausible."
"Tom Mulcair was the president of the law society at McGill, one of the top students and the elected leader of his class. And he was five to six years younger than the average age of his class. He could have gone to any downtown firm for big numbers. And he went to Quebec City to work for the justice department. This guy has never done the opportunistic thing in his life.
"He has had chances to take care of himself in every conceivable way, but he has done the tough, interesting thing that's been good for society.
"It just doesn't ring true. I'm his friend and whatever, but I just don't see how you make the case."
* * *
Outside the airport gate on the way to the leaders' first debate, which will be held in Toronto on Aug. 6, I stopped to purchase a copy of Mulcair's autobiography — a book written with his advisors to introduce himself to Canadians and explain all the unexplainable to those who took the time to be interested.
Who will you vote for? I ask the middle-aged cashier.
"This guy, I think," she responds, pointing to Mulcair's face on the cover.
Why?
"I can't stand the other two," she responds. Certainly not Harper, she says with a grimace. Trudeau? "I've seen him a couple of times; I haven't been impressed.
"So maybe it's time to give this guy a try."
Apparently, many other Canadians feel the same way too.
Althia Raj is The Huffington Post Canada's Ottawa bureau chief. She can also be heard and seen on CTV's Question Period, CPAC's The Week with Mark Sutcliffe, CBC The National's At Issue panel and CBC radio stations across the country. Follow her on Twitter and Facebook.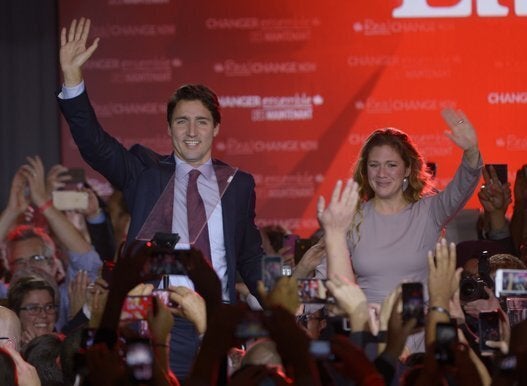 In Photos: Canada Election 2015