OTTAWA — NDP Leader Thomas Mulcair is calling for the return of the per-vote subsidy as a way of guarding against pay-for-access fundraisers that appear to be embroiling the Liberal government.
"That is a way of cleaning up political donations in a country," he told reporters Wednesday after the party caucuses held their weekly meetings.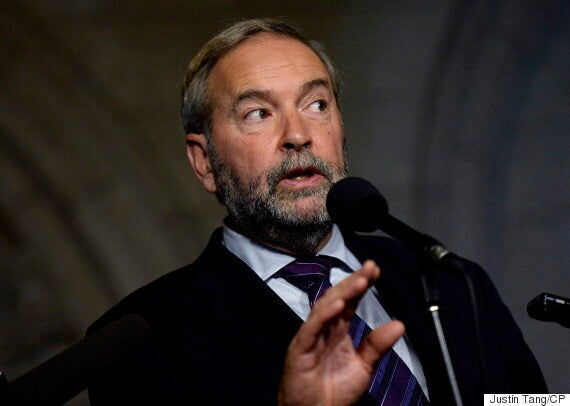 The per-vote subsidy — cash given to each political party in relation to their portion of the popular vote — was phased out by the former Conservative government after it won a majority government in 2011.
The NDP, the Liberals and the Bloc Québécois had railed against the idea of scrapping the subsidy which is seen as a way to provide a more equal footing, and especially benefits smaller parties who do not have a large donation base.
But earlier this year, when The Huffington Post Canada approached Democratic Minister Maryam Monsef's office to inquire if the Liberals planned to bring it back, she said she was "not considering such changes at the moment."
The subsidy — worth $2.04 per year for every vote cast in 2011 — was brought in by the Liberal government of Jean Chrétien in 2004 when it ended corporate donations and capped the amount that individuals could donate. That limit, which was further dropped by the Conservatives, is now $1,525 per year.
But Mulcair said that amount is still too high. The NDP leader pointed to Quebec and said that when that province went through serious fundraising troubles, it lowered the cap on donations to $100 per year and brought back the per-vote subsidy.
"We've always thought that in the NDP that the per-vote subsidy was one of the ways to clean up politics in Canada," Mulcair told HuffPost. "When Mr. Harper took it away, he opened up the floodgates to all sorts of other things."
In May, Mulcair's spokesman George Smith told HuffPost that NDP wasn't focused on bringing back the per-vote subsidy.
"There is clearly the appearance of access when you are paying cash to have access to ministers who are decision makers."
The cap doesn't need to be $100, he said, and a precise figure should be discussed in party caucuses, but Quebec provides a good example, he added.
"I think once you drop it down you are getting into a territory where everybody is on an equal, level playing field," he said. "You see, it's not true that everybody could have walked in to those billionaires' private parties and plopped down their fifteen hundred bucks — they are not even open fundraisers," he said.
The Globe and Mail reported Tuesday that Prime Minister Justin Trudeau had attended a private $1,500 a-head fundraiser at the home of a wealthy Chinese-Canadian businessman last May.
One guest, Shenglin Xian, the founder of Wealth One Bank of Canada, was seeking final approval from regulators to operate a domestic bank in Canada.
Another guest, Zhang Bin, is a political advisor to the Chinese government and weeks after the fundraiser, he and a partner donated$1 million to the Pierre Elliott Trudeau Foundation, reported the newspaper. The sum included $50,000 to build a statue of the former prime minister. (The foundation is not run by the family but is rather a granting body for research in humanities and social sciences.)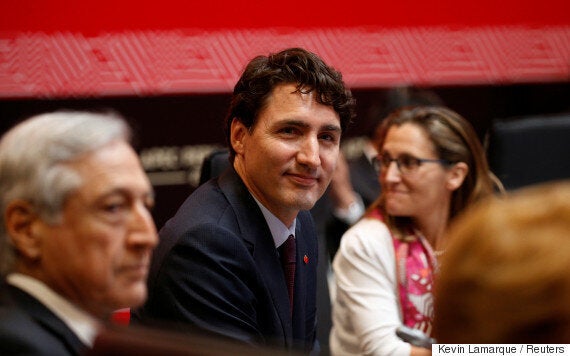 Mulcair suggested the fundraiser — which Trudeau did not deny attending — didn't pass the smell test.
"There is clearly the appearance of access when you are paying cash to have access to ministers who are decision makers, that is a real problem," the NDP leader said.
"Pay for access was supposed to be over when the Liberals came to power but now we see that it is continuing," he added, referencing the Liberals pledge to avoid any perceived conflict of interest.
Monsef's office did not respond to an official request for comment Wednesday though a source said this is not on the government's agenda.
In May, Monsef said her attention was focused on electoral and Senate reform, as well as changes to the Fair Elections Act.
Nathan Cullen, the NDP's democratic institutions critic, told HuffPost at the time that he thought discussions about the per-vote subsidy could be included when the Commons' committee studies the Fair Elections Act reforms.
On Thursday, Monsef is expected to table a bill making a number of changes to the Fair Elections Act. HuffPost has learned the bill will expand the voting rights of expat Canadians, allow the chief electoral officer to encourage people to vote, and provide different mechanisms to encourage more people to cast a ballot.
Popular in the Community