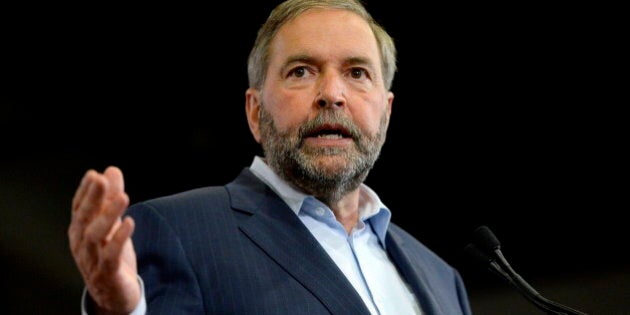 Thomas Mulcair scored big applause from NDP supporters Thursday after he told a group of environmental activists heckling him to "show a little bit of respect" at his Winnipeg rally.
The protesters repeatedly chanted "stop Energy East" as Mulcair spoke to about 1,000 supporters. The proposed TransCanada pipeline would carry 1.1 million barrels of oil a day from Alberta and Saskatchewan to refineries in New Brunswick.
Mulcair initially joked that as the second-oldest of 10 kids he was well-versed in speaking over people.
But he apparently had enough when the heckling continued through a passage of the speech dealing with Aboriginal issues.
"Listen, I'm more than willing to put up with your screaming but I'm talking about First Nations," Mulcair said. "Can you show a little bit of respect please?"
CBC News has video of this moment:
And a Winnipeg Free Press video provides another look:
Mulcair spoke of the murder of Winnipeg teen Tina Fontaine, whose body was recovered from the Red River last August. He reiterated his pledge to call a national inquiry into missing and murdered indigenous women within 100 days of taking office.
"I say this to every mother, every daughter, every sister," he said. "It's time you have a prime minister who cares."
The NDP leader said bigotry was the real reason an inquiry hasn't been called already.
"Do you think that if 1,200 women had been murdered or had gone missing in Ottawa we'd need the United Nations to tell us to have an inquiry? It would have happened a long time ago," he said. "This is about racism. That's what this is about."
"If it is found to be incompatible with national action on climate change, will you say no the pipeline?" a protester yelled as the NDP leader's security detail escorted him out of the room.
"Of course we will," Mulcair said. "That's what the whole purpose of coming in with a new system is: to make sure that we take into account climate change whenever we analyse a project."
Conservatives quickly flipped Mulcair's response into an online attack.
Mulcair and Trudeau have both said positive things about the pipeline proposal in the past, but have also said the federal pipeline review process needs to be stricter.
In the first federal leaders debate earlier this month, Mulcair said Energy East could create jobs in Canada and help with the country's energy security. But he said Harper has "scrapped a series of important environmental laws" and failed to properly consult with First Nations.
"Mr. Harper's belligerent, butting heads approach is not working," the NDP leader said.
Trudeau called the NDP leader "inconsistent" on pipelines.
"In English, he'll say the he supports the Energy East pipeline," Trudeau said. "In French, he said that's out of the question."
Harper, who supports Energy East, said the Liberal leader does "exactly" the same thing.
"You go to one part of the country, Atlantic Canada, you're for Energy East. You go to Quebec and you're against it," Harper said to the Liberal leader.
With files from The Canadian Press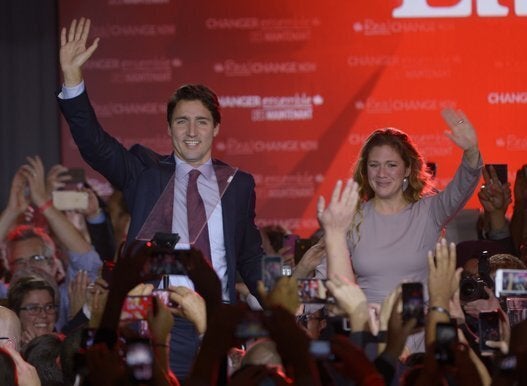 In Photos: Canada Election 2015