Prime Minister Justin Trudeau needs to stand up to the "bully" in the White House, NDP Leader Thomas Mulcair told reporters in Ottawa Tuesday.
But Mulcair, responding to yet another softwood lumber dispute with the United States, was asked several times to clarify what exactly he wants Trudeau to do in light of the U.S. decision to slap punishing duties of up to 24 per cent on lumber imports.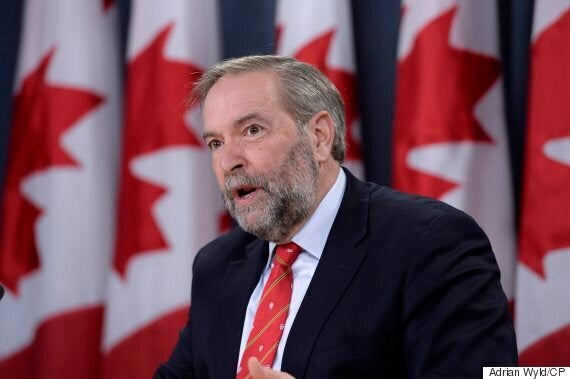 Mulcair accused Liberals of lacking a plan to respond to the tariffs and inferred several times that Trudeau was not showing enough backbone with U.S. President Donald Trump.
"You know, when you're dealing with a bully, at some point you've got to stop backing up," Mulcair said. "And that's all Mr. Trudeau seems to be able to do with President Trump and with the current U.S. administration is just keep backing up."
"At some point, Canadians want our prime minister to stand up for us. Same way Mr. Trump is going to keep pushing, at some point we've got to say, look, this is a two-way street," Mulcair said. "And we're going to stand our ground and push back. Mr. Trudeau seems to be incapable of doing that. That's the honest answer."
CBC reporter Katie Simpson asked Mulcair what pushing back would look like.
"I think it means explaining to the Americans that trade is not a one-way street," Mulcair said, again accusing Trudeau of giving ground "to that bully" instead of pushing back.
"But what does that look like?" Simpson asked again.
"That looks like Canada explaining that on dairy the Americans are actually the winners under the current rules," he said.
Mulcair suggested it would be Americans who would lose most if the border closed.
"On softwood lumber, if the border came to be closed, I know that the price of an American house would skyrocket," he said. "So I think that at some point the Americans have to realize that this type of approach is not going to give them anything. It's not a one-way street and they can't have everything their way all the time.
"But Mr. Trudeau seems singularly incapable of delivering that message back."
The Canadian Press' Terry Pedwell asked Mulcair if he was advocating a "tit-for-tat approach" that would mean Canada shuts down the border for some products.
"What I am calling on the government to do is to assume its responsibilities," Mulcair responded. "How is it possible that Mr. Trudeau didn't see this coming?"
The Globe and Mail's Campbell Clark asked Mulcair if there were any substantive measures, beyond "explaining that trade is not a one-way street," he'd propose Trudeau take.
Mulcair said the government should agree to the loan guarantees that producers in Ontario and Quebec have requested to help them stay afloat.
"That's one concrete example," Mulcair said. "The Americans would see that we're willing to stand up for our industry and it wouldn't have an inflection on the current negotiations."
Asked again if he is calling for retaliatory measures, Mulcair said the federal government should be coming up with a plan to protect jobs.
Moments earlier, Natural Resources Minister Jim Carr said the federal government was bracing for job losses in the forestry sector and Employment and Social Development Canada is ready to provide essential services to those impacted.
Carr also promised to push the U.S. to "rescind this unfair and unwarranted trade action."
At an event in Kitchener, Ont. earlier in the day, Trudeau said his government would continue to remind the U.S. that "millions of good U.S. jobs" depend on the flow of goods across the border.
"It's not just a one-way relationship," the prime minister said.
With files from The Canadian Press