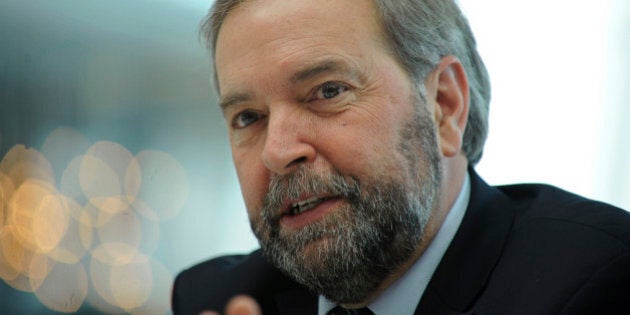 EDMONTON — NDP Leader Thomas Mulcair is pledging to reinstate and substantially increase the federal minimum wage – a low-level benchmark for certain workers that was scrapped in 1996 with the support of the NDP MPs of the time.
Mulcair, who is in Edmonton to plot next year's election strategy with his MPs, told his caucus Wednesday morning that the NDP would introduce "a federal minimum wage that is enough for a family to live on."
Maybe not for a family with 10 kids, he later joked, but a wage that would give a two-income family "a fighting chance."
"The federal government used to have a federal minimum wage; the Liberals took it away. The NDP is going to bring it back," Mulcair told reporters.
The NDP leader, however, did not mention that the bill at the time, C-35, was supported by NDP MPs, the left-leaning Bloc Québécois and the Progressive Conservative parties. Only the Reform Party opposed the measure.
Mulcair acknowledged that the federal minimum wage would apply only to individuals working under the federal jurisdiction, only a few of whom actually work for the minimum wage.
The latest Federal Jurisdiction Workplace Survey, published in 2008, found that only one per cent of workers in federally regulated sectors such as air and rail transport and the postal, banking and telecom industries earned less than $10 an hour.
Sixty-six per cent earned $20 or more an hour. Just 416 employees within federal jurisdiction at the time received the legal minimum wage, the report said.
Mulcair said it does not really matter that the NDP's proposal to reinstate and increase the federal minimum wage would apply to only a few.
"It doesn't doesn't stop you from giving a model, giving the example and setting an example," he said.
"It is going to be a wage sufficiently high that it is a model."
Liberal deputy leader Ralph Goodale told HuffPost said Mulcair was "playing for sound-bites, not substance."
"The NDP voted for these changes because they boosted the federal minimum wage by tying it to the provincial rate in each province," he said. "If the NDP really wants to deal with middle class anxieties, they'll need to be a lot more ambitious than a measure like this that only touches a small handful of people," he added.
The minimum wage across the country ranges between $10 and $11. Mulcair was not prepared to say Wednesday what he would set the wage at, but he promised details within days.
"We would like to see, as much as possible, people earning something that will in most circumstances certainly give them a bit of a better chance," he said.
He suggested that an NDP government would introduce one minimum wage rate but would increase it over the course of a four-year mandate.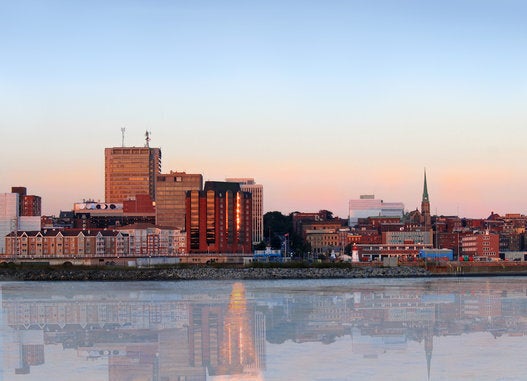 Minimum Wage Across Canada (2015)