Delegates at the party's national convention this weekend in Edmonton will get an answer Sunday, but before the 1,521 registered participants vote, two days of debate will focus on the policies the party will embrace.
In a nutshell, New Democrats are asking themselves whether last October's disappointing election result signals that the NDP is on the right path but needs to communicate its message better, or whether losing 51 seats and dropping to 19.7 per cent in popular support — from 30.6 per cent in 2011 — was a wake-up call that the party needs to champion different values and find a new leader to voice them.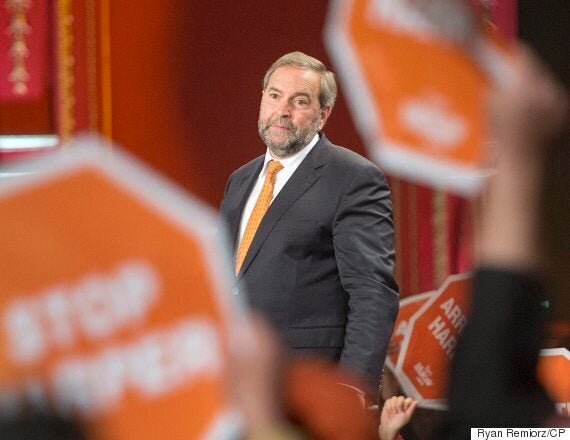 NDP leader Tom Mulcair speaks to supporters at an election rally Sunday, October 18, 2015 in Montreal. (Photo: Ryan Remiorz/CP)
"There are two conversations, but they are obviously intertwined," said Nathan Cullen, a popular B.C. MP since 2004 who ran unsuccessfully against Mulcair for the party leadership in 2012.
"There is a temptation to really navel gaze, to really go into a full 'Oh my gosh! Oh, what did we offer? Are we not talking about the right things? Are we not presenting ourselves in the right way?'"
For Cullen, the October election was a confirmation that the NDP's values were reflected in Canadian voters.
"When the Liberals brought forward platform elements that could have been written by the NDP, it was in a sense a form of imitation — and a correct guess than the Canadian public were very much ready for that. They did it differently, and in some cases better than we did. That's my reflection," he told The Huffington Post Canada.
After the election, questions emerged about the direction of the NDP's campaign, leading to new and louder calls for the party to embrace a more decidedly left-wing message.
There is currently an effort, led by Avi Lewis and former MPs Libby Davies and Craig Scott, to have the party embrace the values of the Leap Manifesto, a document that calls for radical economic and social change — in areas from agriculture to trade deals to aboriginal rights — and offers a plan to pay for social programs through tax increases on corporations and wealthy individuals and cuts to military spending.
Several of the policy resolutions offered for discussion at the NDP convention also suggest the grassroots want the party embrace a more social democratic agenda.
Cullen said he's seen this movie play out before, especially provincially, when the NDP hasn't done as well as was expected. But, he told HuffPost, he didn't come away from the election thinking the party was wrong in its ideas."I just don't think we were able to communicate them or execute them fully."
"When the Liberals brought forward platform elements that could have been written by the NDP, it was in a sense a form of imitation — and a correct guess than the Canadian public were very much ready for that.."

— Nathan Cullen
His reflections are in tune with the Campaign 2015 Review, a summation from thousands of New Democrats who shared their disappointment in the campaign with a working group chaired by president Rebecca Blaikie.
In their report, the working group points the finger at the balanced budget pledge and says it was, in part, responsible for presenting the NDP as "cautious change." NDP supporters found it difficult to understand why the party was opposed to deficits, especially after refusing to balance the books became a symbol of change that the media and voters embraced. The balanced budget pledge also overshadowed the NDP's "progressive economic platform," the report notes.
When it came to deficits, Cullen told HuffPost, the campaign team just "miscalculated" the mood of the electorate when it planned the platform nine months or so before the election.
"Authorship matters a lot," Cullen said. If the Liberals' March budget with a $29.4 billion deficit had been wrapped in an orange cover, it would have been received differently from Bay Street and some pundits, he suggested.
"Depending on who is talking, the words are interpreted and felt a different way, and so for us to have run the exact same campaign — and people say 'Why didn't you?' — well, it's like it would have been interpreted differently, and we made that choice."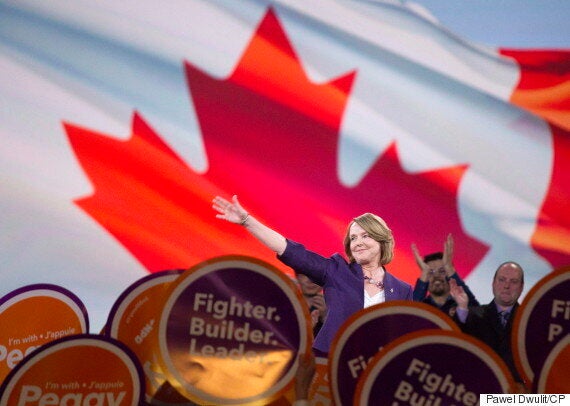 Peggy Nash speaks on stage during the NDP leadership convention in Toronto on Friday, March 23, 2012. (Photo: Pawel Dwulit/CP)
That choice — and others — are currently under a powerful microscope by party members, defeated MPs, and pundits.
On Tuesday, former Toronto NDP MP and 2012 leadership contender Peggy Nash penned a scathing column in HuffPost outlining what where in her mind the party's egregious failings in the last campaign.
That "it was so tone deaf to the mood of the nation and ultimately so incompetent in its campaign offer to Canadians, was simply heartbreaking," she wrote. Not only did the party fail to understand the context of a balanced budget pledge when the resource sector was taking a nosedive, but the national campaign appeared to want to match the tone and approach of the Conservatives, she wrote.
"Many have commented on the failure of the Leader to answer questions on the opening day of the campaign, the failure to debate unless the PM was present, and generally the failure to inspire Canadians. I agree."
"Many have commented on the failure of the Leader to answer questions on the opening day of the campaign, the failure to debate unless the PM was present, and generally the failure to inspire Canadians. I agree."

— Peggy Nash
Nash, who was defeated in the election despite having, in her words, more identified supporters, more money, more signs and more volunteers, wrote that she still hasn't made her mind up about Mulcair and is waiting to see whether he can inspire delegates on Sunday when he addresses the convention before the leadership review.
Some people, however, have made up their minds.
The NDP's youth wing also issued a letter Wednesday urging younger delegates to support "a new direction, and a new style of leadership."
The letter, sent to The Huffington Post Canada by Paula Krasiun-Winsel, the Young New Democrats' co-chair, says the party's platform was "uninspired, and problematic" and notes that young people were asked to argue "against the legalization of marijuana, against the inclusion of other parties in debates, against our leader's participation in a debate on women's issues, and defend… our non-position on hydraulic fracturing."
"In an era of massive popular movements energizing progressives across Europe and North America it is time for the NDP to boldly and unapologetically stake our ground as the party of the left," the letter states.
Party needs a Bernie Sanders-type figure: Ontario MPP
Ontario NDP MPP Cheri DiNovo, one of the first persons to call publicly for Mulcair to go, believes the party needs to tack left and needs a new leader, someone like U.S. Democratic contender Bernie Sanders or new British Labour leader Jeremy Corbyn, to inspire voters.
"The only place left is left," she told HuffPost this week. "There is a real appetite for that."
DiNovo thinks that the NDP's plan for balanced budgets would have "instituted austerity across Canada" and that the voters saw it. "They understood that this was not the progressive change that they were looking for."
Since January, Mulcair's rhetoric has changed. He is speaking more forcefully on income inequality, on poverty, and on helping the most vulnerable. His words and a focus have been consciously chosen to portray him as more in tune with NDP members, advisers close to him confided.
But for DiNovo, it's "too little, too late." While she thinks Mulcair will survive the vote Sunday — he needs to receive only one vote more than 50 per cent, although Blaikie has pegged the aspirational number at 70 per cent. DiNovo also questions why some union leaders who are backing Mulcair now also suggest he could be removed during the party's next convention, in 2018.
"If I were Tom, I'd prefer someone like me who just said 'the emperor has no clothes,' to people saying 'You're dressed, but not quite the way we would like you to be.'"
With an inspirational leader and party platform that reflects a social democratic agenda, DiNovo believes, the NDP could leapfrog from third place to first — just like the Liberals did.
"I think that the idea that you can achieve change by doing something other than standing on principle and being the party of conscience is a pipe dream," she told HuffPost.
"We are the party of principle and conscience, and guess what? We can run on that too, and Sanders and Jeremy Corbyn have shown that you can do that with incredible effect."
Even if Sanders doesn't win the presidency and Corbyn doesn't form a government, DiNovo said, she believes their goals have already been achieved.
"If I were Tom, I'd prefer someone like me who just said 'the emperor has no clothes,' to people saying 'You're dressed, but not quite the way we would like you to be.'"

— Cheri DiNovo
"They have already won, because they have shifted the conversation substantially from where it was before. … At the end of the day, the question really is why are we involved in the political process at all in the first place if it is not to make the lives of those millions of Canadians who work in precarious employment, who can't get childcare, who live under the poverty line, if it is not to make their lives better, then why the hell are we doing in the first place? ...
"We shouldn't be all about winning, we should be all about principle."
The NDP, she said, has been "moving to the centre" for a long time now, something that predates Mulcair, she noted, but "it's now time to move back to our position of principle," those positions of Tommy Douglas, J.S. Woodsworth and the founders of the party.
Making compromises to achieve electoral success — or to chase after it — isn't, in DiNovo's mind, worth the sacrifice. She points to NDP Ontario premier Bob Rae's and Nova Scotia premier Darrell Dexter's experience in government: "That does more damage for our party than … not winning and being known as a party of principle."
While this should be obvious to people who are involved in politics full time, DiNovo said, she thinks it is especially clear to millennials who have turned away from politics.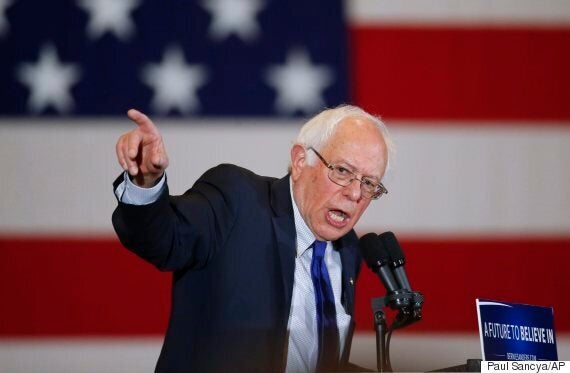 Democratic presidential candidate Sen. Bernie Sanders speaks during a campaign event, Monday, April 4, 2016, in Milwaukee. (Photo: Paul Sancya/AP)
"It is to those folks that Corbyn and Sanders have really appealed, and they have reawoken the dragon in some sense, and I think we need to do that in Canada."
"We need a different leader to do that, and that's no disrespect to Tom. He's a smart guy, he was effective, really effective leader, I think, in the legislature, but he clearly isn't the guy to do it, because he didn't do it. And one need only say that.
"Call it bad timing, call it bad advisers, bad campaign information, whatever. He lost over half our seats. In any other enterprise, if you had somebody at the helm and that was their track record, and by the way, since then nine out of 10 Canadians say they wouldn't want to see him as prime minister, you've got a problem on your hands, and that's just common sense, it seems to me. That is not even deep political theory; that is just common sense."
Pointing to Mulcair's approval numbers, which have plunged in recent opinion polls, DiNovo said the 1,500 delegates in Edmonton should think about all the progressives and activists out there who say they would prefer another leader.
"Those are really the people we should be listening to not just those who turn up to vote at convention."
'Orange Wave' alum backs Mulcair
Matthew Dubé, a re-elected NDP MP from Quebec, feels differently. He's part of a caucus of Quebec delegates strongly supporting Mulcair.
Dubé credits Mulcair's strong performance in the House of Commons with helping defeat Conservative prime minister Stephen Harper's government. And while the NDP didn't "reap the benefits" of it, Mulcair has shown he can hold governments to account, propose change and do "all the work that needs to be done both in Parliament and on the ground," he said.
"I think when you are evaluating the work a leader has done, you can't just look at an election, even if it was a long election. Mistakes were made. We might have been able to be more — how should I put it? — less cautious…. At the same time, first of all there is a team, it's not the responsibility of one person.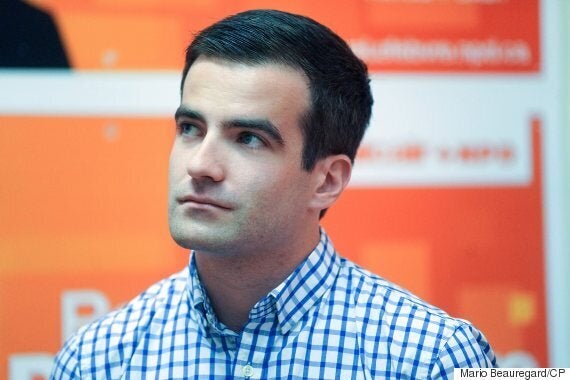 NDP MP Matthew Dube is shown in Laval, Que., on August 25, 2015. (Photo: Mario Beauregard/CP)
"Also, I look at the work that he's been doing over the years, I think of how he stood up to Stephen Harper and the fight against C-51, and on the Senate scandal, and those things are so important, because people wanted change from Stephen Harper's government. While the Liberals may have won the election, I feel that the NDP and Thomas Mulcair played a big role in getting to that change, and I think that's something super important that we can't lose sight of," Dubé said.
The young Quebec MP — Dubé was one of the 2011 wave of McGill University students elected to Parliament — said he has been watching Mulcair in the House and sees "a willingness to learn what went wrong in the campaign, to listen to New Democrats, to go back to those issues that are so important to us in a strong way and to hold the Liberals to account, in a progressive way."
"[Muclair] can be a stubborn guy, it's his Irish side, I think he is also very open and respectful and willing to learn, and I think that's super important and [that] we can't lose sight of all the great work that he has done as leader."
Dubé said he too expects the discussion in Edmonton to focus on the role the party should play, whether it should fall back on its traditional role as the conscience of Parliament or whether it should be striving to become the government so it can affect change.
New Democrats 'want back to the big show'
"Where we are at right now is reconciling those two roles, and I think with the Liberals … there is more of a responsibility to keep them honest, because they promised a lot of things that arguably could seem like New Democrat promises, but there could be waffling – we've already seen that – so that gives us an interesting role to play."
Dubé views the discussion about the NDP's core social democratic roots as a normal and natural process.
"I think when you get a disappointing result like we got, you kind have to remind yourself of who you are and what's important," he said. "Yes, we want to go back to our roots, but at the same time we are trying to find a way to do that and still aspire to form government, because that's the greatest way to make change."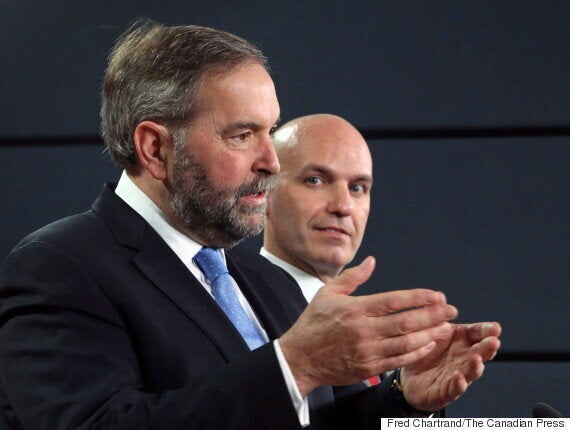 NDP Leader Thomas Mulcair holds a news conference with Nathan Cullen in Ottawa on Tuesday, Nov. 24, 2015. (Photo: Fred Chartrand/CP)
"The notion of the NDP returning back to some satisfaction with being the conscience of the Parliament is, from my perspective, gone," Cullen said. "When I'm talking to New Democrats, they want back to the big show.
The B.C. MP said he thinks there has been a "cultural shift" within the party and there is now a general acceptance that the NDP can stick to its principles and achieve power.
"Whether you want to say that [we] became more centrist on economic issues, [we] gave up some views that [we] first held in 1950, well, views do change," Cullen told HuffPost. "True progressiveness, what it looked like three generations ago is different now because things are different now, so why wouldn't you... embrace evolution and transformation?"
Some NDP members may be hoping for a leader like Sanders, but Cullen suggests the U.S. experience is very different than the likely context of the next federal election.
"It's always dangerous to transpose another country's experience onto your own and say we want that, that will work directly for us," he said. "The context there is a front runner campaign, an aging senator who has nothing to lose and can say and promise anything, that is probably not going to be the context that we run the next campaign in."
Nobody was predicting Sanders was going to be able to raise money 12 months ago, Cullen asserted. "If anyone was able to predict that...I will buy them a steak dinner."
In contrast, Cullen suggested, the NDP currently has a leader that is careful, thoughtful, very smart, is curious, always willing to learn, and has admirable dexterity in both French and English.
Four years from now, the NDP may be facing a very different election and perhaps Mulcair's "experience and competence" — one of the themes the party ran on in 2015 — will be just what's needed, Cullen suggested.
"Maybe it's still sunny ways but maybe it's not, we don't know...This government will have had four years, it will be a report card on that," he said. "In four years, experience and competence might be a huge thing if the government is not shown to be competent and people just want the trains to run on time."
Thomas Mulcair declined multiple requests for an interview.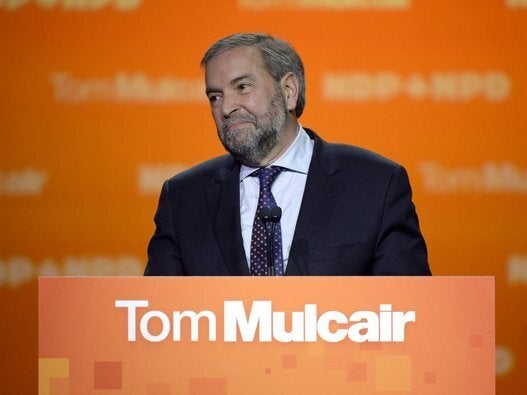 Key NDP MPs Defeated In 2015 Election