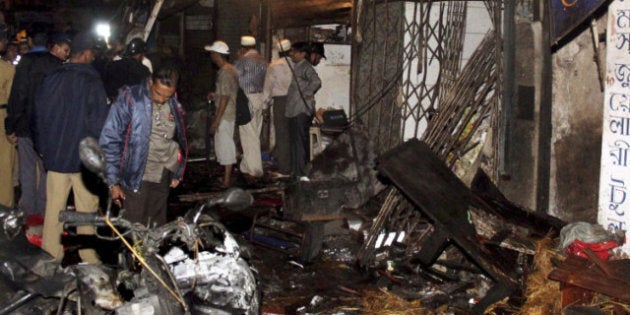 As my day started, those of my friends and family were ending with the startling news of three coordinated attacks in Mumbai. As reported by Times of India, the three bombs were detonated within minutes of each other with the first one around 6:45 p.m. local time in the famous jewelry district, Zaveri Bazaar.
The second explosion was reported to be a car bomb in a taxi near the Dadar area in central Mumbai and the third just after 7 p.m. was near Mumbai's Opera House in Charni Road. As I write this, the current death toll hovers around 20 with over 70 injured. Sadly -- as we have become all too familiar with this scenario -- we know full well that these numbers will change as the new dawn greets India.
How did I first hear the news? Twitter. Of course out of habit, once I found out via my has-yet-to-disappoint feed, I immediately turned on the cable news networks, frantically flipping back and forth trying to find something other than the the latest on the Casey Anthony debacle and the debt ceiling situation. Clearly I wasn't getting my news there. So I chucked the remote turned to my laptop and delved into the rapid-fire Twitter updates.
I remember the '92 Hindu-Muslim riots sparked by ridiculous who-came-first demolition of the Babri Mosque. This was all before Facebook and Twitter, so we would have to rely on phone calls to ensure the safety of family members who were spread out across India.
Some were in small towns, others in big metropolis like Mumbai. Stories would filter down the phone line about being targeted in public, the ever-increasing fear -- in some cases frightful paranoia that their Hindu neighbours, may turn on them on a dime.
The news channels were bombarded with reports of other Muslim homes that were marked to notify the public of its inhabitants. Other haunting stories of boys enroute home from school who at the urging of mobs were demanded to pull down their pants to reveal their circumcised proof that they weren't Hindu.
In the end, the death toll was an estimated 275 Hindus and 575 Muslims with about 2,000 people injured. Backlashes on both sides fuelled across the land where time doesn't heal the wounds.
Muslim vs. Hindu. Hindu vs. Muslim. Pakistan vs. India. India vs. Pakistan.
(Depending on what side of the geographical/religious border your lineage lies, often dictates who gets first billing.)
The extent of the sheer lunacy continues to be frightening.
So when Mumbai got rocked again, "the city's fourth major terror attack... since 2003" citesThe Guardian, I held my breath, praying that the people of this great city would somehow save themselves from getting sucked back into the lock-and-load mode of blind nationalistic behavior.
So fast-forward 19 years and we are in a world where terrorism has now spread beyond the backyards, gulleys and the local corner. It has passed the cities, counties, provinces, and states and now spreads like the plague across international borders. The most recent occurrence is just another example of small-minded, well-armed goons who continue on their road of carnage holding true to their demented vision of justice and revenge.
Forget the fact that conspiracy theorists already have already flooded my Facebook wall with misinformed facts -- most notably it being the allegedbirthday of the Ajmal Kasab, the lone surviving bomber from the 2008 bombing. That rumour aside (which was immediately proven wrong, thanks to Twitter) there are more important factors, which may have played into this event.
Ramadan starts in the beginning of August (this could be their last big get before hunkering down for the month); Secretary of State Hillary Clinton is set to visit India next week, or the explosions could easily be a stern warning to India's American ally that Pakistan isn't all too pleased with US cutting off their $800 million aid. And then there's Bin Laden.
And among the noise the pertinent question about Mumbai Police Intelligence is a glaring point that people are questioning loudly. Where there any security lessons learned and consequently implemented from the last attack to prevent something like this. Who's at fault here?
Right now, no organization has come forth claiming responsibility for these heinous acts, however speculation again falls on the shoulders of the Indian Mujahedeen (IM) who could have executed this attack to mark the Muslim train massacre in Gujarat which happened five years ago, this week.
But am going to defer to the plethora of foreign policy experts to dissect all this for me.
For me most importantly, was being witness to something incredibly moving on my screen. Soon after the news broke, there were a handful of tweets leading to retweets of random handles asking if anyone needed a ride.
A couple more Twitterers let the world know they have a place if anyone needs to crash for the night. There were emergency cell numbers. Blood requests. What hospitals were being used for triage.
Retweets of those looking for family members they haven't heard from yet (as phones were jammed). This all happened less than an hour since the news first broke. In real time, just as Twitter prophesizes, people were reaching out, spreading the word, putting up virtual posters of missing persons and asking if everyone is okay. Creating blogs, spreasheets, links. It was incredible.
The virtual neighbourhood rallied together. And before I knew it, new hashtags were created (#needhelp and #here2help ) to filter and categorize the deluge of tweets that were popping up in the hundreds every few seconds.
Here is just a small sample of what I saw unfolding this morning:
#mumbaiblasts RT @SamuraiSingh: Anyone from inorbit mall Malad heading towards Dindoshi in Goregaon east? I could do with a lift. #needhelp
#needhelp RT @OhMyKohli: Need a lift from andheri west to bhandup nagar goregaon.
RT @NabeelN: RT @splurgestar7: #NeedHelp #Mumbai #blasts I live 5 mins from Kabootar Khana.. Anyone needs help, please let me know!
#here2help RT @Nakulsud: Stranded in the rain near Gandhi hospital.. No cabs. Anyone around? Call 9920722186..going to mahim #needhelp
#NeedHelp Find @nikhilwarrier RT @jayblawgs @sukhkarni Demon Stealer Records is where he works.I'm not sure where it is. Trying Google Maps.
B-ve donors needed tomorow after 10 am, KEM Hospital, Parel, #Mumbai contact the hosp. blood bank at 022-24135189/24107421 #needhelp
#NeedHelp RT @tejas_tamhane: Anyone going towards Andheri, can you pick me up from Opera House? #mumbaiblasts
If you #NEEDHELP, please goto link ---» http://tinyurl.com/5tut4go , change location, name. Mobile Friendly | via @sidin
RT: @oldmonk_says: Going to bandra from colaba.anyone need any help or a ride let me know on 9821555774 #mumbaiblasts #needhelp
#needhelp #mumbaiblasts RT @bpbmumbai: If anyone needs a place to stay around Colaba, we're at the World Trade Center. Call us on 22161497.
#NeedHelp RT @Hardism: Anyone near the Borivali-Kandivali area can contact me for any kind of help.
anyone stuck? MUMBAI friends look for hashtags #mumbaiblasts #needhelp
@gmanka: Here's all you need to get in touch with someone at Mumbai right now - mumbaihelp.blogspot.com/2011/07/can-we... #mumbaiblasts #Here2Help #needhelp
RT @RoaringCrab: Not getting cab/rickshaw/bus/train 2 go back home if u can reach chembur I shall host u #mumbaiblasts #needhelp #Here2Help
#NeedHelp (also which area is this in?)RT @Decloned_iTaz: Anyone works at Directi? Please RT #urgent Need to see if my bro is there and safe
This alone makes me believe (better yet, confirm what I've known all along) that Mumbaikars can't be shaken.
Twitter kept Mumbai moving.