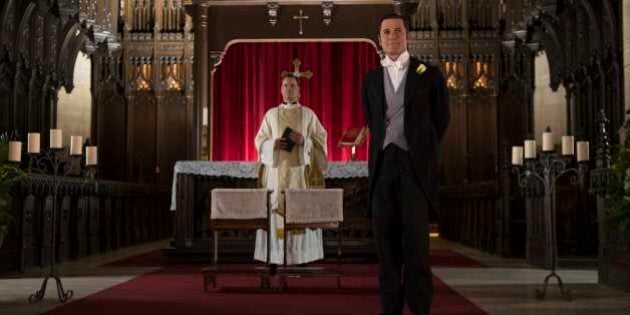 *** NOTE: Potential Spoilers Ahead! ***
You are cordially invited to the wedding of William Murdoch (Yannick Bisson) and Julia Ogden (Helene Joy) ...
Yes, it's true. "Murdoch Mysteries" is celebrating its milestone 100th episode -- "Holy Matrimony, Murdoch!" -- in style. On a cool July 4th afternoon in Toronto, production for the long-running TV series has taken over the Metropolitan United Church on Queen Street. Outside, a reception area has been set up under a white tent. Tables with flowers and place settings eagerly await the guests. For now, the main action is taking place in front of the church.
A dapper Murdoch, wearing black pants, white shirt and gray vest, converses with Inspector Thomas Brackenreid (Thomas Craig) and Constable George Crabtree (Jonny Harris) when Julia pulls up in a carriage. Crabtree playfully covers Murdoch's eyes so he doesn't see his bride-to-be. As Murdoch gets ushered into the church, Julia exits the carriage, revealing her stunning white dress. This should be the happiest day of Julia's life, but in true "Murdoch" fashion, there are complications. The wedding rings get lost. There's a murder to be solved. Perhaps worst of all, Julia's gorgeous gown is quite unbearable to wear.
"It's pretty uncomfortable," says Joy, as she sits down later to have something to eat. "I can't un-glamourize it. I don't know how women did it. Obviously, discomfort was part of the culture back then. It's shocking to us now. It limits your ability to breathe. Today is huge. I have a veil that extends about 15 feet long, so you can't move your head much."
During filming, Bisson, Joy and executive producer Christina Jennings sat down separately with HuffPost Canada TV to speak about reaching the landmark episode, Murdoch and Julia getting hitched, and achieving that marital bliss.
HuffPost Canada TV: When "Murdoch Mysteries" first started, did you ever imagine you would be standing here, in Season 8, for the show's 100th episode?
Christina Jennings: No. Part of it is when we acquired the rights to Maureen Jennings' novels 13 years ago, period wasn't as popular as it is now. We adapted the first three books and made movies off of those. That was great. City TV found out that people liked seeing these things. We were ahead of ourselves. When they came to us and said, "What do you think of making this a one-hour series?" To be honest, I thought they were crazy. No one was doing period one-hour dramas.
How difficult has it been expanding the "Murdoch" universe now that the TV series is no longer based on the books?
CJ: "Murdoch" is set in the Victorian time, which was a world of invention. The world was exploding. There was the industrial revolution. Everything was changing. There are countless stories. The thing I think about the "Murdoch" series that actually has legs is Murdoch is a man of science, a man ahead of his time. You have this fabulous thing to figure out, that, "Something is going on here." Yes, he is using his brain, but he's also trying to come up with inventions to help himself.
You find that a lot of things we take for granted now actually had their beginning in the Victorian era. There are great stories there. "CSI" is also one of the biggest franchises in television. This is pre-"CSI." Everyone loves to figure things out.
How far in advance did you plan for Murdoch and Julia to become this formidable couple?
CJ: You start these things and they are very organic. Did we really know back in Episode 1, Season 1, that Julia and Murdoch were truly going to become that fundamental relationship that was going to almost be like a "Moonlighting," like a "Castle" or "Bones"? Those are the relationships in television where the audience is just dying for them to get together. The problem is once you get them together, you have to be careful. You enter a more slightly domesticated world, so there are always challenges. For the first seven seasons, we did our best to keep them apart, including getting Julia married. It did feel like it was time to get them together. But even in this episode, they almost didn't get together. It feels right.
What have you enjoyed about the slow burn of Murdoch and Julia's relationship, as opposed to them hooking up in previous seasons?
Helene Joy: What's amazing is it is quite possibly unrealistic that it's gone on this far. However, what that does show us is how willing the audience is to go with us. We are not a conventional couple whatsoever. The longer we don't get married, the more unconventional our relationship becomes. It deepens though, because we don't marry for reasons that are essential to our personalities. It's not like, "I don't think you love me enough or I'm interested in somebody else." There's nothing shallow about it. It's about our morals, principles and situations in life.
Was a part of you thinking, "It's about freaking time?"
HJ: There's only so long you can make people wait. It's been humourous, some of the ways we've been able to stretch it out. There's a point where people go, "Enough already." I felt for the audience. There's always a certain amount of in trepidation in doing this. As we know, the audience loves this "will they/won't they" journey. If that's the case, will they become disinterested when we're married? I think we've come far enough that's not the case.
Yannick Bisson: In this particular case, there was a lot of public opinions about them getting together. It's right. It's the right time. Before it didn't seem right. We're going to make the most of this. There's two camps. There's one that says, "Oh, you have to get them together. Finally. How could you carry on any more without them being together?" Then there's another camp that says, "That's crazy. You have to kill someone."
Have you taken into consideration the dreaded "Moonlighting" curse and how to avoid those pitfalls?
YB: Of course I've thought about that. I've thought about that for a number of years now. "Are they going to get together? Should they get together?" I've thought about it a lot. We all have.
CJ: What we have going for us is Julia. This is a woman who is taking on marriage on her terms. That is going to continue to build -- that wonderful banter and spark between them. We have something up our sleeves that will certainly work through the rest of the season, and into next season, that complicates their lives. That's what you need. You need to bring them together, but keep them a little bit apart.
What can you tease about the wedding ceremony?
HJ: It's going to be beautiful. The truth is a Catholic Victorian wedding would have been quite extended and Latin would have been spoken. The writers found this genius way to get to the point. Also, in perfect character for them both, Murdoch and Julia are willing to run away from their wedding in a second for justice to be done.
Julia is hardly a bridezilla, either.
HJ: It's romantic in itself, that they're a couple of geeks and there's no vanity in the normal sense of, "Oh, it's my wedding day." There's none of that going on. We're both in court right up to the point when we're going to get married, fighting for the things we believe in. It's really excellently written. They did an amazing job making it fun. There's a moment where they almost don't get married. I can imagine the audience going, "Are you kidding me?" That would have killed them. They would have thrown things at the television. We bring it to that point, and then bring them back.
Not many TV series experience this kind of success. What does reaching this milestone episode mean to you?
YB: It's a big, big deal. For me personally, I've never been with any project this long, or done that big of a body of work, and certainly not as far reaching. At this point, the show has been sold in 120 countries. It's a huge deal. Emotionally, I feel everyone's hard work and sacrifices are really being rewarded. It's hugely satisfying. There's an incredible sense of pride, and also some pressure. It's like, "What do we do now? How do we top ourselves now?" It's a little bit of a double-edged sword. We've still got the same team of people, so I'm confident the adventures will keep coming.
How much action is Murdoch going to see this season?
YB: I got handed an episode this year where Bat Masterson comes into town on the trail of Butch Cassidy and the Sundance Kid. I got to shoot a "Murdoch" Western. We have some trains, bank robberies, some hookers and a horse chase. We have a big shootout. We have people blown out of buildings and people getting shot at. I know we have a car chase coming up in this block. There's a train robbery, involving dynamite. Lots of fun.
Actors sometimes get bored staying with a character too long. It must be exciting when you still get surprised by every script.
YB: Absolutely. That's one of the great things about the show. A lot of the things we cover are old history, it's old news, but the what the guys come up with makes it exciting to come back to work. I've been really grateful for that. I have been in that job where you get up, you say the same things all the time and to be honest, don't agree with some of the things scripted. It can be a curse. I'm very grateful to have this job where it's the opposite.
"Murdoch Mysteries" 100th episode airs on Monday, November 3 at 8 p.m. on CBC.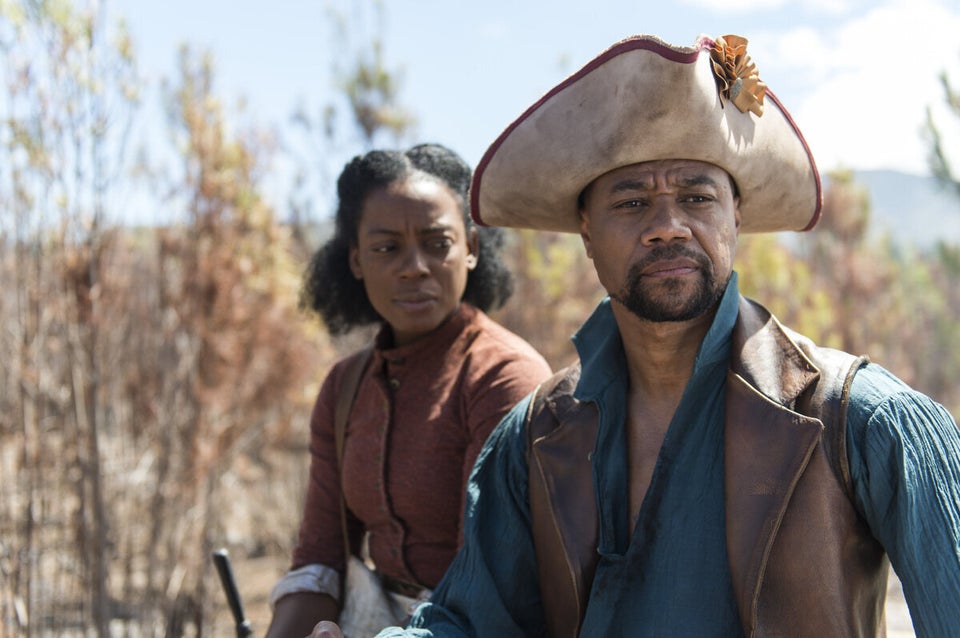 CBC TV Fall/Winter 2014-15