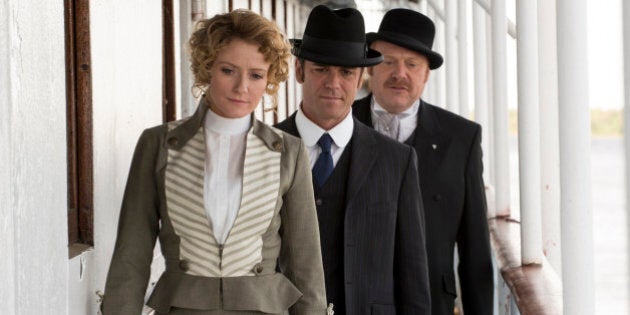 It's full steam ahead on the set of "Murdoch Mysteries." Detective William Murdoch (Yannick Bisson) and Dr. Julia Ogden (Helene Joy) are currently on-board passenger liner the SS Keewatin to investigate threats against its owner, but things are becoming a little bit personal.
There's been a spark burning between them for a while, and as they stand on deck, overlooking the calm waters, the conversation turns to their evolving relationship. A scream and a booming "Man overboard!" interrupts their heart-to-heart. Murdoch and Julia rush to the side of the ship to discover ... well, that development occurs in the next scene. For now, it's break time, and HuffPost Canada TV got some time with Bisson and Joy separately to discuss their characters in Season 7, their budding romance and coping with loss.
In last season's finale, Julia and Murdoch barely survived. Their nemesis, James Gillies (Michael Seater) framed Julia for the murder of her husband, Darcy (Jonathan Watton>) She was consequently on death row with her sentence seconds away from being carried out. Meanwhile, Murdoch managed to escape Gillies' devious trap and exonerate Julia. In the aftermath, the two colleagues are still reeling from the events.
"We sort of have to pick up where we left off," explains Bisson. "As with any tragedy in people's lives, you have to pick up the pieces. That is very much what Julia and William are doing at the moment and trying to sort out what's on the horizon for them, apart and together."
Rather than construct a mammoth stand-in for today's set piece, production trekked up to Port MicNicoll, a remote community two hours outside of Toronto. Here, on location, stands the actual SS Keewatin, a majestic ship older than the Titanic itself.
"It's a lot of fun," says Bisson. "We have a large-scale human transportation vehicle and having this boat here that can be accessed by us as entertainers, but also for everybody in the country to be able to come and see, is very cool. The historic significance to the population and the confederation of the country is amazing."
"The first episode is one of the most exciting ones we've ever shot," added Joy later in the day. "I read it and was like, 'Cool. There's explosions and ships possibly sinking, and drama.' What's great is Julia won't take a back seat. She won't be sent away. It's a really great energy that comes in. It's very romantic, this sense that they've got each other's back and there's no way anyone is letting anybody down.
"And I'm very much involved in the sleuthing and find myself central to the adventure," she continues. "I'm saving Murdoch. For many years on this show, I was sort of on the sidelines and that's not the case anymore. It's Constable George Crabtree (Jonny Harris) and Emily, side-by-side in a lot of this stuff.
Anytime a series features two good-looking leads of the opposite sex, viewers automatically expect them to hook up. So far, "Murdoch Mysteries" has bucked the trend. Over six seasons, the writers have toyed and teased with the scenario, but Julia even married another man. Bisson and Joy certainly share a strong chemistry and all that heat may finally pay off.
"We're touching on it in the very scene we're shooting," reports Joy. "As Murdoch says, I've been avoiding it a bit. It's a difficult time, so we're trying to start again. In the meantime, Gillies still hasn't been tried. Then we have a new character, one of Darcy's relatives, coming into play. The sale of her house can't happen. Things get tripped up, so there are always issues that keep us more reserved. Of course, there's going to be major complications down the track. Everyone wants to hear we get together, but I always say to them, 'Do you really, though?' Part of what you love is wondering how it's going to happen. It's not going to be easy."
Adversaries have baffled and bewildered Murdoch and company, but none have plagued them quite like Gillies. A cunning and calculating criminal, he always appears one step ahead of Murdoch. Their last encounter left Julia's husband dead, and even though Gillies was captured and locked away, the cast feels it's virtually impossible to keep a worthy opponent down.
"You can't have Sherlock without Moriarty," offers Bisson. "You can't have Obi-Wan Kenobi without Darth Vader. It's very much a part of storytelling. More of James Gillies? Having Murdoch not always catching the guy, or not yet, is compelling storytelling. I quite enjoy it."
As for Julia, she never had the opportunity to confront Gillies for his actions. That need for closure can claw away at a person.
"The fact is she would be very angry about Darcy's death, even though she didn't want to be with him anymore," states Joy. "It's a horrifying way to lose somebody. It would be an amazing thing to confront him that way. She's often not able to be at the front lines in that respect, but he deserves it. I have no doubt that Gillies will be back on some level or another. Maybe then I can take him on full force. My own revenge."
Move over, MacGyver. Even though Murdoch Mysteries transpires in the Victorian era, Murdoch still manages to grab seemingly random items and transform them into high-tech devices or gizmos for that time period. Part of the show's charm is guessing which new contraption or historical figure will pop by next ...and Bisson previewed what to expect.
"I'm always amazed at how many new and fresh ideas [the writers] come up with," says Bisson. "I shouldn't be too surprised. We have our entire history to draw from. There's always something happening, some new advent or some new interesting development. But how they manage to tie it back to Murdoch's world is so cool. We could continue for a while before it loses its lustre.
"I do know there is a big bicycle race coming up and Murdoch invents a clear mechanical advantage," he elaborates. "I do know there is the possibility of the advent of movies with sound coming up. That intersects Murdoch's world. We can expect to see James Pendrick (Peter Stebbings) back. I'm really looking forward to that. And one of the things we'll be talking about this year is the assassination of President McKinley."
Julia isn't simply the odd doctor from the morgue. She's become an integral member of the sleuthing gang. Gradually, viewers have learned about Julia's passion for the job and the causes she champions. It's too early for Joy to divulge which nuggets we'll learn about Julia, but the actress is hoping the denizens in writers' room will flesh out specific avenues.
"We've met some of Ogden's family, but we've never met her father," says Joy. "At some point, I'd really love to find out about her father and what he's feeling about this match and his financial background. I'm always interested in the more female stories because I know our audience loves those as well. It's intriguing for women to see what it was like for them in the Victorian time. Most shows are written for men at that time. Most stories I've ever read from that period were about the men. I'd really love it if we had an episode where Emily Stowe, Canada's first female doctor, popped into things. She would be older and a doctor for a good 20 years."
Bisson previously directed three "Murdoch Mysteries" episodes and already stepped behind the camera for the Season 7 episode "Murdoch Of The Living Dead," which brings the gang face-to-face with, you guessed it, zombies. Since the show shoots out of order, when it will air is still to be determined. Nonetheless, Bisson couldn't be more excited to showcase the final product.
"I love doing it," concludes Bisson. "It makes acting tough because your mind is going a mile a minute. Acting is difficult enough as it is with being able to give the most that you can to your scene partner. I find myself looking past them and thinking about a million other things. It's a challenge, but it's been a great start to the season. I'm confident it's going to be my best directing. A lot of the things we were unsure of turned out better than expected. I'm quite happy."
In a clear sign of faith, CBC super-sized "Murdoch Mysteries." The episode count increased from its regular 13 count to 18 this year. That means the creative team can further experiment with multi-arc adventures or stick with its winning standalone formula.
"It's a tough call," notes Bisson. "You run the risk of losing people a little bit when you play around with the format. I think two-parters are a great part of television. I grew up with those and always loved the cliffhangers. I think if we have the master threads that carry on throughout, like Julia and William and some of the other liaisons, that's important. But the show is conceived to be able to be watched at anytime, anywhere ... forever."
The Season 7 premiere of "Murdoch Mysteries" is on CBC on Monday, September 30 at 8 p.m. ET/8:30 p.m. NT.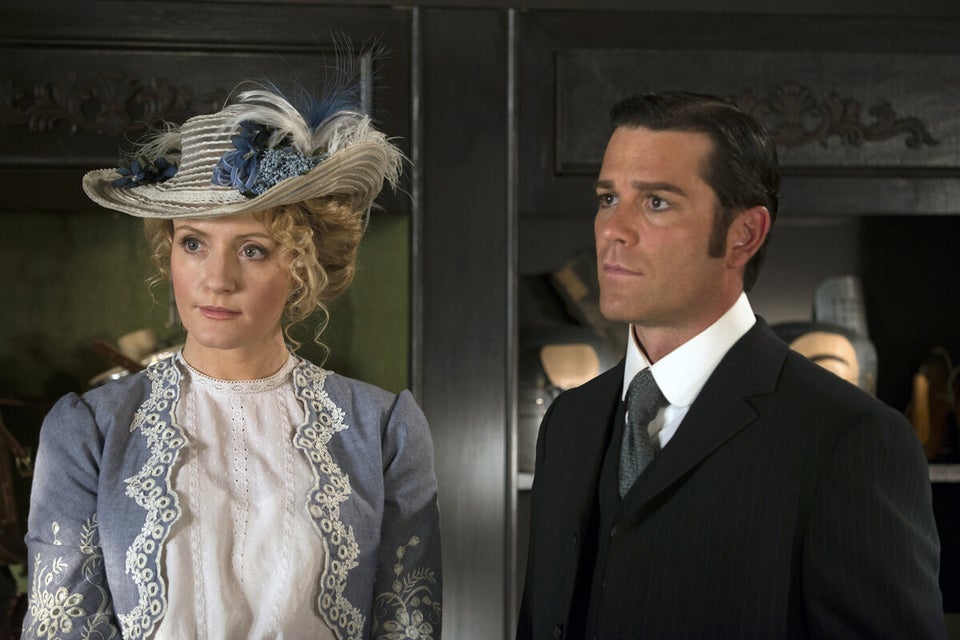 CBC Fall TV 2013-2014
Popular in the Community