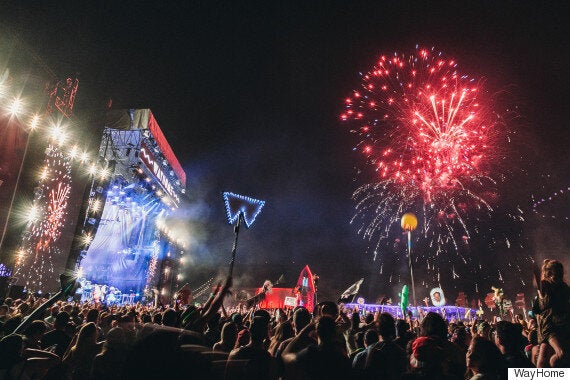 The opening licks of Arcade Fire's "Rebellion (Lies)" launch a chorus of 40,000 screams of recognition that coalesce into the classic song's first verse. As the Montreal band's rapturous music rings out and up into the starry sky, these tens of thousands of people press tighter together in front of the WayHome main stage on a sprawling plot of land in rural Oro Medonte, Ontario.
Our bodies sway and voices sing alongside Win Butler's distinctive croon warning us that "sleeping is giving in" and railing against the liars who would scare our sons and scare our daughters just two days after Trump's historic demagoguery at the Republican convention.
The song's call-and-response section ("woah-oh-woah-oh") sounds especially powerful and defiant tonight, but so has the entire arms raised, eyes closed set. Earlier, the Utopian anthem "No Cars Go," sounding as big as all the world, delivered a moment of communal uplift that set the stage for the inevitable encore of "Wake Up," all our voices once again soaring on the choral harmonies, but this time with fireworks filling the sky above with brightly coloured sparks.
About an hour later, over on the WayAway forest stage, all-female post-punk quartet Savages are coming to the close of a typically ferocious set led by mesmerizing lead singer Jehnny Beth, her slicked-back black hair matching her black bikini top, black suit jacket and black-clad band mates.
"If you had a shit day. Or it was a bad week. These are hard times. This song's for you," the U.K. singer said, following up a cover of Suicide's "Dream Baby Dream" by launching into "Fuckers." The dark dance jam, built around the refrain "Don't let the fuckers get you down," builds into a cathartic counterpart to Arcade Fire's empathetic anthems as the crowd twists and shouts among the trees.
Meanwhile, a few hundred meters away, Major Lazer rev up a set of straight escapist EDM, battering the dancing bodies with dirty beats, big singles (including their brand-new Bieber collab) and hair-metal levels of pyro and subtlety that help everyone get their stresses out.
These few hours of the three-day WayHome Music and Arts festival's Saturday night sum up why the recent rise of music festival culture is here to stay.
It has been a stressful summer with a seemingly non-stop barrage of police shootings and shot police, terror attacks and terrible Trump. Even the ride up to the Burl's Creek event grounds was punctuated by news of the mass shooting in Munich.
The world right now is a scary place, and WayHome provided refuge.
Blog continues after slideshow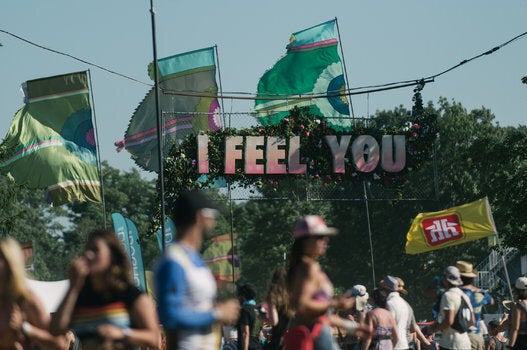 The music provided catharsis and coping mechanisms to a crowd in need of blowing off steam and feeling part of a community. Wayhomies, as they call each other.
Not everyone sang songs about staying strong and standing up, of course, though A Tribe Called Red attracted a massive crowd for their indigenous EDM while Third Eye Blind arrived fresh from trolling the RNC convention and X-Ambassadors bantered that "we got to fight for equal rights, we got to fight for equal pay, we got to fight for the equal right to live. We're here to fight along with you."
But even the apolitical acts, like Toronto electronic stalwarts Keys'N'Krates or party-rap stars Rae Stremmurd, provided a much needed release valve from the frustration that builds up off the festival grounds.
This was my first non-rave camping festival since Woodstock '99 erupted into rapes and riots -- which actually happened the exact same July weekend 17 years earlier. Perhaps it was because back then the world outside was relatively chill in the late-90s -- the economy was dotcom booming and America was between Iraq wars -- so all the awfulness was inside the festival walls.
But the festival culture that has sprung up in Woodstock's wake -- beginning just three months after, actually, with the first edition of Coachella in Indio, California in 1999 -- took its lessons from the 1990s Lollapalooza festivals which gathered the various youth subcultures together under the more powerful rubric of an alternative revolution. It's hard to feel like an outsider when surrounded by 25,000 like-minded, manic panic'd and plaid-clad people. And we took that feeling back with us into the real world where we were once again in the minority.
Those original-recipe Lollas provided a refuge and a recharge for the era's freaks and geeks, but nowadays there is no alternative culture as almost everyone listens to almost everything, so people go to the festivals to be at the festival regardless of the line-up.
Most of these -- be it Bonnaroo in Tennessee and Osheaga in Montreal or Pemberton in Squamish and Lolla 2.0 in Chicago -- are programmed almost like a streaming service on random, the diversity of genre and longevity ensuring a diverse audience can always find something to see.
Headliners aside -- there were clearly some aging hipsters who came for the LCD Soundsystem reunion, and the one-two punch of Arcade Fire and Killers no doubt convinced others to come -- the driving feature of these multi-day music festivals is the communal experiences they create in a niche-driven world that has so few left.
Whether it's a mind-melting musical moment, an impromptu dance party in the campground, a hammock nap in the forest or a Ferris wheel view of the festival itself, everyone leaves with shared memories.
This factor is especially true of camping festivals -- WayHome attracted about 40,000 people all told, with 35,000 in the campgrounds -- which creates a safety bubble within the grounds for multiple days of communal catharsis and release before we have to pack up the car and head back into the real world to discover what fresh horror awaits.
Follow HuffPost Canada Blogs on Facebook