 Canadian electro-pop star Grimes (real name Claire Boucher) was recently forced off the road. "Hey guys, so sorry 4 the cancelled shows. im having trouble w hearing loss, tinnitus & am trying 2 stay away from loud music 4 a bit," she tweeted after cancelling a string of Canadian dates. A few days later she scrapped her entire European tour. "It's depressing to cancel more shows, but we have to cancel all Grimes dates in Europe due to health issues :( im having hearing problems and im supposed to limit my exposure to loud noise for as long as possible."
Hearing loss is something that unfortunately can't be healed over any period of time and is a risk that musicians and concertgoers alike take every time they attend a show, record an album or even just listen to music.
Story continues after slideshow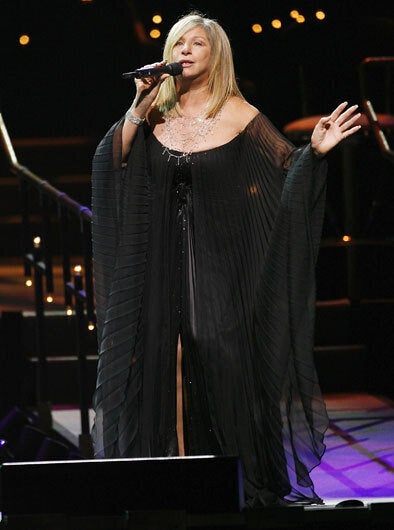 Musicians With Hearing Loss
In a 2010 study, it was revealed that hearing loss among teens had risen over the past decade by approximately 31 percent. One in five teens in the U.S. now suffer from some degree of hearing loss and in Canada, one in 10 have hearing problems. Reasons for these statistics weren't specified, but it almost goes without saying that the popularity and inescapable presence of music in our everyday lives factors into a portion of these reasons.
As far back as 2008, the NY Times was reporting that the earbud generation was injuring itself daily: "Users listening at high volumes for more than an hour a day each week risk permanent hearing loss after five years." They added that the noise levels were more than would be permitted in the noisiest factory or work place.
Unless, perhaps, your work place is a concert stage.
This isn't the first time we've heard about Boucher's hearing problems. In an interview with Spinner last year, the now-L.A.-based songstress revealed that even before she became indie's most eccentric 'it' girl, she suffered hearing loss from going to shows.
She recalls one specific concert she attended by one of her favourite bands, Animal Collective, saying, "I suffered permanent hearing loss from that show! I was high on drugs and pressed my ears on the speakers and so the next day I couldn't hear for nearly two days, and I get really sharp pain in my ears now."
From standing in front of the stage to performing on it, Boucher has since been on the road non-stop these past two years promoting releases such as her Polaris Shortlisted debut, Visions, which undoubtedly has played into her hearing issues. Insert-receivers -- in-the-ear hearing devices that musicians often wear to offer protection from loud instruments and hear their own voices better -- are almost always offered, but of course are not always worn, as evident in some of Grimes' live performances.
But Grimes isn't the only artist who has suffered the consequences of musical carelessness. Many of music's most notable stars also have hearing damage, as a result of years of performing.
Last year, Phil Collins made headlines by quitting music due to a number of medical issues including hearing loss, Neil Young has admitted to having tinnitus and even pop star will.i.am has owned up to having painful ringing in his ears now (he also notes that this drives him to create music at all hours of the day). About 60 percent of the Rock and Roll Hall of Fame's inductees have impaired hearing so it's clear that this is a problem among musicians, but not a guaranteed fate of everyone who picks up a guitar, drums, or performs in general.
There are a plethora of ways to prevent hearing loss, from wearing earplugs and insert-receivers to simply just making sure you don't play too loud. Not to say music shouldn't be played loud, but perhaps not to the point that it causes permanent damage. Sound technicians only turn the music up as loud as the musicians want, so it's ultimately in their hands to rock our socks off without knocking out our eardrums as well as their own.
Ear, nose and throat specialist, Dr. Brian Hands says that the number one mistake younger artists make is amping up the volume of their shows. "'Louder is better.' It's all part of this process that takes place at a large rock concert and people like that sound," says Hands. "But that sound is going to hurt your ears; it causes pain, nausea in low frequency sounds and then it silently destroys your hearing."
Hands says that if a concert is at a level of 105 to 120 decibels and you're there for multiple hours, there is a a risk of permanent hearing loss. To put that into perspective, normal conversations usually clock in at 78 to 80 decibels while a passing jetplane is about 110 to 120 decibels, so a concert can be the equivalent of a jetplane zipping back and fourth above you for hours.
On top of that, musicians should get their hearing checked on a frequent basis. A number of organizations have been established around the world now to help assist with hearing tests and general education about hearing loss including H.E.A.R. (Hearing Education and Awareness for Rockers) (and the Musicians' Clinics of Canada.
As Grimes herself advises on indie smash "Oblivion," "Girl you know you gotta watch your health."