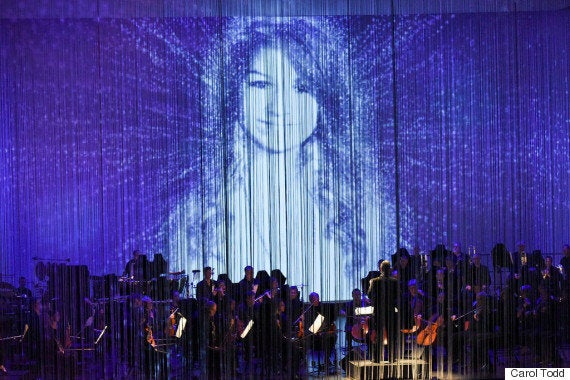 (Photo: Fred Cattroll/National Arts Centre)
I have to say that the world premiere performance of "Life Reflected" put on by the National Arts Centre (NAC) in Ottawa was one of the most breathtaking moments of my life other than giving birth to my children.
This performance that you were chosen to be a part of was based on four Canadian females who have used their voices to make their thoughts, dreams and views known to others out there. The four women being Rita Joe, Alice Munro, Roberta Bondar and yourself, Amanda Todd. All four of you have had events happen in your lives that have not only impacted yourselves but have impacted many others across the world.
There are no words that can describe how the world premiere performance of "Life Reflected" affected not only myself but others who were lucky enough to attend and take in the power of music and technology together. The two things that you were the best at.
The evening of the performance, it was a clear night with tulips blooming all over the place. You would have loved it. I know I would have been telling you not to pick them. The night of the performance, someone mentioned that there was a double rainbow above the NAC. Someone else on my Facebook thought they could see an A between the two rainbows. If you look at the photo of the rainbows, can you see an 'A?' I remember that the last time a double rainbow appeared, it was Oct. 10, 2015, three years to the date when your voice permanently became silent as a living person.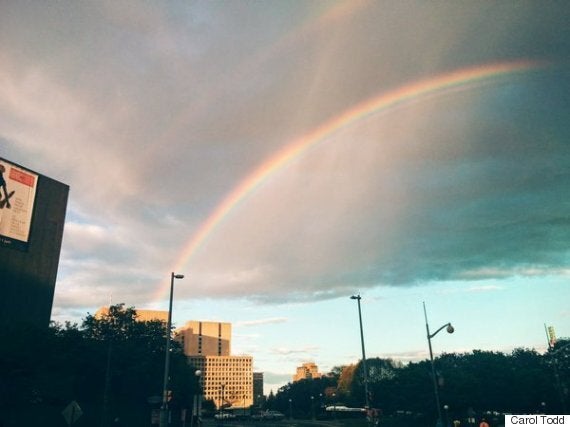 I was first contacted by the NAC in the spring of 2014. This is when they explained their vision to me. At that time, I was confused and it was probably apparent, as I seemed doubtful that your story could be told in this way. However, face-to-face meetings brought on the real connections of life, which then provided understanding and trust.
It was with that connection that I said YES to their vision. The team of Alexander Shelly, Donna Feore, Jocelyn Morlock, the team from Normal and so many more behind-the-scenes contributors portrayed and personified your voice. The voice that always carried such strong determination even when you were an infant, toddler, young child and then a teenager.
The performance date was scheduled for May 19, 2016 in Ottawa. I met with the design team in March 2016 and they carefully showed what they had planned so far. That same evening in Stratford, fine flakes of snow were falling outside at the same time we were talking about your snowflakes inside. It was very surreal, as if you were listening to us.
The night of the performance is one that will be etched in my mind forever. As Amanda, you always dreamed of being on a big stage surrounded by lights and music. In the performance piece called "My Name is Amanda Todd," that is what happened. Amidst the digital visual artistry and the composed music that personified your years dealing with cyberbullying and exploitation in a digital world, we all learned what it might have felt like through the orchestral symphony and the visual imagery presented.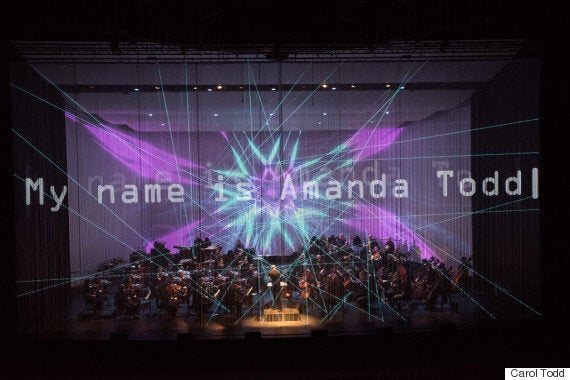 (Photo: Fred Cattroll/National Arts Centre)
As a spirited snowflake encased in your bubble of life, you were free floating through the colours as well as the musical melodies of calmness and also turmoil. This 10-minute piece in your name and in your memory highlighted you. You were the shimmering and ever-changing snowflake of uniqueness that freely floated through life as a child should until those around you started to burst through the bubbles (or in reality -- the screens).
It was the ending that grabbed all of our attention. Your final school photo appeared in a digital portrait of stars and snowflakes, larger than life itself. And as quickly as you appeared into our lives, disappeared once again. It was truly a night of BITTERSWEET TEARS and DREAMS COME TRUE.
Plus another honour to your memory, your mom was chosen as one of the 50 contributors to Huffington Post Canada that has "had a profound impact on Canada, helping to change the country for the better, in ways both large and small." There is an event to be attended and you will be there with me in your own way.
We all love and miss you, Amanda. Remembered always.
Follow HuffPost Canada Blogs on Facebook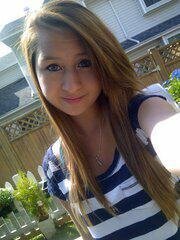 Amanda Todd