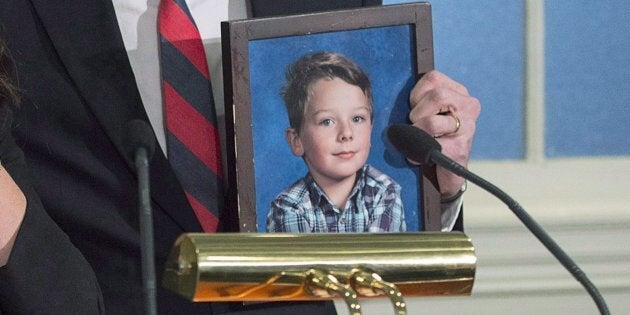 As you walk through the halls of the IWK Health Centre in Halifax, you encounter posters and promotional material featuring the happy faces of children with physical disabilities — children undergoing chemotherapy, children with Down syndrome. Nowhere, though, do you see a picture of a child fighting the battle that my son Callum is fighting.
Callum is nine years old. He loves the beach, the swing in his front yard, bagels, Latin music and his little brother. Callum is also autistic and is severely affected by the challenges this diagnosis presents.
Since he was diagnosed with autism spectrum disorder, we have sought and received every possible evidence-based intervention and support. We managed fairly well despite the significant challenges he faces.
Six months ago, Callum's behaviour and overall functionality took a major turn. He began losing the skills we had all worked so hard for him to achieve. He became incredibly violent. Already considered "non-verbal," the few words he did have were gone.
The background on our efforts to find help for Callum these last few months — the story I've had to repeat probably hundreds of times for the countless professionals we have sought help from — is long and seemingly endless. To sum up, we have checked off every box and contacted everybody we thought could support us, working our way up to the minister of health and wellness as well as the minister of community services, Kelly Regan, who is also our MLA.
I called on the government of Nova Scotia to right the egregious wrong that characterizes our treatment of children with autism in crisis and their families.
Our journey to date has landed Callum at the Garron Centre for Child and Adolescent Mental Health at the IWK. Not only was this a last resort, there is literally nowhere else for him to get help. This is where our nine-year-old boy has been living for the last five weeks, where he is confined to an isolated unit for his safety, and the safety of others, and where no appropriate therapy is available.
We have had to bring in our own, private behavioural therapists to work with Callum, which costs thousands of dollars that we don't really have, especially since I have had to take a leave of absence from my job as a Learning Centre teacher — a job that I love, with students whom I adore.
In one week, the IWK will be releasing Callum from their care. They suggest that Callum would be best served through an outpatient program, and we agree. Here's the kicker: while there is a small outpatient team that is available for consultation, they don't provide direct support. Essentially, no outpatient program exists to support my son's complex needs.
When we thought things couldn't get worse, a child welfare file was started on my six-year-old as, naturally, questions were raised about his safety at home. We were able to say truthfully that we can keep him safe, as we will spend every cent available to ensure support people are in our home — and we have a large, loving group of family, friends and neighbours who would be on our doorstep in minutes if we put out a call.
We know that not everyone is so lucky. If we were unable to make this guarantee, if we were a refugee family, or single parents without the kind of network and resources we are so fortunate to have, there is a very reasonable chance that Callum would go straight from the hospital to what the Department of Community Services calls a place of safety.
A place of safety, for those of you who are wondering, is a hotel room with two DCS workers, and while it might keep my family and me from being assaulted, it would only serve to traumatize Callum and most certainly land him right back in the IWK for the horrific cycle to recommence. Or, my six-year-old would have to go. I don't share this story as a hypothetical one. I share it because it has happened, and it will happen again.
My little boy is not getting the help he needs. He is scared and looking to Mommy for answers. What utterly destroys me is that I don't have them and I've come to the realization that it doesn't appear those leading our province have them, either.
We are private people. While we have had our struggles, we haven't shared them broadly; this situation has forced our hand, making us decide to take our story public and blow the lid off what is quite frankly a travesty.
My husband and I are part of what is referred to as the "middle class." We are both educated — in fact, I have a master's degree in special education. We have the support of family, friends and neighbours. We have all of this and still we are exhausted and demoralized by a government that is failing to step up and support autistic children and adults along with their families and caregivers.
On Thursday, at the end of my remarks during a news conference hosted by Jamie Baillie, leader of the Progressive Conservative party, I called on the government of Nova Scotia to right the egregious wrong that characterizes our treatment of children with autism in crisis and their families.
Our family, and the families that have faced this before us and those that will undoubtedly be in this situation in the days, months and years ahead, need appropriate crisis intervention services, and inter-agency co-ordination and collaboration that meet the needs of this most vulnerable of populations.
Popular in the Community